Xbox Games With Gold Reveals March 2021's Free Games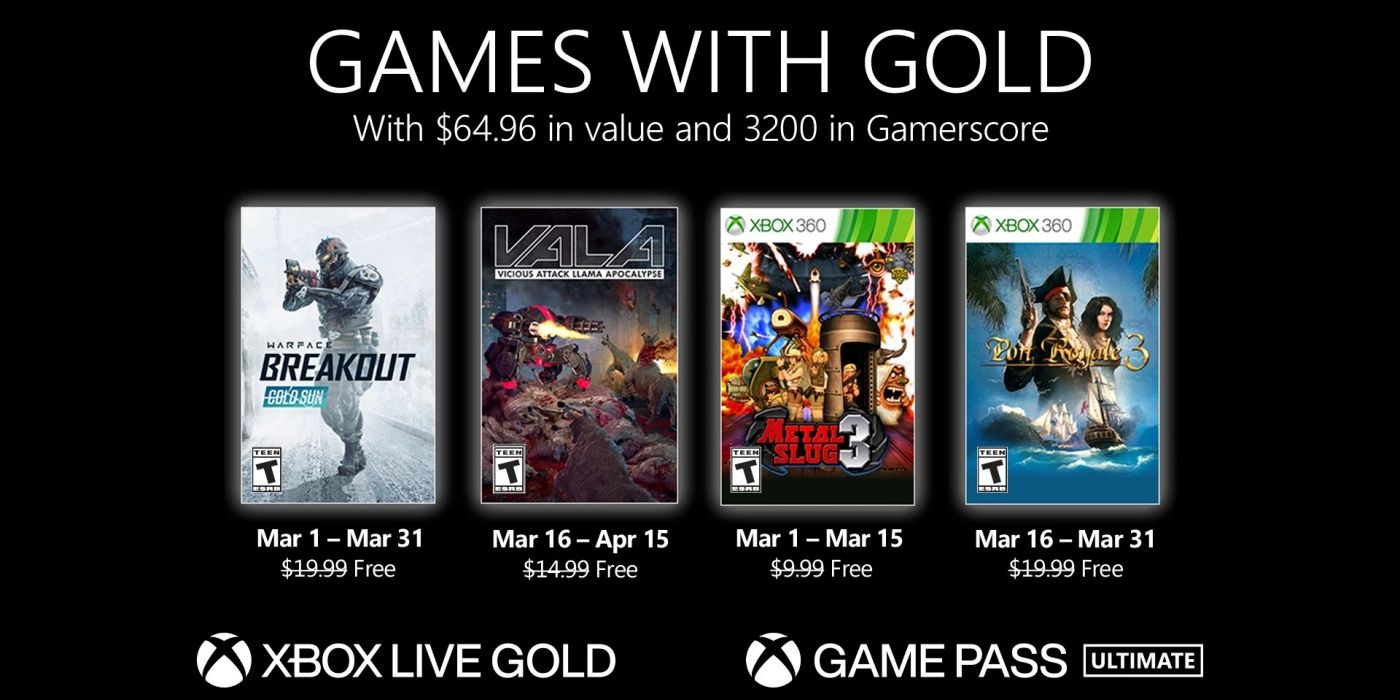 March 2021's Xbox Games With Gold lineup will give Xbox Live Gold and Game Pass Ultimate subscribers access to four free titles, including Metal Slug 3 and Port Royale 3. This lineup shows Xbox is continuing its tradition of offering up four games, two Xbox One titles and two backwards compatible adventures from the original Xbox and Xbox 360.
February 2021's Games With Gold freebies included five freebies, however – Resident Evil, Dandara: Trials of Fear Edition, Indiana Jones and the Emperor's Tomb, Lost Planet 2, and Gears 5. It's worth noting that Dandara: Trials of Fear Edition will leave the service on March 15, while the other four will make their exit on February 28. Gears 5, of course, counted as the marquee addition, especially considering its Xbox Series X enhancements, which improved the shooter's frame rate and graphical fidelity. Games With Gold's standout for March seems to be a classic adventure that players will definitely want to take advantage of.
March 2021's lineup for Games With Gold will give Xbox Live Gold and Game Pass Ultimate members access to the following four games – Warfare: Breakout, Vicious Attack Llama Apocalypse, Metal Slug 3, and Port Royale 3. The Xbox Wire post announcing the news notes this selection of games amounts to a value of $64.96. Available from March 1 to March 31, Warfare: Breakout is a tactical online FPS that will receive a new cosmetic pack, as well as as a new event from March 8 to March 22. Originally launched in 2000, Metal Slug 3 is a classic run-and-gun title that will remain on the service from March 1 until March 15. As a business simulation game, Port Royale 3 takes strategic gameplay to another level. It hits Games With Gold on March 16, then exits on the last day of the month. Vicious Attack Llama Apocalypse will stick around from March 16 to April 15, giving players a chance to explore a llama-slaughter roguelike with twin-stick shooter elements.
This admittedly isn't the greatest selection, particularly when compared to last month's offerings. However, there is arguably something here for most players to enjoy. And since these freebies more often than not are all about allowing fans to new things risk free, March's lineup seems could unveil a hidden gem or two for many an Xbox gamer.
Xbox Live Gold is still trucking along, but Xbox Game Pass has become the premiere service for Microsoft's gaming division. Late last month, company CEO Satya Nadella revealed Game Pass had amassed 18 million subscribers. The gaming division brought in record profits during the last quarter, too, raking in $5 billion in revenue.
Source: Xbox Wire