Why Kevin Smith Thinks WandaVision's Villain May Be Mephisto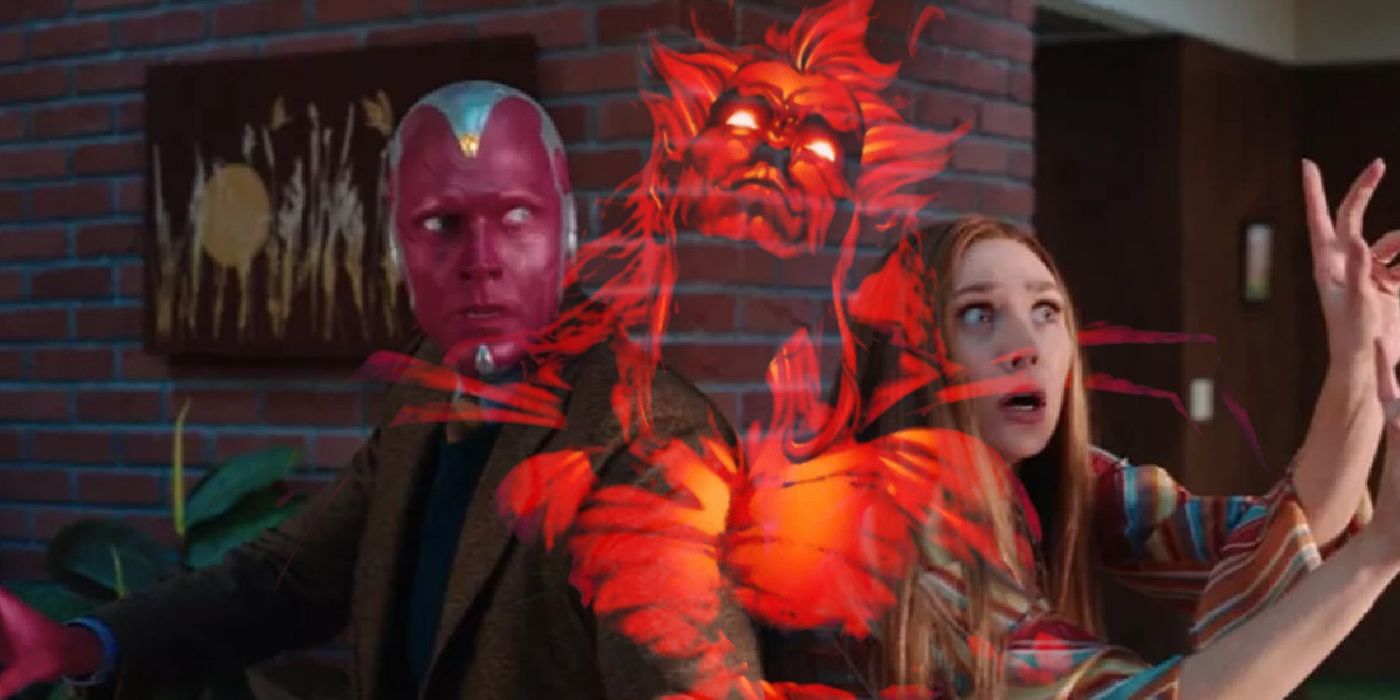 Kevin Smith thinks the villain of the Marvel Studios series WandaVision could be Mephisto, as many have theorized. WandaVision focuses on Wanda Maximoff/Scarlet Witch and a not-dead Vision living in the quaint small town of Westview, which Wanda has seemingly created, with their twins Billy and Tommy. However, although Wanda appears to have crafted a perfect alternate reality in which she has everything she wants, cracks appear in each episode. These include S.W.O.R.D. agents infiltrating Westview, Vision questioning what's happening, and their family dog dying.
Each installment also contains fake commercials, including WandaVision episode 6's ad for Yo-Magic yogurt. In the commercial, a shark offers yogurt to a child stranded on a desert island, but the kid starves to death after being unable to open the container. The shark then tells viewers that Yo-Magic is a snack "for survivors."
Smith, who has long been both a fan and creator in the comic book community, recently discussed WandaVision on his Fatman Beyond podcast (via Comicbook). After episode 6, Smith thinks Mephisto could be the one pulling the strings behind-the-scenes in WandaVision, explaining the Yo-Magic yogurt commercial is what finally convinced him it may be possible:
What I took out of it was the little kid is her, like she's starving for, you know, whatever companionship, f-cking people not to die in your f-cking life. And the shark could represent somebody who offered her a seemingly good thing which we now see isn't very nourishing at all and so last week or the week before I was just like, 'there's no way it could be Mephisto' why would they just suddenly, Mephisto is… people don't know about Mephisto. That commercial and then the conversation she had with Pietro where Pietro gave full-throated support for what she's doing, knew exactly what she was doing and controlling the town and sh-t and gave support to the point where she's like 'you don't think this is bad' and he's like 'no, I think it's amazing' and stuff. But the way he was talking to her, I'm not gonna say like it didn't sound like Pietro, but it sounded like the devil. So I'm gonna amend my 'I don't think it's Mephisto' and be like maybe it is Mephisto.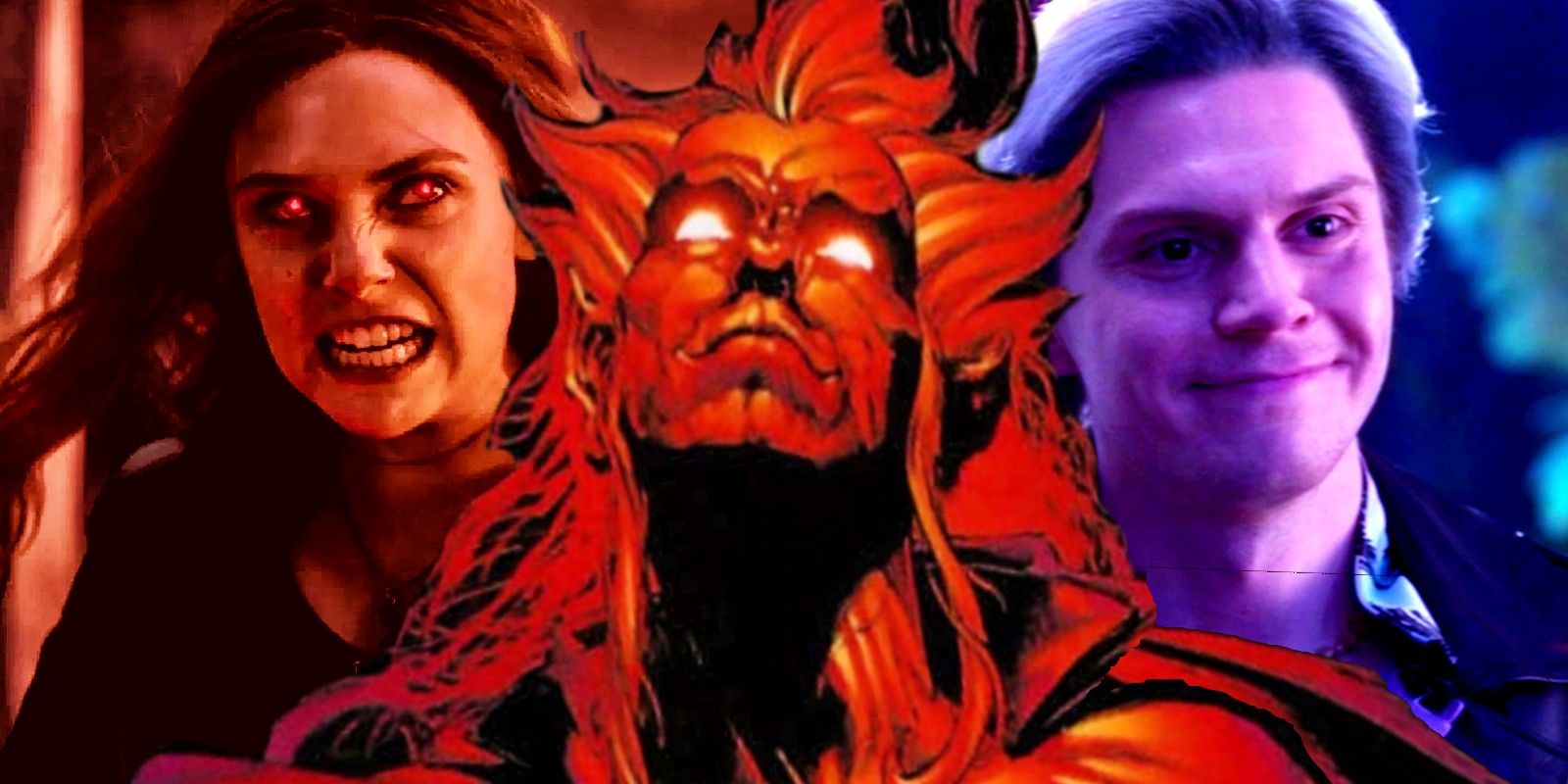 Smith adds that Wanda's suddenly not-dead twin brother Pietro on WandaVision could be Mephisto in disguise, including the fact Pietro refers to Tommy and Billy as "demon spawn," referencing the fact the twins were created from Mephisto's soul in the comics. Many have also felt Mephisto could be the main villain of the MCU's Phase 4, given the seeming allusion to him in the Loki trailer, the casting of several characters such as Moon Knight with ties to the devil, and the fact Mephisto has major comic book storylines against many prominent Phase 4 characters including Scarlet Witch, Doctor Strange, Spider-Man and Thor.
The potential appearance of Mephisto is an exciting thought. Marvel is obviously mum, so there's no word on whether Mephisto will indeed appear or who will play him if so. Evan Peters is currently appearing as Pietro, reprising his role as Quicksilver from the X-Men movies, so there's a possibility he could double-up as Mephisto once the devil's presence is revealed. However, Paul Bettany, who plays Vision, recently revealed he shot some WandaVision scenes with a secret star he had always wanted to work with, which likely means someone older than Peters. If speaking about Mephisto, an older actor would make more sense than someone in his early 30s. After keeping Luke Skywalker's The Mandalorian appearance under wraps for an entire year, Disney has proved it can keep major casting decisions secret. If Mephisto is the Phase 4 villain, hopefully WandaVision viewers will have some answers soon.
Source: Fatman Beyond (via Comicbook)