White Vision Funko Pop Has Glow in the Dark Version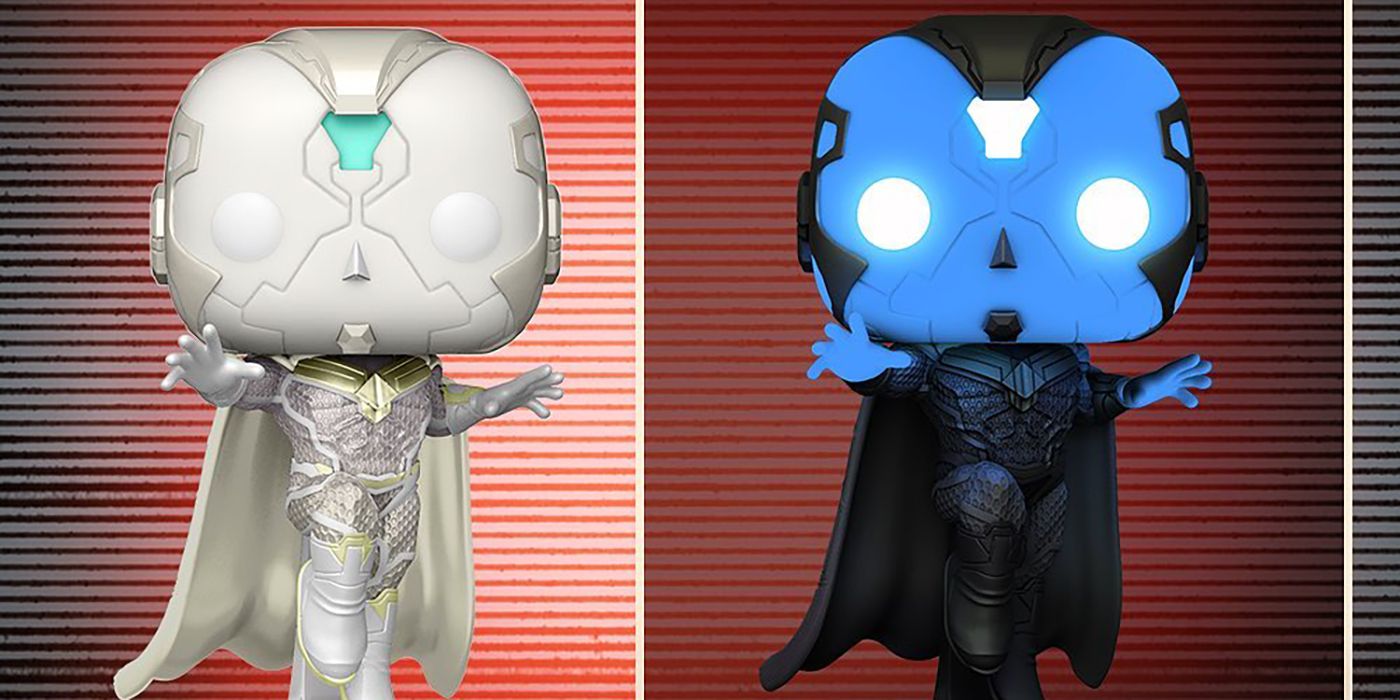 White Vision is getting his own Funko Pop, and the WandaVision character's figure glows in the dark. White Vision appeared during WandaVision episode eight's mid-credits scene, and the surprise reveal seemed to contradict some things that had come before. Shady S.W.O.R.D. director Tyler Hayward previously said that Wanda had stolen Vision's corpse from S.W.O.R.D. headquarters, but it seems like that may not be the case. Hayward seems to have used Vision's corpse to create his own vibranium synthezoid in the hopes of infiltrating the Hex and getting ahold of the new Vision.
WandaVision has proven immensely popular, to the surprise of no one, besting Netflix hit Bridgerton in January viewership. Funko has steadily released Pops for the series, including Quicksilver, Wanda, and Vision in their Halloween costumes, and Billy and Tommy. As WandaVision heads into its finale next week, the series is gearing up for what has been said to be an explosive finale. The finale will heavily involve White Vision, and now fans can bring him home.
White Vision will get the Funko Pop treatment, but the retailer did not indicate when the figure would be available for purchase. They did show off his glow-in-the-dark abilities, though, with White Vision turning black and blue. Agatha Harkness will also be getting her own Funko Pop. The figure is wearing Agatha's sorceress costume rather than the clothes her alter ego, Agnes, was seen wearing in the series. Check out the figures below:
Funko has been steadily rolling out figures for WandaVision as each week brings new twists and turns. Of course, many of these figures couldn't be revealed until the series introduced the characters, and this latest addition is a truly shocking one. In the comics, White Vision is an entirely emotionless version of the man Wanda loved. He serves to amplify her grief once she realizes that he is not the same Vision she knew and loved.
While some say White Vision introduces a WandaVision plot hole, it seems like the reveal is hiding a more significant twist in plain sight. While Hayward was tracking the Vision Wanda created inside the Hex, it's possible he picked up on the vibranium inside the Maximoff Anomaly. Additionally, it remains unclear if the Vision inside the Hex is of Wanda's making or something she pulled from the Multiverse.  WandaVision will surely answer all these lingering questions when its finale premieres this Friday. Hopefully, the final episode will answer the mystery surrounding White Vision and his Hex counterpart.
Source: Funko