WandaVision Songwriters Reveal Their Agatha All Along Inspiration
The WandaVision songwriters explain what music inspired the spooky and catchy sounds of "Agatha All Along." WandaVision episode 7 ended with the huge reveal that Wanda (Elizabeth Olsen) and Vision's (Paul Bettany) nosy neighbor is actually Agatha Harkness (Kathryn Hahn), a powerful sorceress who has secretly been pulling the strings since the beginning. Although this twist is something many have suspected since the release of the show's trailer, it was still extremely satisfying to see Agatha finally show her true self – especially considering the scene came with a catchy new jingle that was actually sung by Hahn.
Since the WandaVision episode aired, "Agatha All Along" has become a rallying cry for Marvel Cinematic Universe fans. Not only is the tune a popular TikTok audio, it has also inspired a number of memes and remixes that have been circling the internet. Marvel has also released the full song on Spotify, where it's performed impressively well. In short, "Agatha All Along" is truly a show stopper and will likely stick around in the MCU zeitgeist, especially as audiences patiently wait for more Phase 4 releases.
The song's popularity is perhaps unsurprising considering the talent behind its composition. WandaVision's "Agatha All Along" was composed by Robert Lopez and Kristen Anderson-Lopez, the award-winning songwriting duo who wrote Frozen's "Let It Go" and Coco's "Remember Me." In a recent interview with the NYT, the couple explained what songs they pulled from to create the witchy sounding ear-worm that closed out episode 7. You can read their full explanation below:
Lopez: We started with a different idea for a version of the song more along the lines of "That Girl."

Anderson-Lopez: But it just wasn't right; it just wasn't churning my blood the way that I wanted it to. So then we thought: It's a show about witches, right? So let's embrace it. What other shows are about witches and Goth figures? "The Addams Family," "The Munsters," the "Monster Mash" – all these Halloween-y kind of songs that have this grinding, growling bari sax.

Lopez: We also have an electric harpsichord, which is what they use in "The Addams Family." That's the thing going dit-dit-dit-dit-dit-dit – the repeated chorus.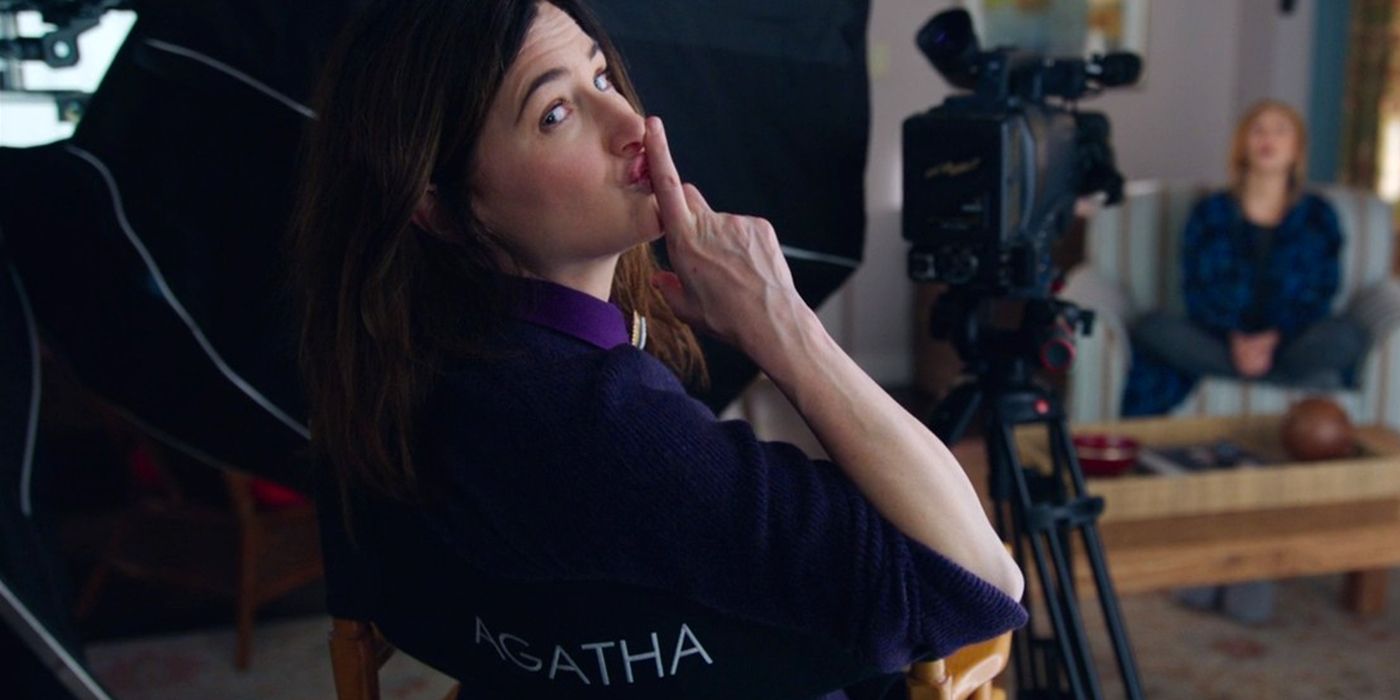 Not only does this song fit the WandaVision motif of referencing iconic shows through the ages, it also emphasizes the gothic and spooky elements that make Agatha's character unique. Whether viewers may not have initially recognized the various elements weaved into "Agatha All Along," the "Addams Family" and "Monster Mash" influences are certainly detectable, even to listeners who aren't musical experts. It's lucky Marvel had these talented and thoughtful songwriters on hand, seeing as their song, coupled with Hahn's charmingly perfidious performance, helped create one of the most satisfying reveals in the MCU thus far.
Now that WandaVision has referenced all the eras of sitcoms that it wanted to, there may not be a song from Lopez and Anderson-Lopez in the show's finale. Regardless, there is no doubt a lot to look forward to in episode 9. Last week's emotional episode ended with Agatha in her full getup as she restrained the twins with her powers. Thanks to a photo released by Disney+, viewers already know the twins eventually escape from her grasp but haven't yet seen them battle Agatha alongside Wanda and Vision. The finale will likely also cover what was teased in the mid-credit scenes for episodes 7 and 8, which respectively revealed Monica meeting Fake Pietro and Hayward powering up what appears to be White Vision from the comics. Until the WandaVision finale airs, audiences will just have to keep themselves occupied by listening to "Agatha All Along."
Source: NYT