WandaVision Agnes Reveal Art Perfectly Merges The Show & Comics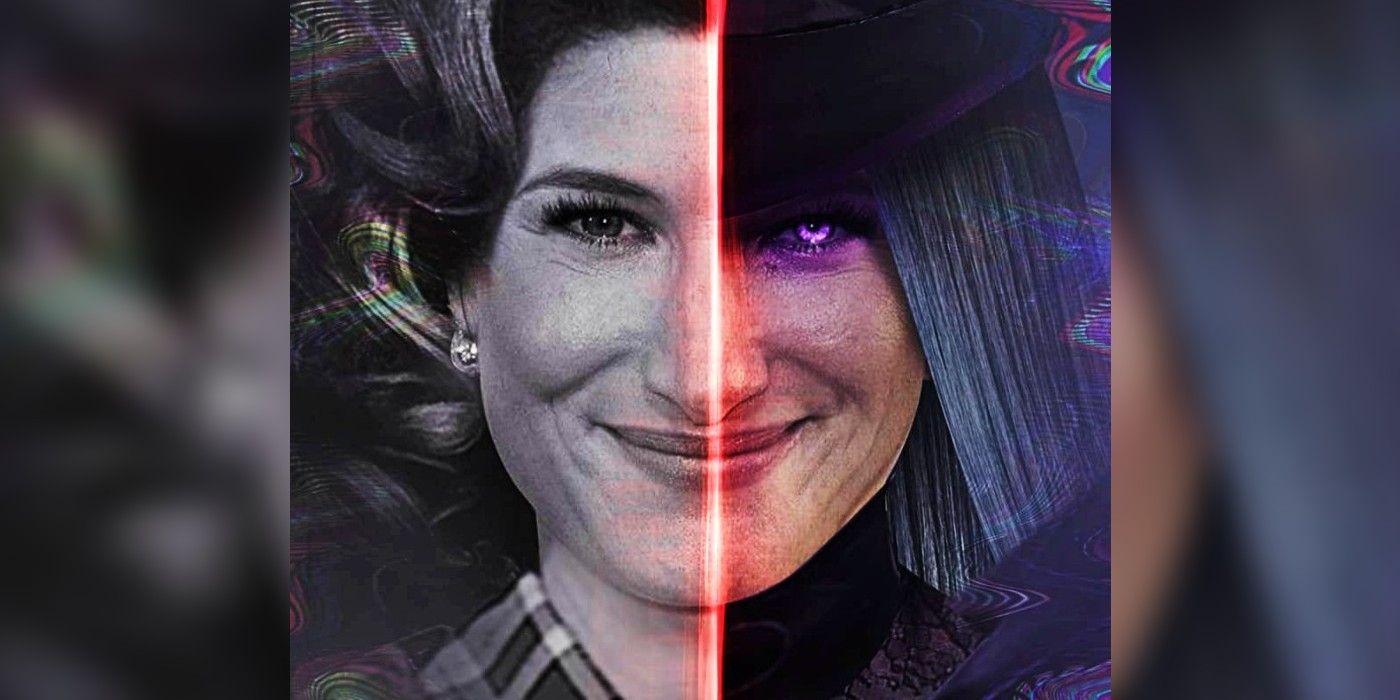 A piece of fan art predicts WandaVision's Agnes/Agatha Harkness reveal while also referencing the character's comic book origins. WandaVision season 1, episode 7, "Breaking the Fourth Wall" finally revealed the real force behind what's happening in Westview, from the death of Sparky the dog to the mysterious appearance of Evan Peters' version of Quicksilver. It turns out Wanda's neighbor, Agnes, real name Agatha Harkness, has been the instigator the whole time. The reveal included a catchy jingle called "Agatha All Along," subsequently released on Spotify, which has already been remixed hundreds of times by fans.
As WandaVision winds down, the reveal of Agatha is a sign the many threads of the show's mysterious plot are going to be pulled back together for an emotionally cathartic climax. While many theories were thrown around, it was always a strong bet that Agnes  would turn out to be Agatha Harkness, a classic Marvel villain and witch who is intrinsically connected to Scarlet Witch, not least through Wanda's children. Just what her plan is in WandaVision remains unclear, though more reveals are likely on the way.
Now, fan artist Valentin Romero has referenced WandaVision's surprise reveal of Agatha Harkness as the show's villain in a piece of art that merges the TV posters that have been used to promote the series, as well as the character's comic book origins. The art is a split screen, with the trademark red energy beam through the middle, splitting actress Kathryn Hahn into the black-and-white Agnes on the left and Agatha in full color on the right. There is also the show's trademark interference on the edges, completing the picture. You can see the art below:
The art is perfect for the show, getting the visual approach just right, and could easily be used as a real poster. Impressively, the art was posted in January 2020, well before the Agatha reveal, where viewers found their theories about what's been going on confirmed. Of course, as the show nears its conclusion, WandaVision now needs to build towards a resolution and start to show audiences just what is happening and how it will all be resolved.
While Marvel won't rule out WandaVision season 2, there's no doubt season 1 was conceived as a standalone story that will lead into the phase 4 movies in the Marvel Cinematic Universe, as well its upcoming slate of Disney+ shows like The Falcon and the Winter Soldier and Loki. Hopefully, Agatha's reveal was manufactured to be more than just a shock in this show and has wider repercussions on the MCU. Viewers are set to find out soon, though, with WandaVision season 1 close to its end.
Source: Valentin Romero/Instagram