Valheim Fan's Giant Ramp Turns The Ocean Into A Trampoline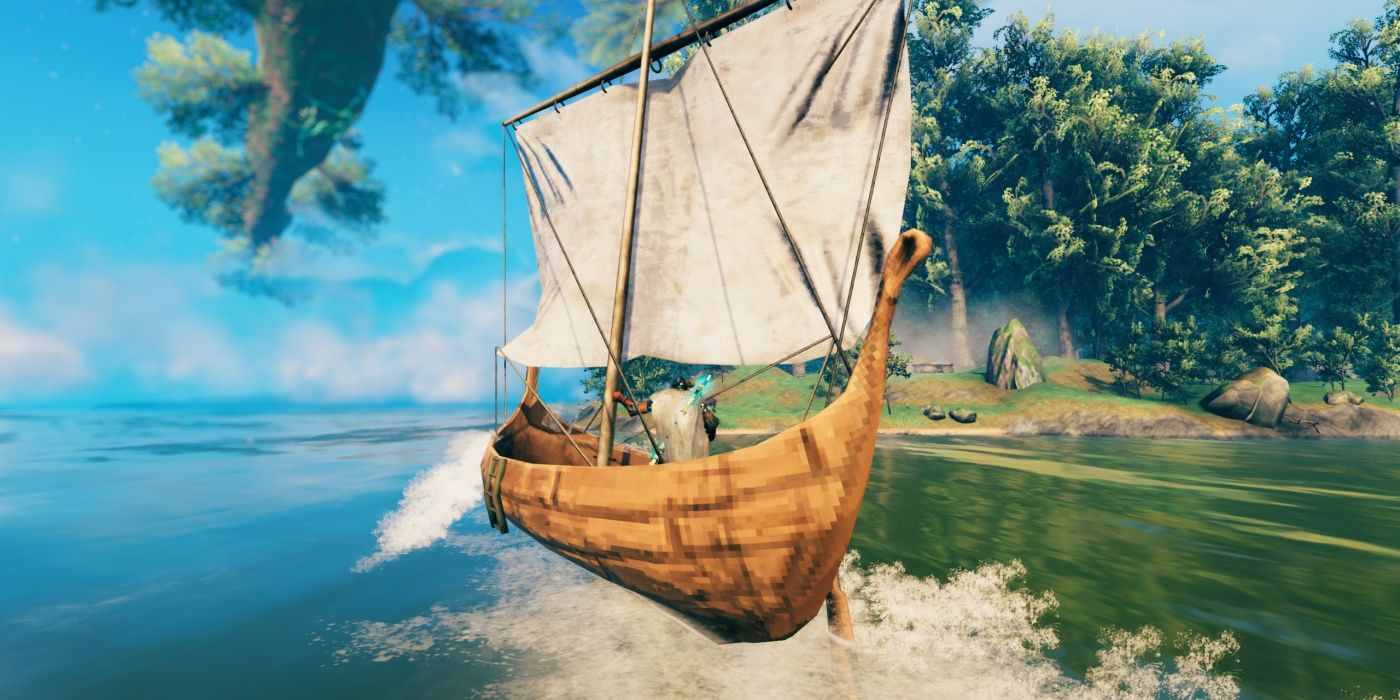 One Valheim player barreled down a giant ramp in their boat and, upon landing, bounced around the ocean as though its water had transformed into a trampoline. Developer Iron Gate deployed Valheim on Steam Early Access one month ago, unaware of the meteoric success that would soon fall into their laps. After just over three weeks on the market, for instance, the co-op survival title eclipsed four million copies sold. It even managed to top Among Us' concurrent players record on Steam.
Something good was bound to come from so many people playing Valheim at once. Sure, there are beasts in need of slaying, but what better way to survive the 10th Norse realm than by building the most extravagant of custom settlements? Notably, one fan chose to meticulously construct The Elder Scrolls V: Skyrim's High Hrothgar monastery in-game, even taking the time to design detailed interior areas. Another player recently shared their recreation of the Millennium Falcon ship from Star Wars. Of course, there are also those devoting time to simpler constructs, such as roads and log cabins. And it seems ramps may soon become all the rage, too.
YouTuber Garage NOR recently shared a video showcasing the massive ramp they built in Valheim. The ramp towers high above the trees and the player uses a sailboat to make the most of the construct's design. Things don't end quite as one would expect, however. Instead of crash landing in the water with a big splash, the boat bounces off the water twice as though the ocean were a trampoline. The bouncing thrusts the player high into the air on both occasions before they finally strike the treetops bottom side up.
It's these small discoveries that are sure to encourage players to experiment more with Valheim's building mechanics, the very same mechanics that made Viking beer pong an in-game possibility. And who knows what else players will come up with once Iron Gate begins rolling out its planned content updates?
According to a roadmap the team shared last month, there are at least four big updates in the works for Valheim's Early Access phase. The first of such content drops will center around "Hearth and Stone," while the second is referred to as "Cult of the Wolf." If time and reimgs permit, Iron Gate may also implement a sandbox mode, Mistlands biome, tar pits, and moon phases.
Valheim is available to purchase now on PC via Steam Early Access.
Source: Garage NOR