Umbrella Academy Season 2 Video Reveals SFX Used To Edit Out A Snowstorm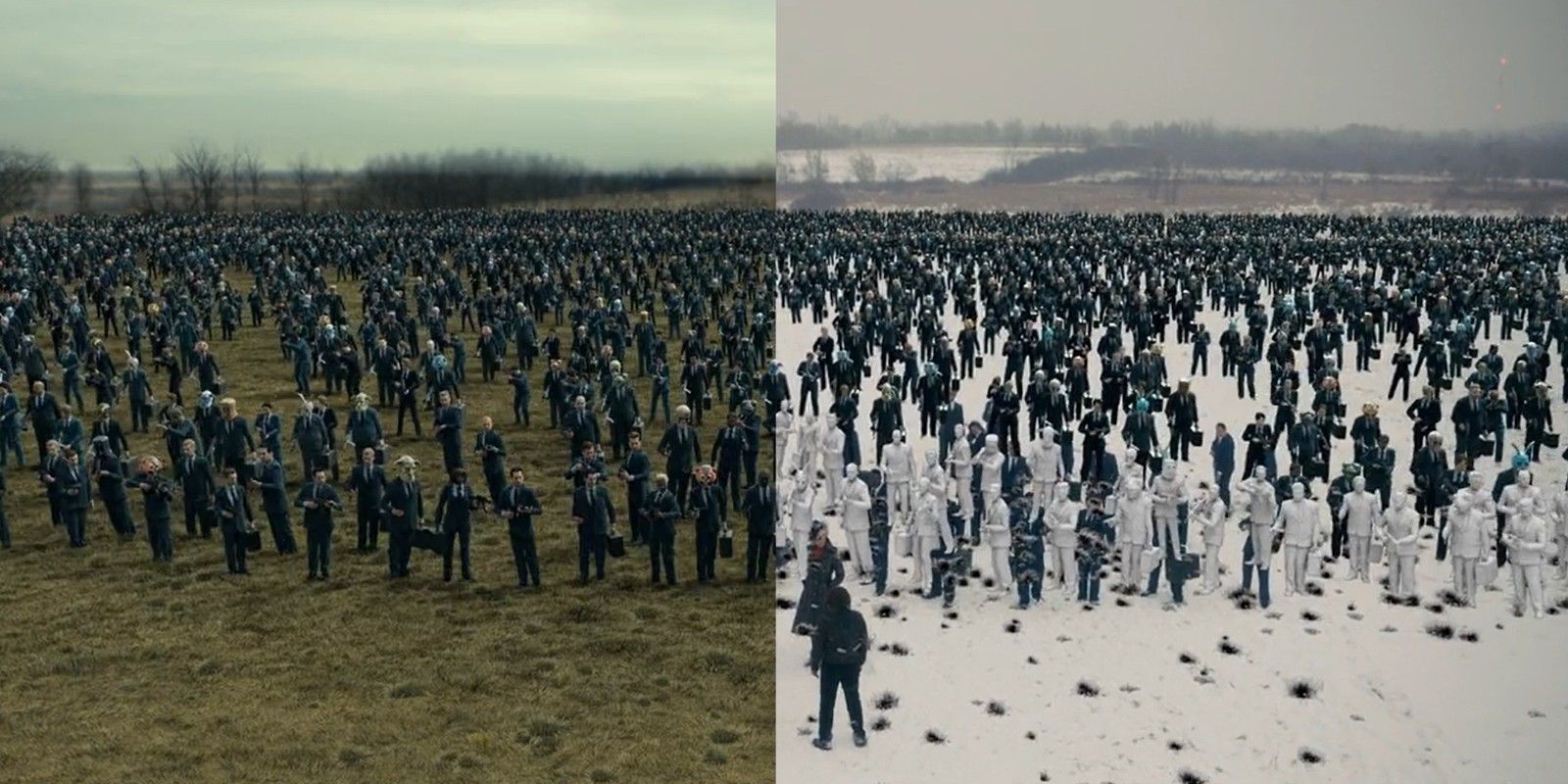 A new SFX video shows how The Umbrella Academy season 2 managed to use special effects to erase the remnants of a real life snowstorm. After a great deal of anticipation, the second season of Netflix's comic book adaptation arrived last summer for more eccentric superpowered adventures. This time around, the disparate Hargreeves siblings ended up in the 1960s after Number Five (Aidan Gallagher) rescued them from the impending apocalypse in the present day. The Umbrella Academy season 2 saw the siblings reunite to stop the end of the world once more, only to return to a very different reality in their original time.
Though The Umbrella Academy season 2 was a huge hit for Netflix, standing as the streamer's biggest original show of last year, it took some time for it to be renewed. Finally, Netflix did so in November, and filming for The Umbrella Academy season 3 started up just last week. With so little revealed about the new episodes, though, it's easier to take a look back at what has already happened, particularly when it comes to the behind the scenes feats. The Umbrella Academy's sophomore run accomplished some thrilling things, and some of them have been revealed in a new video.
As shared by SPIN VFX, The Umbrella Academy featured truly impressive CGI. The visual effects studio shared a sizzle reel showing before and after footage from the entire season. It's interesting to see ghostly figures rendered in the middle of a battle, and Five's axe-wielding rampage is a highlight. However, a particularly impressive moment comes near the end, when VFX was used to erase a good amount of snow from a large field. As far as The Umbrella Academy is concerned, there was no snowstorm to speak of.
It was previously revealed The Umbrella Academy's season 2 finale had to be rewritten due to a freak snowstorm. While it could be incorporated into the story for that moment, they couldn't have an entire field covered in snow for continuity purposes. Hence, the incredible use of VFX to clean up the mess. If one didn't know there was a snowstorm while filming those scenes of The Umbrella Academy, audiences probably wouldn't know the difference. It's very well done, and the video is a fascinating glimpse into the VFX process.
There's bound to be even more impressive special effects ahead in The Umbrella Academy season 3. The next batch of episodes will introduce new superpowered individuals known as the Sparrow Academy, the alternate team headed up by none other than Ben Hargreeves (Justin H. Min). Their introduction in season 3 presents some interesting story opportunities, and The Umbrella Academy can be counted on to explore those to their fullest potential. This time, though, there hopefully won't be any sudden snowstorms.
Source: SPIN VFX