Troy Baker Talks Working With Kevin Spacey On CoD: Advanced Warfare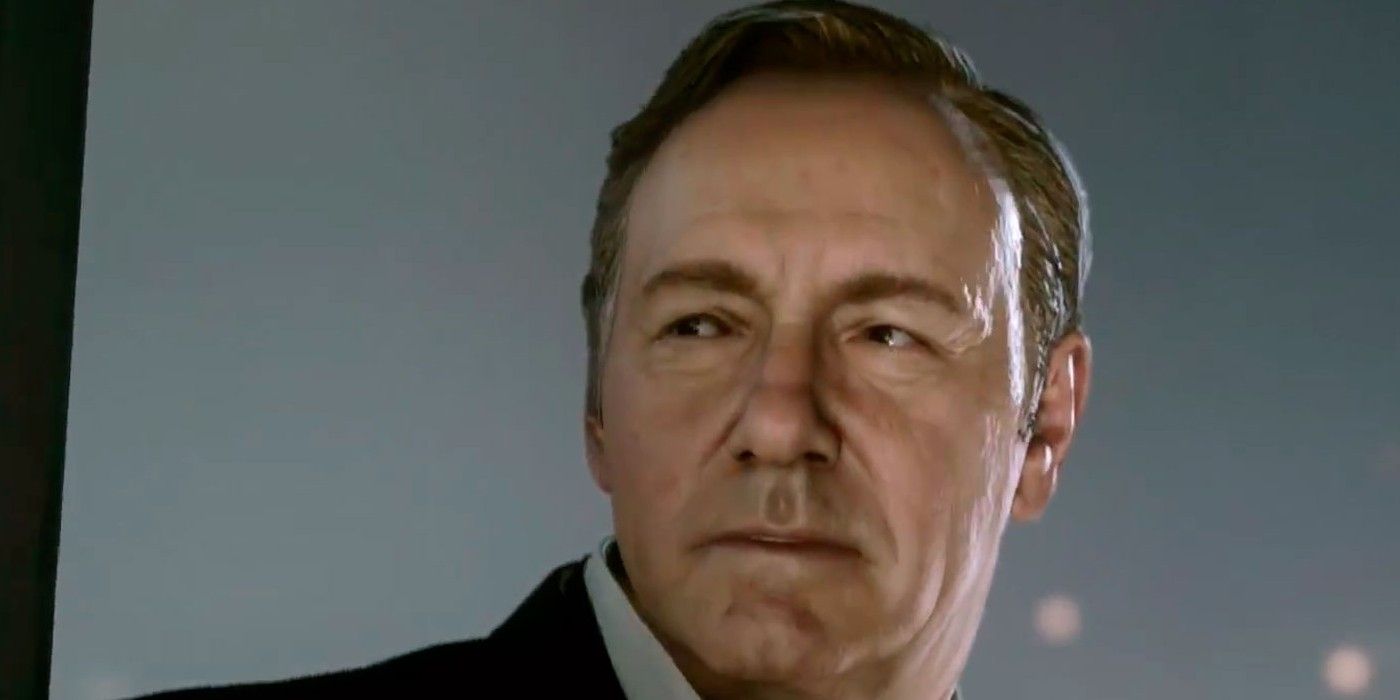 Troy Baker has spoken about his experience with Kevin Spacey on Call of Duty: Advanced Warfare in a new interview. The acclaimed video game actor previously worked on the hit video game series in addition to his more notable roles in The Last of Us and Resident Evil series. Baker spoke about what Spacey brought to the game, an alternate ending, and his relationship with the now-disgraced Oscar winner.
In 2014, Sledgehammer Games made a pretty distinct mark on the Call of Duty franchise with Advanced Warfare. It was the first full game from the studio after helping on Modern Warfare 3 and took the series into the future with a new movement system. Plenty of big-name actors had been in Call of Duty before like Michael Keaton, Gary Oldman, and many others, but Spacey was probably the biggest and most surprising. A few years after the release, Spacey's role was looked at differently when he was accused of sexual misconduct toward a number of actors and filmmakers.
In an interview with DanAllenGaming, Troy Baker talked about his time on Call of Duty: Advanced Warfare. The prolific video game actor noted he had already been shooting scenes for Advanced Warfare for some time, but initially had no idea Kevin Spacey was in the game. The only hint was the letters "K.S." on the call sheet, likely to keep it a secret. Baker only found out when he showed up on set to find Spacey greeting the crew. When it came time to film, Spacey would nail takes almost immediately. He also noted he was aware of Spacey's reputation at the time and while saddened that the talent is lost, he recognizes that it's important to hold people accountable and stop the behavior from being perpetuated.
Troy Baker went on to note that Call of Duty: Advanced Warfare also had a different ending. "The original [ending] is that he walks up to you and goes…'Every movement needs a martyr, to really have an effective movement, you need a martyr'. He takes the gun and puts it right up to his head and goes 'I know what I'm doing.' Bang, that's the original ending," said Baker. He then said that the ending changed entirely when he went in to do ADR, which is voice-over work rather than the traditional full-body mocap performance. Someone at Sledgehammer told him they'd never be able to do the original ending, for whatever reason, and changed it to a more Die Hard-esque ending.
It certainly seems like there was more to Call of Duty: Advanced Warfare than what players actually played. It's unclear if this was a choice from Sledgehammer or if it was made by Activision, but it wouldn't be the first time the publisher interfered with the developer. The studio was pulled off of Call of Duty 2020 about a year prior to release, leading Treyarch to come in and reboot it as a Black Ops game. Sledgehammer is reportedly back for this year's entry but nothing has been officially confirmed.
Source: DanAllenGaming