Tom Holland Looks Eerily Similar To Tobey Maguire In Spider-Man DeepFake Video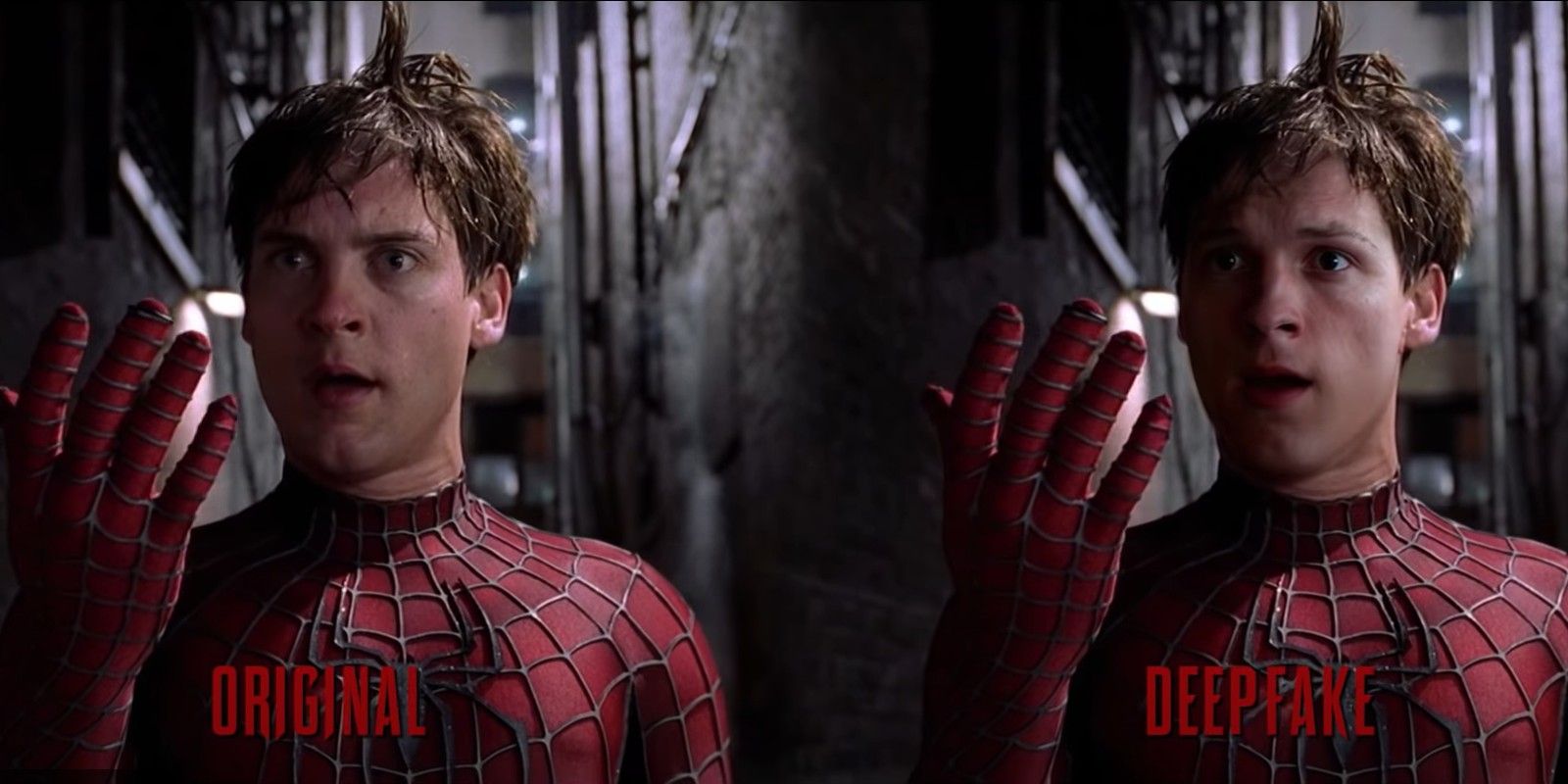 Tom Holland replaces Tobey Maguire in this eerie Spider-Man deepfake. Maguire played the first cinematic Peter Parker, taking on the role for Sam Raimi's Spider-Man trilogy. Those films helped alter the landscape of the superhero genre, and Maguire's performance has long been praised by fans. While there were plans for a Spider-Man 4, Maguire's time in the role ended with the third film, and he has yet to return to the Marvel universe in any form. Since then, other actors have tackled Peter on the big screen, including Andrew Garfield and, most recently, Tom Holland.
Holland will return for his own third solo movie later this year with the recently titled Spider-Man: No Way Home. Plot details for that installment are still being kept under wraps, but rumors suggest it will dive into the multiverse with both feet. Reportedly, Spider-Man: No Way Home will see the returns of both Maguire and Garfield, along with various performers from their movies. Marvel and Holland have worked to debunk those rumors, so at this point, it's hard to say exactly what No Way Home will entail. Nevertheless, anticipation is quite high.
As Spider-Man is such a popular hero, fans love seeing connections between the various iterations of the character in any way they can. This deepfake from Shamook, though, takes things a step further by actively combining Maguire and Holland. The video edits Holland's likeness over Maguire from his various Spider-Man movies. The end result is an eerie collection of clips that reaffirms Holland is a good fit for Spider-Man, and that Maguire's performance is still pretty solid. As a treat, one part even brings in Garfield's Spidey. Check it out down below.
Deepfakes are always a strange experience, but they're a fun way to imagine what could have been in an alternate universe. Maguire and Holland are frequently named as fans' favorite onscreen Spider-Man, and it's fascinating to see how Holland would look in Maguire's shoes. Since Holland actually looks like a natural fit for the scenes he's edited into, it feels like his version of the character matches Maguire's to an extent. Though they are two very different Spider-Men, they retain some similarities.
Fans would love to see the two side by side in the MCU, but it remains to be seen if that will come to fruition in Spider-Man: No Way Home. The many conflicting reports about Maguire's potential involvement have left fans confused, and it doesn't look like any clarification will arise soon. Most likely, Marvel will want to keep things a secret for as long as possible to make the reveal a true thrill. In that sense, fans will have to wait while before they discover whether this Spider-Man collaboration could ever come true.
Source: Shamook