Thor 4 Set Video Previews Re-Enactment Of Mjölnir's Destruction in Ragnarok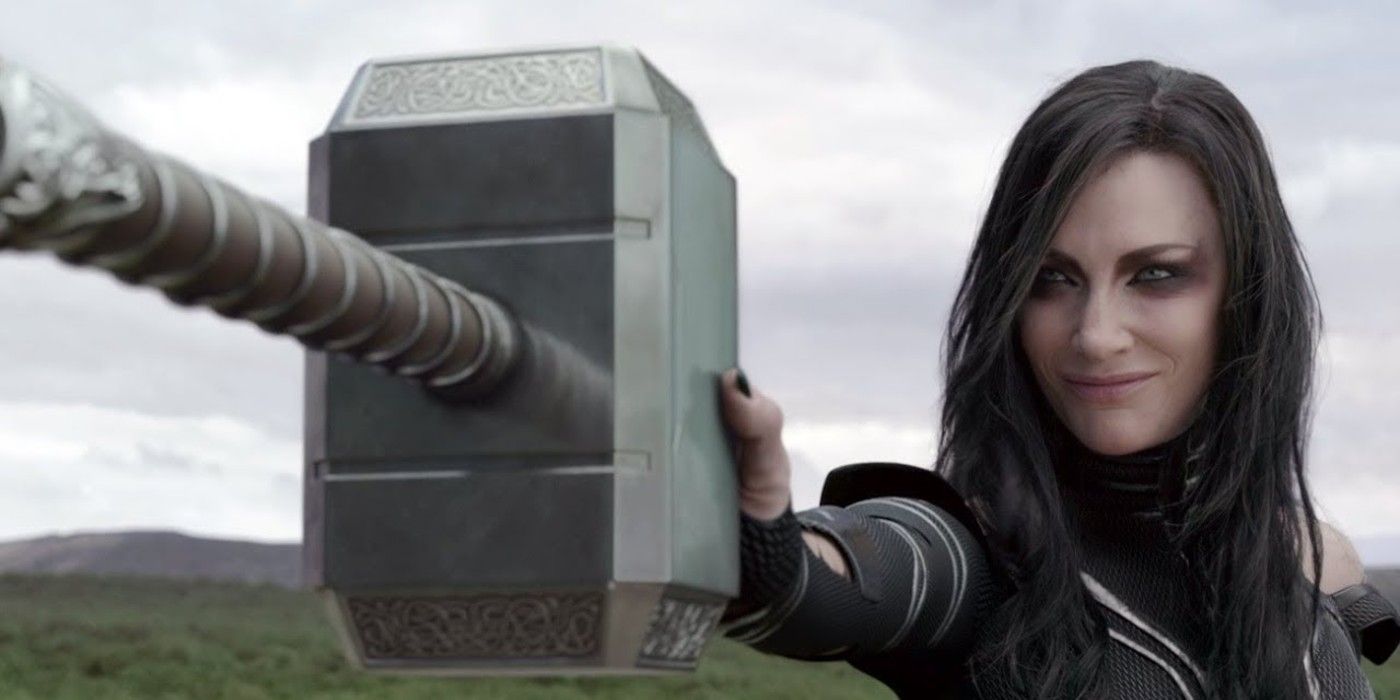 Thor: Love and Thunder set video offers a glimpse at its stage play re-enacting the destruction of Mjölnir in Thor: Ragnarok. The God of Thunder's beloved hammer was destroyed very early on in Taika Waititi's first MCU film at the hands of Hela.
Production for Chris Hemsworth's fourth standalone movie as Thor is currently in full swing in Australia after getting pushed back due to the coronavirus pandemic. Since work began earlier this year, various images from the set have emerged including the first look at the God of Thunder's updated look. More recently, unofficial Love and Thunder photos reveal the rebuilding of old Asgard where another dramatization will once again take place. This time, however, instead of Loki's fake death, it will re-create Odin's death immediately followed by Hela's first appearance in Ragnarok.
Courtesy of XRealm Matthews is a new video from the set of Love and Thunder revealing a snippet of the movie's play scene featuring Luke Hemsworth as fake Thor, Melissa McCarthy as fake Hela, and Matt Damon as fake Loki. The clip shows the part in Ragnarok where the Goddess of Death crushes Mjölnir in her hands and then the God of Mischief calling onto Heimdall to take him and his brother back to Asgard. Check it out below:
Taika Waititi, Matt Damon, Melissa McCarthy, and Luke Hemsworth on the set of Thor: Love and Thunder throwing around Mjollnir in Sydney, 02-03-2021#Marvel #ThorLoveAndThunder #Sydney pic.twitter.com/8ZBsoEP42O

— XRealm Matthews (@CreamOrScream) March 3, 2021
What's interesting here is that Mjölnir is expected to factor in Love and Thunder's narrative; Hemsworth's stunt double was spotted wielding it on the set for the movie indicating the hammer will make an appearance outside of this play. Other than that, it's also expected to be used by Jane Foster as she becomes the Mighty Thor in the upcoming blockbuster. So seeing it getting destroyed during the aforementioned scene only emphasizes the mystery of how it's going to return, potentially for good in the sequel. While the weapon appeared in Avengers: Endgame with both Thor and Captain America having the chance to use it, the Super Soldier brought it back to its original timeline so as not to create any branched timeline just as Smart Hulk promised the Ancient One.
Thor: Ragnarok may have spent time destroying some of the signature elements of the God of Thunder's sub-franchise, signaling a fresh start for him in the MCU, but it seems like Thor: Love and Thunder is bringing those same things back. As previously mentioned, old Asgard is being rebuilt possibly on Earth following the original planet's destruction. Hopefully, like the Mjölnir's expected return, there's a justified reason for this. Otherwise, it could only cheapen the impact of its destruction which came with its own lessons learned for Thor.
Source: XRealm Matthews