Thor 4 Set Photos Provide A Clear Look At Thor's Goats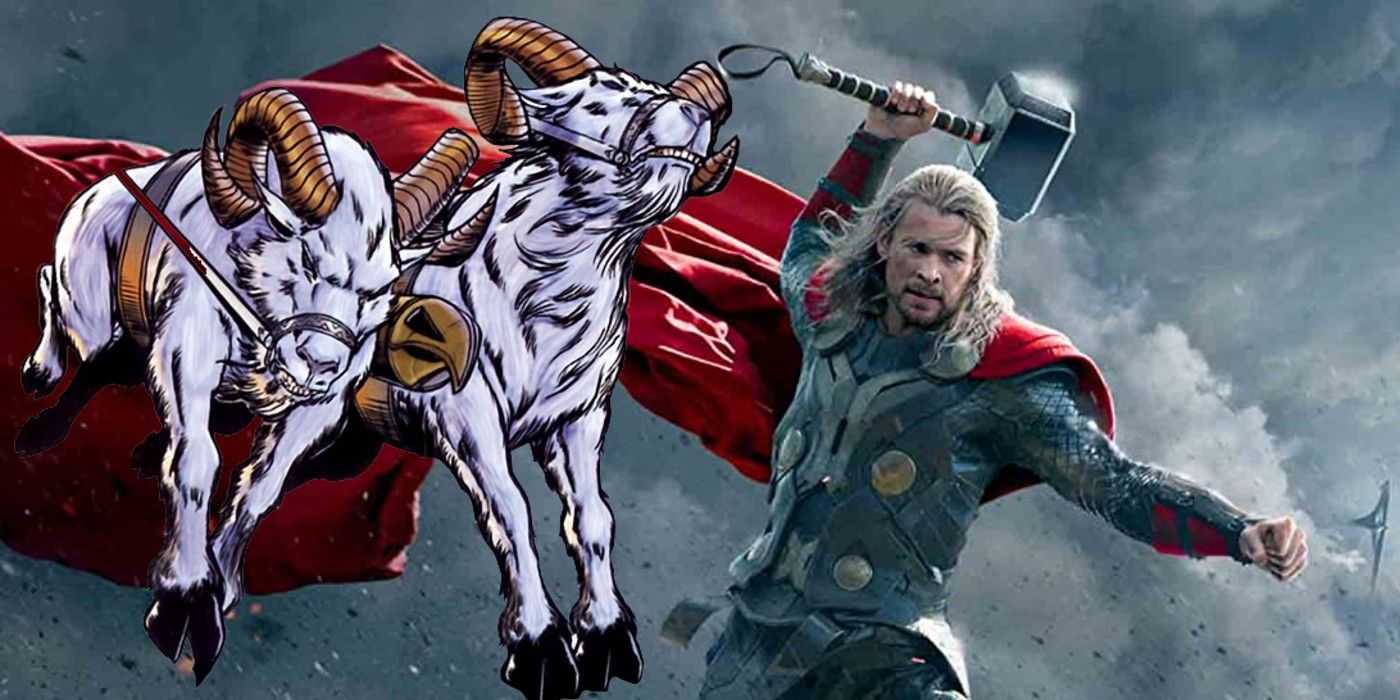 Thor: Love and Thunder set images reveal the best look at Thor's goats. Production for the Taika Waititi film continues, and with exterior scenes being filmed, more photos have made it online. This time, it gives the clearest look at Toothgnasher and Toothgrinder — both set to debut in the upcoming MCU blockbuster.
When first set images for Love and Thunder emerged in February, the goats' practical props were first spotted, confirmed their impending arrival. Since there, Waititi and the rest of its cast and crew have done more work on the movie. Recently, a string of unofficial snaps has been released, including the rebuilding of Asgard, where the dramatization of Odin's death is being filmed. Additional photos from the same set reveal that elsewhere in the massive production area are the mystical goats.
Courtesy of The Daily Mail (via Thor: Love and Thunder News) are the newest images of what appears to be the same Toothgnasher, and Toothgrinder practical props spotted last month. This time, however, they can be better seen. Other notable details from the Love and Thunder photos are the first sighting of Tessa Thompson as Valkyrie on set, as well as what appears to be Miek. Check out the photos below:
Taika Waititi, Tessa Thompson, Matt Damon, Luke Hemsworth and some goat heads on the set of Thor: Love and Thunder today

(via Daily Mail: https://t.co/PEZkB78XA3) pic.twitter.com/dsEl6FCoz5

— Thor: Love and Thunder News (@lovethundernews) March 3, 2021
Before production for Love and Thunder began, the Waititi project was reportedly assembling a massive cast that can rival that of i. Subsequently, additional casting confirmations were announced, including some actors from the Guardians of the Galaxy sub-franchise, Matt Damon, and more recently, Melissa McCarthy playing fake Hela, among others. For its villain, Christian Bale is playing Gorr the God Butcher. Amidst all this, however, the arrival of Toothgnasher and Toothgrinder in the MCU has excited comic book fans considering their print capabilities. Like the Mjölnir, Thor can summon them in need, and they can prove to be very useful considering they have their own set of magical powers like flying and having super strength.
It's still unclear where the goats came from and how they will factor in the movie; nevertheless, with two sightings of them already, it's safe to say that their appearance will be more than a cameo. Perhaps they even survive past the events of Thor: Love and Thunder and be a constant figure in the franchise. Assuming that this is the case, they can be the next surprise character hit for the MCU following all incarnations of Groot, Captain Marvel's Goose, and even Korg and Miek.
Source: The Daily Mail (via Thor: Love and Thunder News)