The Bachelor: Everything To Know About Finale Host Emmanuel Acho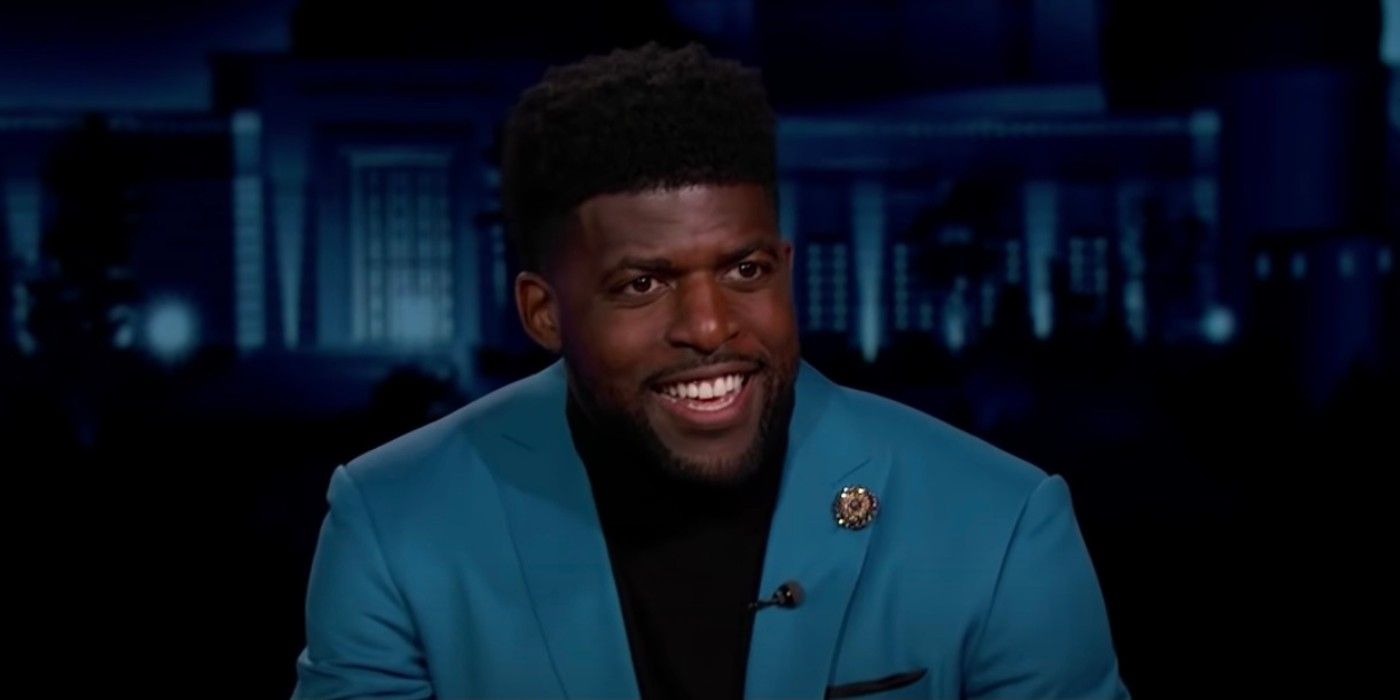 Emmanuel Acho has been chosen as Chris Harrison's replacement and the host for The Bachelor's After the Final Rose special. While it'll certainly be a big change for fans to see a different face hosting the show, it will be interesting to see how he navigates the sensitive topics of the season, especially the controversy concerning Rachael Kirkconnell. Acho already hosts the popular web series, Uncomfortable Conversations With A Black Man, so it's safe to assume many issues will be addressed like never before in the history of The Bachelor.
Emmanuel Acho is a former NFL linebacker. The 30-year-old Fox Sports analyst will anchor the After The Final Rose special on March 15 after the final episode of The Bachelor has aired. It is sure to be a tense conversation if his web series is anything to go by. The former NFL player has had conversations about race, inclusion, and diversity with various celebrities such as Matthew McConaughey, Rachel Lindsay and her husband Bryan Abasolo, Lindsey Vonn, and more. He does not hold back in addressing sensitive subjects, which is certainly a much-needed change for Bachelor Nation.
Acho has also written a book with the same title as his web series, Uncomfortable Conversations With A Black Man, which tackles the ins and outs of racism in America. The book was a 2020 New York Times bestseller. Acho describes his work as, "A book that answers all the racial questions you've been too afraid to ask." In an Instagram post where Acho announced his intention to host the Bachelor finale, he wrote, "I've accepted the Rose and am honored to be hosting the @bachelorabc After the Final Rose this year. It's been a pivotal season, and this episode will hopefully be one of the most storied shows in TV history. Empathy is needed and change is coming. Share the news! I'll see y'all then!" Acho also says he loves being a bridge for reconciliation, which is what Bachelor Nation needs right now.
Emmanuel Acho was drafted in 2012 by the Cleveland Browns. He was then traded to the Philadelphia Eagles in 2013, where he finished off his NFL career. Acho studied Psychology at the University of Texas, and earned his degree in Sports Psychology. Acho is also very accomplished and was featured in the Forbes Under 30 list in 2018. He is also incredibly charitable. He raised enough money with his family's charity, Living Hope Christian Ministry, to build a hospital in rural Nigeria. In short, Acho is a man of many talents. Bachelor Nation is lucky to see him bring his expertise to the After the Final Rose stage.
With a host like Acho, this tell-all is bound to be like no other. Fans can expect tough lessons, and uncomfortable moments as the contestants and audience battle and recognize their own unconscious biases. This upcoming episode of The Bachelor After The Final Rose is sure to be one for the books.
The Bachelor airs on Mondays at 8 PM ET on ABC.
Source: Emmanuel Acho/Instagram