Super Smash Bros. Ultimate's New Stage Stars Xenoblade Chronicles 2 Titans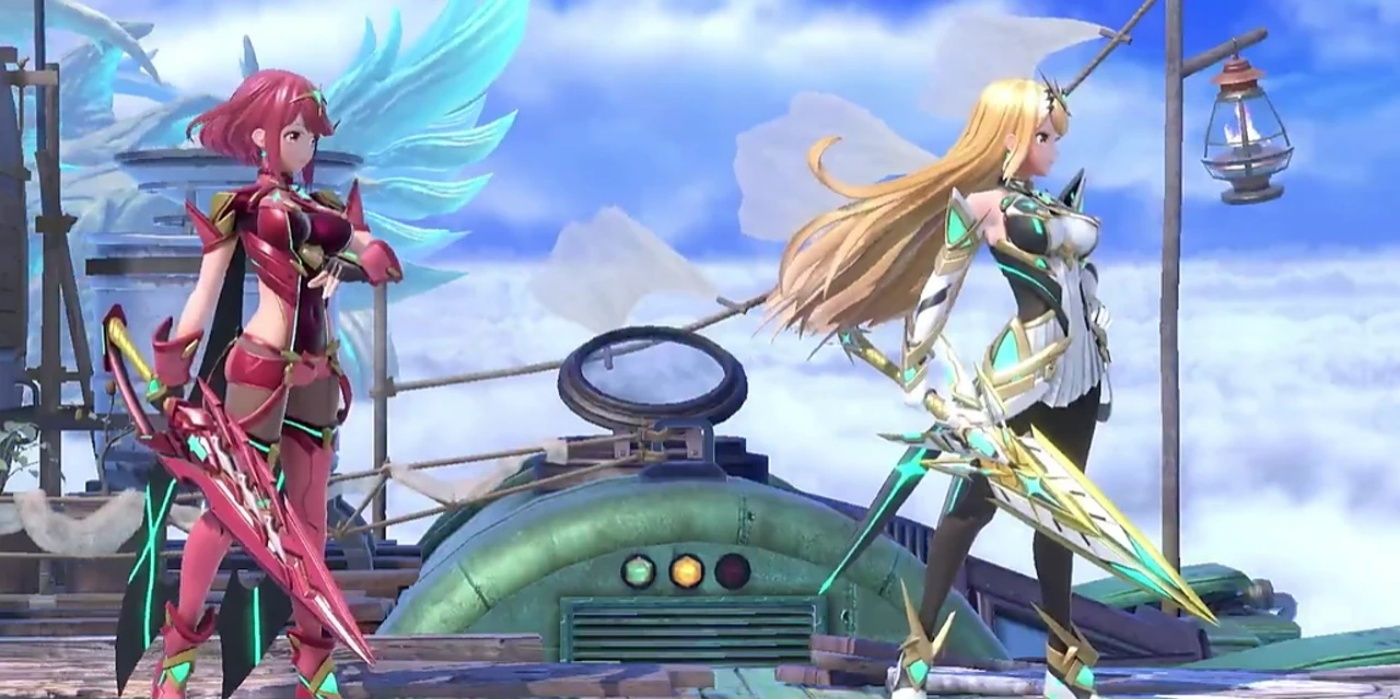 As part of the Challenger Pack 9 DLC, Super Smash Bros. Ultimate players will gain access to a new stage, Cloud Sea of Alrest, inspired by one of Xenoblade Chronicles 2's most memorable locations. Nintendo has been teasing the arrival of Xenoblade Chronicles 2 content for a while, leaving fans guessing as to when exactly in March the DLC would finally go live.
Notably, there are a couple of ways Smash players can get their hands on Challenger Pack 9. It's included in the Super Smash Bros. Ultimate Fighters Pass Vol. 2, for one, which bears a $29.99 price tag. Volume 2 of the Fighters Pass features ARMS' Min Min, Minecraft characters Steve and Alex, Sephiroth of Final Fantasy fame, the forthcoming Xenoblade Chronicles 2 characters – Pyra and Mythra, and two more fighters Nintendo has yet to unveil. Alternatively, players have the option to purchase each Challenger Pack separately for $5.99 apiece.
In a Super Smash Bros. Ultimate stream this morning, Nintendo and series creator Masahiro Sakurai unveiled the new stage featured in Challenger Pack 9, which arrives later today. The stage in question is known as Cloud Sea of Alrest, a locale derived from one of Xenoblade Chronicles 2's more memorable settings. Set on the back of the Titan Azurda, the Cloud Sea of Alrest stage will see players moving through the Sea of Clouds, traveling a world where familiar characters and sights from Xenoblade Chronicles 2 are the norm. These sights will include everything from characters and Titans to flying ships and kingdoms. Fans should especially have fun on this stage while assuming the roles of Pyra and Mythra.
Though Sakurai previously seemed to hint the second Fighters Pass for Super Smash Bros. Ultimate would serve as the last, there's plenty to suggest a third Fighters Pass could be in the works. This speculation comes courtesy of datamined information that indicates there are a few more character spots yet to be filled, even when factoring in the advent of Pyra and Mythra, as well as the two other mysterious fighters.
If a third Fighters Pass is on the horizon, Sakurai said nothing of it during this morning's Super Smash Bros. Ultimate-centric stream. For now, though, fans patiently await concrete details about Fighter Pass Vol. 2's remaining characters.
Super Smash Bros. Ultimate is available to play now on Nintendo Switch.
Source: Nintendo