Super Smash Bros. Ultimate Pyra & Mythra Moves, Differences Detailed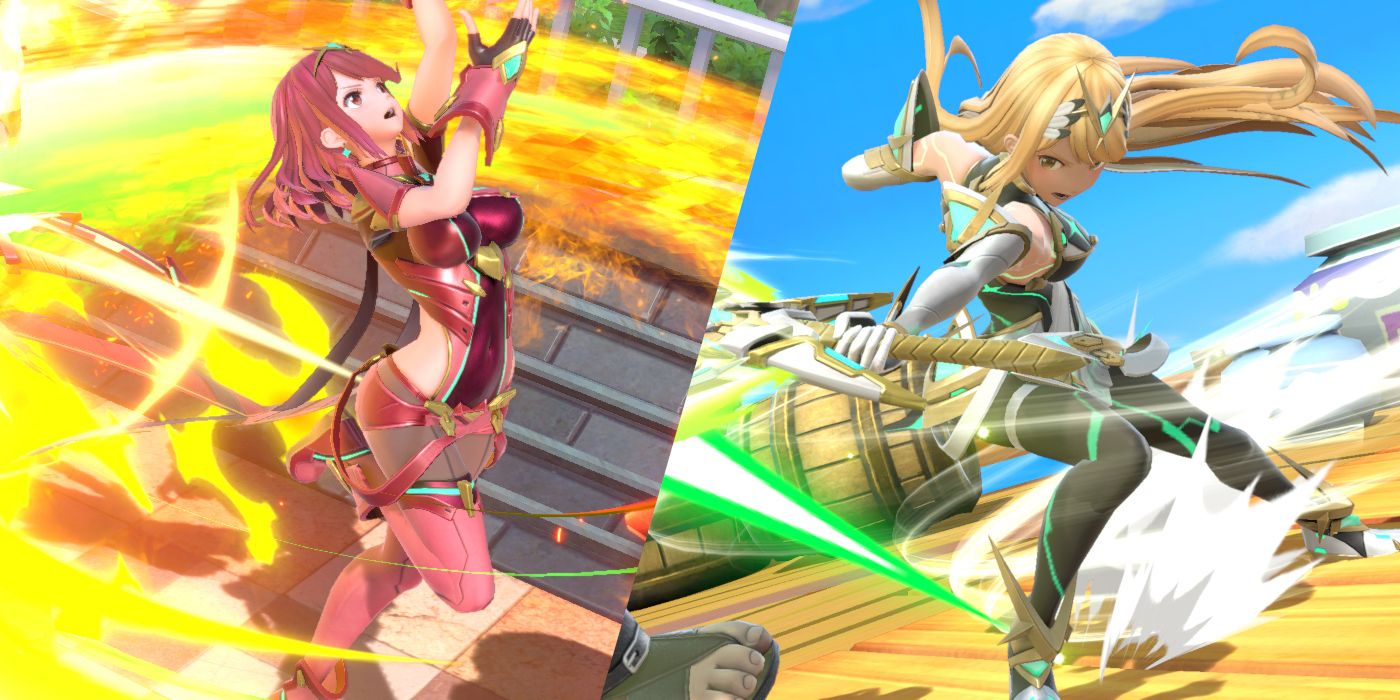 Masahiro Sakurai, series creator and designer of Super Smash Bros. Ultimate, has lifted the veil on upcoming duo fighter Pyra and Mythra, explaining their moves and differences in depth. For all intents and purposes, these may as well be two unique fighters in one, effectively tripling the game's existing Xenoblade Chronicles representation.
Pyra and Mythra are main characters in Xenoblade Chronicles 2, and they're the living embodiment of the key Aegis Sword weapon and serve as protagonist Rex's dual companions. Being sword-wielding JRPG characters that double as a literal sword, many in the Super Smash Bros. Ultimate community voiced that Pyra and Mythra epitomize the "anime swordfigther" over-representation issue in the crossover fighting game's roster when they were announced by Nintendo in February. The characters are the third-to-last to be announced for Super Smash Bros. Ultimate Fighters Pass Vol. 2, so more Fire Emblem-style, sword-wielding characters further fed into this initial mixed reception, as expectations and hopes often outshine reality.
In a March 4 Nintendo presentation focusing primarily on Pyra and Mythra's introduction to the game, Super Smash Bros. Ultimate creator Masahiro Sakurai gave an in-depth look at each half of the dual fighter's moveset and what sets the two apart. Though Sakurai hints that he prefers Pyra for her greater damage-dealing power and all-roundedness, he demonstrated that Mythra is faster and more deadly at range. The characters' Down Special allows players to swap between the two at will, and each have their own unique Final Smash attacks, with Pyra's Burning Sword and Mythra's Sacred Arrow (each of which co-star Rex in their animations) coming from Xenoblade Chronicles 2. The character pair will be available today, March 4.
This is true of the character's entire shared moveset, which is visually stylish and fairly faithful to Pyra and Mythra's Xenoblade Chronicles img material. The entire Super Smash Bros. Ultimate special attack moveset for the new characters is as follows:
Pyra
Mythra
Although, Pyra and Mythra's moves have lots of valuable-looking flourishes, packing two characters' worth of attacks into one fighter isn't something the series is a stranger to. Zelda and Sheik, added to the franchise all the way back in Super Smash Bros. Melee, were the first to bring the concept to the game (even using the characters' Down Special to change between one another), while the Ice Climbers were another two-in-one fighter in the same entry that share inputs in a more unique way.
Pyra and Mythra's arrival to Super Smash Bros. Ultimate will also bring several new additions, including new licensed Mii Fighter outfits and a Xenoblade Chronicles 2-themed stage with all-new music. However, the new fighter will be the focus of every player returning to the game for another dose of DLC, and it's only a matter of time until the game's community determines if either character was worth the DLC price and developer effort.
Super Smash Bros. Ultimate is available on Nintendo Switch.
Source: Nintendo