Star Wars' Darth Maul Actor Posts BTS Pick Of Horn Prosthetics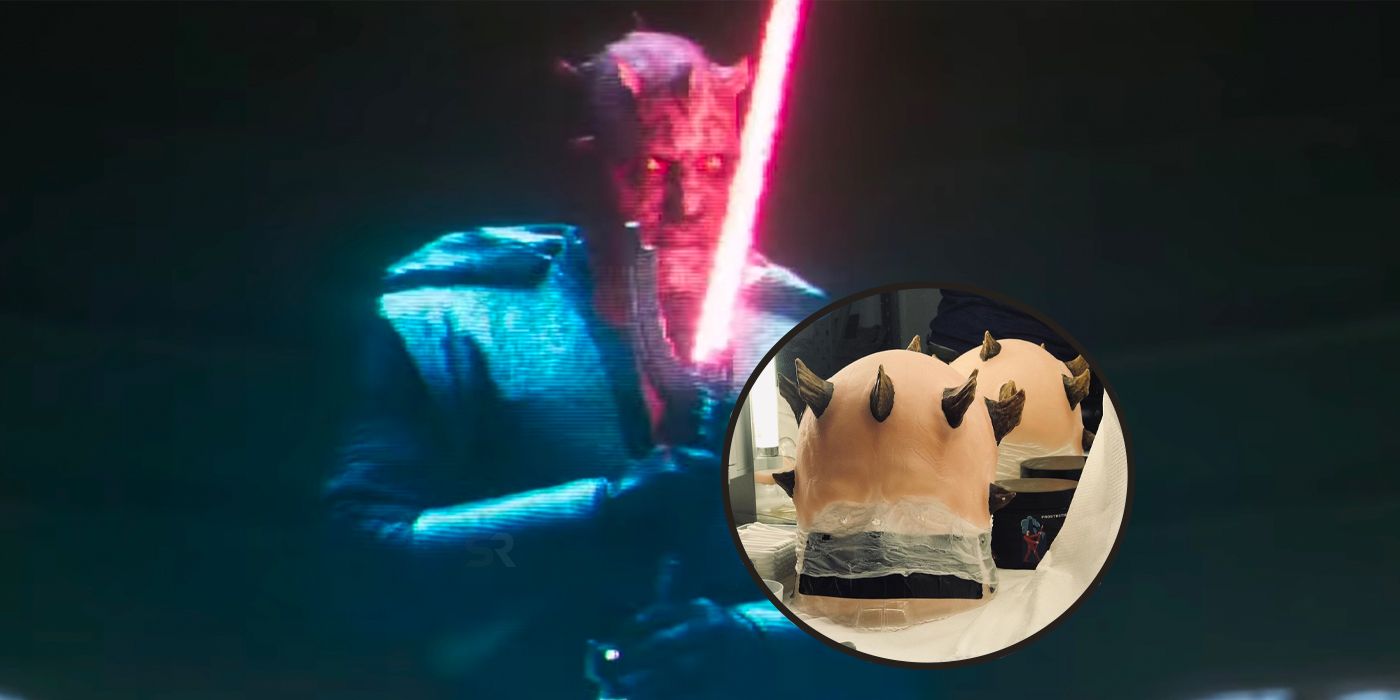 A new behind the scenes photo from Solo: A Star Wars Story shows Ray Park's Darth Maul prosthetics. After Return of the Jedi came out in 1983, it would be sixteen years before Star Wars returned to the big screen. Star Wars: Episode I- The Phantom Menace was released in 1999 but for many, it wasn't worth the wait. George Lucas' prequel trilogy has gotten a lot of hate over the years, mainly due to the writing and over-use of now sub-par CGI. That being said, Star Wars: Episode I- The Phantom Menace did introduce some incredibly popular characters such as Darth Maul and Mace Windu.
Darth Maul met his apparent end after Obi-Wan Kenobi cut him in half, and the villain fell down a reactor shaft. It was established in Star Wars: The Clone Wars that Maul actually survived his fall and traveled to Lotho Minor, where he lived in a junkyard and slowly lost his mind. Maul has a significant arc in Star Wars: The Clone Wars and Star Wars: Rebels, but for a while, the character was still dead in the live-action canon. Solo: A Star Wars Story of course changed that, with an older Darth Maul making a triumphant return in the final moments of the movie. Star Wars voice actor Sam Witwer voiced Maul, but it was Park himself who donned the makeup once again.
Park has shared an image of a prosthetic he used in Solo: A Star Wars Story. His post shows the characters iconic horns with the caption "Meet me on Dathmoir" which is the home planet of the Nightsisters in The Clone Wars. Check out Park's original post below:
While it seems Solo: A Star Wars Story 2 is unlikely to happen at this point, there are a few upcoming TV shows Darth Maul could show up in. Solo: A Star Wars Story takes place nearly 20 years after Star Wars: Episode III- Revenge of the Sith. If Maul were to return, it would likely be in Obi-Wan Kenobi, Disney+'s upcoming series starring Ewan McGregor. That being said, Obi-Wan will have a rematch with Darth Vader, and with the TV show only being a mini-series, it's possible Obi-Wan Kenobi won't have enough room for Maul. Obi-Wan does defeat Maul for good in Star Wars: Rebels, but the live-action shows could always disregard the animated timeline and include him as a villain in Andor.
Unfortunately for Park, both of the Star Wars movies he starred in got mixed reviews. However, the reveal of Darth Maul being the leader of Crimson Dawn at the end of Solo: A Star Wars Story was one of the highlights of the film. With the amount of Star Wars TV shows Disney announced at Disney Investors Day, it wouldn't be too big of a surprise if Maul ended up getting his own series down the line. Maul got a satisfying arc in animated form, which could translate well into a live-action mini-series. Park's post could be a hint at something soon to come, but it's likely the actor is just looking back on one of his Star Wars experiences.
Source: Ray Park