Star Trek: Discovery Season 4 Needs To Redeem Saru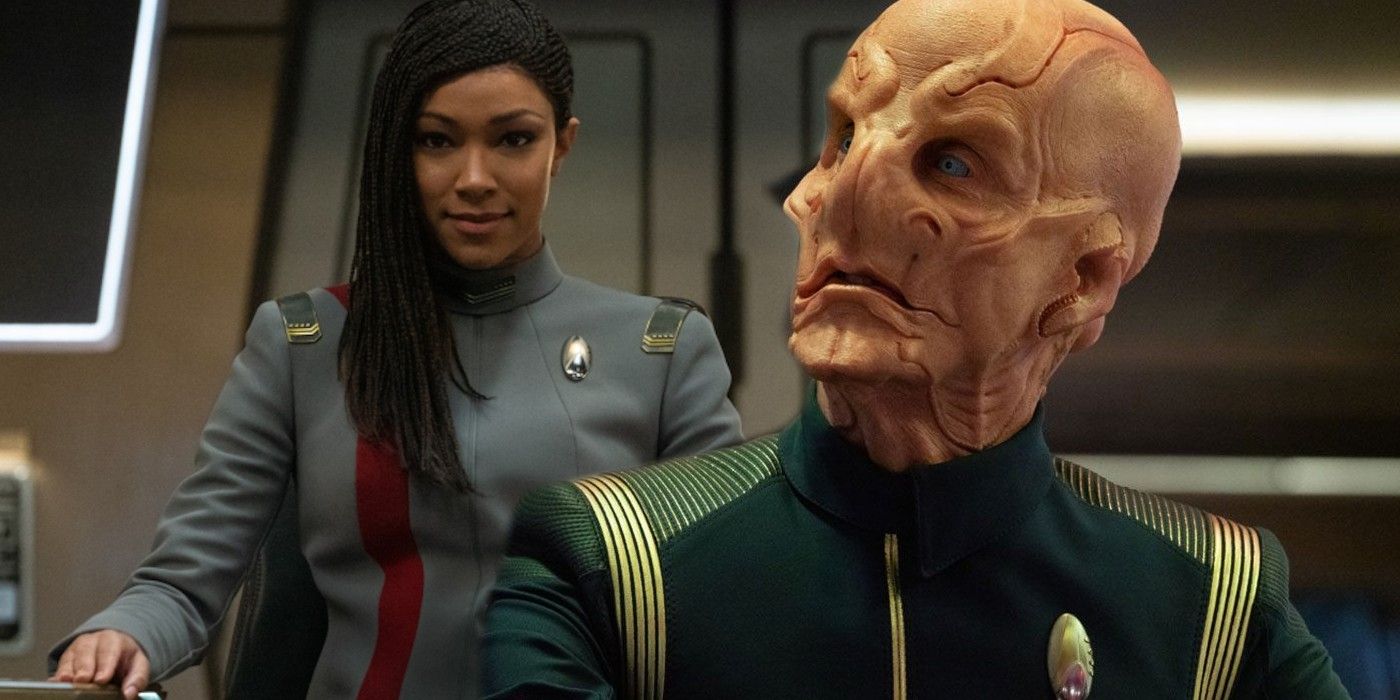 Can Star Trek: Discovery redeem (ex) Captain Saru in season 4? Since Star Trek: Discovery premiered in 2017, the main crew have developed from a ragtag collection of Starfleet's finest into a genuine family, albeit an occasionally dysfunctional one, and few characters have come as far as Doug Jones' Saru. Initially an uptight stickler, Saru's obedience made him the perfect First Officer. After discovering the secret transformation ritual of the Kelpien race, however, Saru came out of his shell (or his ganglia did, at least), and the Discovery mainstay added a steely determination and rebellious streak to his ever-evolving personality. At the end of Star Trek: Discovery season 2, Saru fully deserved his promotion to captain.
In many ways, Star Trek: Discovery's latest season defined Saru. His influence on the Kelpiens was justified by their membership in the Federation, and meeting Su'Kal gave Saru a purpose beyond his usual Starfleet duties. Saru ended Star Trek: Discovery season 3 acting as a mentor for his child-like kinsman, passing on his culture and knowledge in a personal victory for the character. But in professional terms, Saru's season didn't go quite to plan.
Of the many qualities required to be a good Starfleet captain, Saru has all of them. But during his time in Discovery's big chair, the Kelpien was constantly undermined by Michael Burnham's insubordination, forced to either cover for his errant comrade or take the heat from Admiral Vance in her stead. To make matters worse, Burnham's rebellious tactics often paid off in the end, making Saru look like a poor leader and a bad decision-maker, neither of which is true. Saru didn't exactly do himself any favors either. After realizing the Kelpien connection to the Burn, Saru's judgement became increasingly clouded. The Discovery captain took risk upon risk to reach Su'Kal, and Osyraa was able to seize his ship as a result. Ultimately, Saru was outshone as a commander by both Burnham and Tilly.
Saru's story in Star Trek: Discovery season 3 was necessary to finally maneuver Michael Burnham into the captain's chair, but the Kelpien sorely needs a redemption arc in season 4 – something to reestablish Saru as one of Starfleet's most diligent, reliable faces, and erase his red-faced moments from season 3. To this end, Saru's time with Su'Kal should take place off-screen in the gap between seasons. The last thing Saru needs after an unfortunate stint as captain is to spend Star Trek: Discovery season 4 teaching a man-child how to tie his shoelaces.
Instead, Saru can make a dramatic entrance to save his Discovery crew from a sticky situation. While Burnham may be the right choice to lead the Discovery, she'll inevitably come across tough times in the upcoming season, perhaps getting too personally involved in a mission to take the rational course of action. When that moment comes, Saru can unexpectedly swoop in to rejoin his crew, reminding Burnham not to make the same mistakes he did when losing the Discovery to Osyraa in season 3. Not only would this prove Saru has learned from his error, but the Kelpien would also reestablish himself as a valuable ally to Captain Burnham.
Before they jumped into the future, Burnham and Saru developed a habit of complimenting each other. The maverick nature of Sonequa Martin-Green's protagonist added an unpredictable edge to Saru's by-the-book way of thinking, while the Kelpien gave Burnham a reassuring foundation to temper her wild ideas. That dynamic was difficult to replicate while Saru was responsible for the entire ship and trying to prove his worth to the Admiral. But with Burnham the captain now, Saru can redeem himself in Star Trek: Discovery season 4, reminding everyone why he's one of the show's most fascinating figures.