Solar Ash Trailer Looks Like A Sci-Fi Breath Of The Wild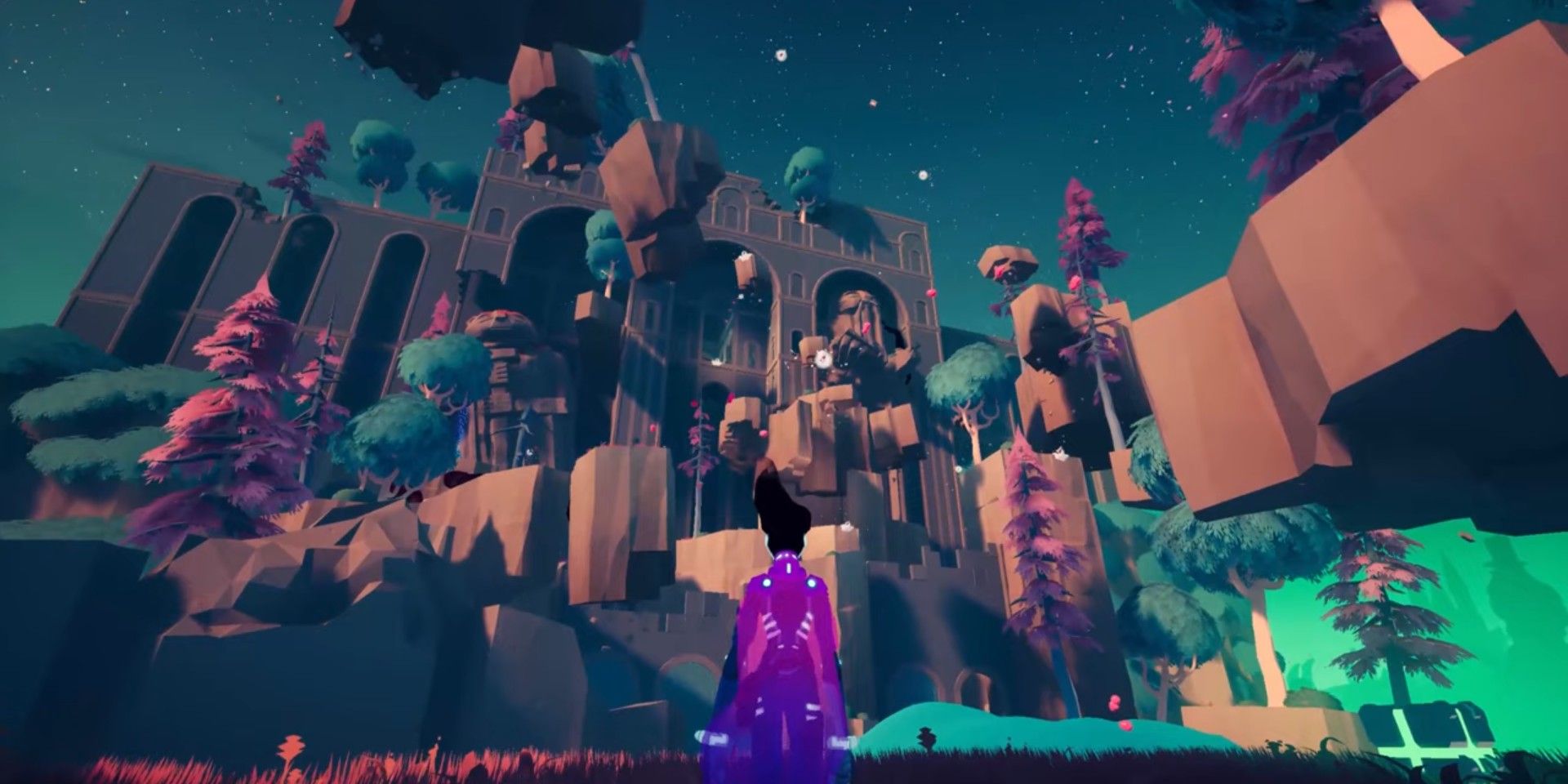 Solar Ash, follow up to Heart Machine's 2016 hit Hyper Light Drifter, got a new trailer during PlayStation's State of Play with an extended look at the indie's gameplay for the first time since the announcement last year. The undeniably gorgeous sci-fi game takes place inside of a giant black hole, the unchecked expansion of which threatens mass destruction. Solar Ash will follow Rei as she attempts to save her home from annihilation. Today's new footage of the 3D platformer showed off the hero's fast-paced moves and the surreal, and wildly beautiful, landscape she will traverse.
No stranger to big Sony events, Solar Ash was introduced to many fans during Sony's PlayStation 5 event in June last year. The summer showcase was one of the most memorable of 2020, a year that saw a wide array of virtual presentations since many game creators hosted individual events following E3's cancelation that year. Solar Ash was able to catch the attention of many viewers during the crowded event with its striking mix of out-of-this-world color palette and almost minimalistic aesthetic. However intriguing this introduction to the game might have been, there were still a lot of unanswered questions about what Solar Ash would actually be.
PlayStation's event this afternoon provided Heart Machine a chance to offer up some much-appreciated Solar Ash details in a gameplay reveal trailer. The footage, featuring a voice-over by Creative Director Alx Preston, expanded on the game's premise. Preston listed three major focuses of the gameplay as, "speed, movement, and fluidity." The trailer backs up this statement with a wonderful display of the protagonist's rapid progress through terrain that would be at home in a game like Breath of the Wild, if it were not so alien-looking.
"Rei has everything she needs," explains Preston, to platform her way through the game's colorful and perilous environments. The trailer demonstrates that Solar Ash is shaping up to be a challenging platformer. It depicts the main character gliding from one precarious-looking chunk of the landscape to the next with ease, smoothly sliding on rails, and scaling bizarre landmarks. The ever-moving hero also encounters a handful of distinctive enemies in the trailer and Preston notes that some of these will "require speed and precise timing to defeat." The forms these creatures take in the video are bizarre and continually increase in size throughout until a large enemy called a sentinel appears. Heart Machine concludes its new gameplay reveal with a dramatic sentinel fight where Rei takes on a heavily protected, snake-like foe.
Though the look at Solar Ash's gameplay in today's PlayStation-centric showcase gives fans more to be excited about, the presentation ended without any new information on the game's release date. That the game is coming to the PlayStation 4 and PlayStation 5 sometime in 2021 had been revealed in prior events, but it is nice to get a confirmation that the game is still expected out this year.
Solar Ash is slated to release on the PlayStation 4 and PlayStation 5 in 2021.
Source: PlayStation