SNL Sketch Reveals How Bridgerton Sex Scenes Are Choreographed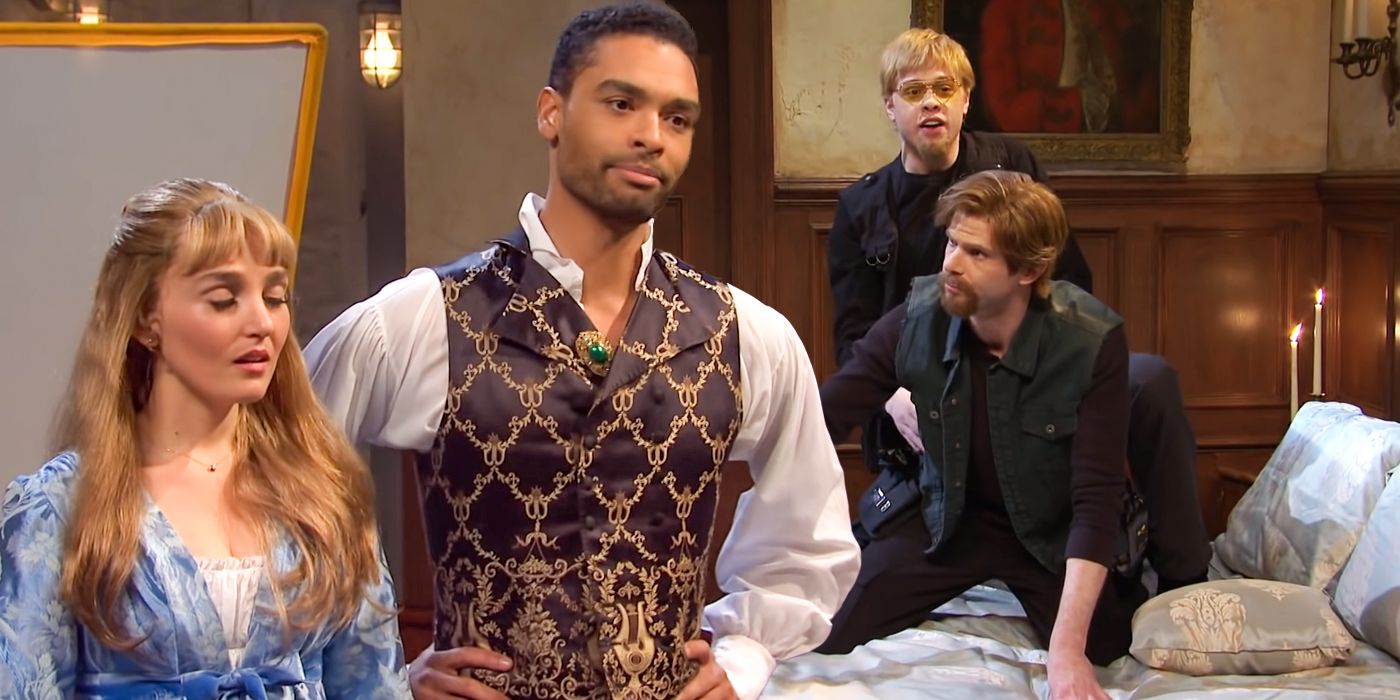 A hilarious sketch on last night's Saturday Night Live with host Regé-Jean Page revealed how Bridgerton sex scenes are choreographed – with an SNL twist, of course. The February 20, 2021 episode took full advantage of the Bridgerton breakout star's sex appeal and charisma, judging from the wildly enthusiastic live audience, which was more than happy to see Page reprise his role as Simon Basset, Duke of Hastings, even if it was in a sketch that illustrated the sometimes absurdly hilarious nature of choreographing on-screen intimacy.
Bridgerton season 1 became an immediate smash hit for Netflix upon its premiere on Christmas Day 2020. The Regency Era romance followed the twists and turns of the blossoming relationship and eventual marriage between the Duke of Hastings and Daphne Bridgerton, with Page and co-star Phoebe Dynevor earning accolades for their performances and the supporting cast also getting quite a bit of buzz. However, viewers really tuned in to the bodice-ripper for Page's smoldering on-screen broodiness, as well as Bridgerton's sex scenes, of which there are many.
SNL's sketch framed itself as the shooting of a Bridgerton sex scene with Page's Hastings and Chloe Fineman's Daphne. However, it skewered these scenes by revealing the paradox behind them: The sex scenes on the Netflix series (or any other series or movie) that seem to be so spontaneous and passionate are really the result of carefully crafted, specifically coordinated simulated sex that is all done under the watchful eye of an on-set intimacy coordinator. At least, that's how it normally is, but Saturday Night Live's stand-in intimacy coordinators, played by Mikey Day and Pete Davidson, who have little training and even less tact, make it incredibly awkward as they suggest increasingly inappropriate things for the on-screen couple to try.
As the sketch becomes increasingly more cringeworthy thanks to the boundary-less duo, it also pokes fun at the fact that intimacy coordinators are a largely unregulated role in Hollywood. It's a profession that has been exploding in the entertainment industry, especially in the wake of the #MeToo movement, both incredibly necessary and overdue developments. Intimacy coordinators play an important role in any production in which there are sex scenes. They're responsible for ensuring that everyone, both cast and crew, feels comfortable and supported while shooting any intimate scenes and that boundaries are being enforced. They're also intimately involved in preproduction, from negotiating actors' areas of consent and nudity riders to establishing what is and isn't okay in regard to shooting simulated sex scenes.
Unfortunately, though intimacy coordinators have been part of theatrical productions for quite some time, the role is still new to Hollywood. And, as with any new position, that means an understanding of what exactly it is that intimacy coordinators do isn't solidified, nor is there industry-wide standardized training. As a result, underqualified intimacy coordinators without proper training sometimes find their way to sets and that's when things can get awkward, as Pete Davidson and Mikey Day show. Saturday Night Live has a long history of poking fun at serious subjects – perhaps their hilariously cringey Bridgerton sex scene spoof will finally inspire Hollywood to give great intimacy coordinators the credit they deserve.