SNL Calls Out The Biggest Issue For Frasier's Revival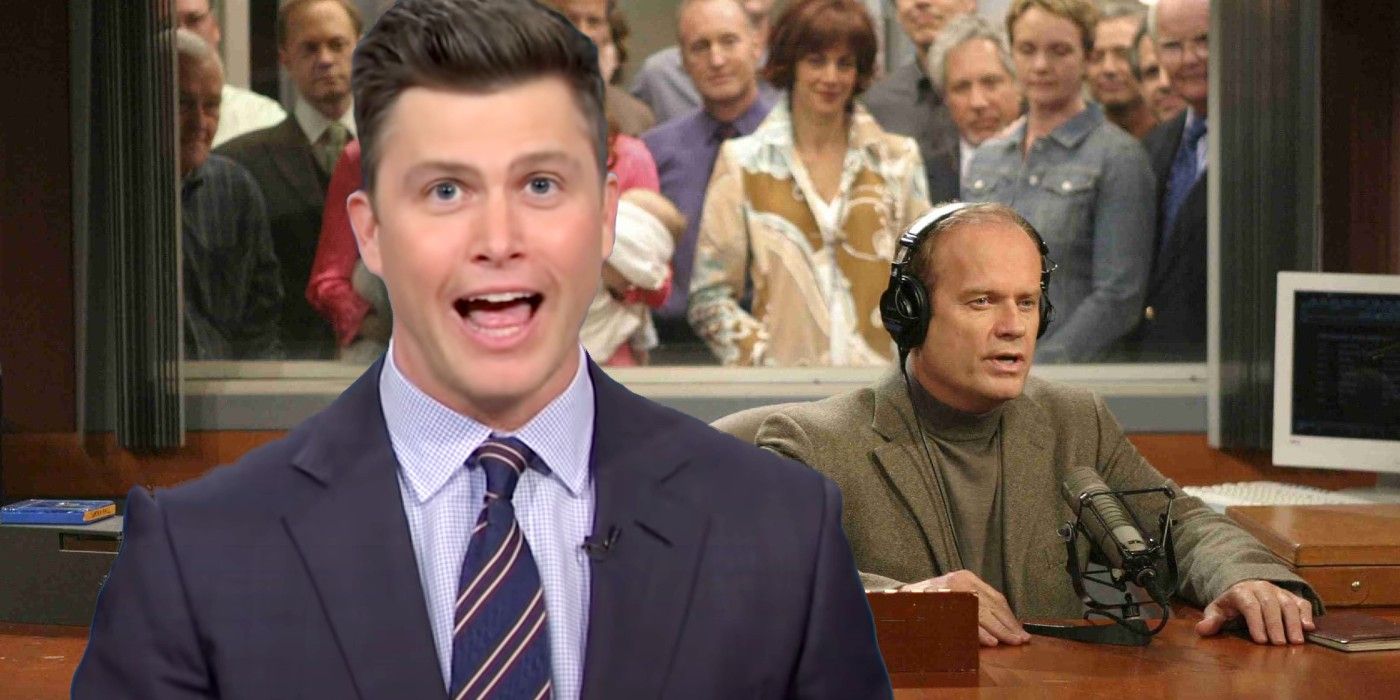 Saturday Night Live didn't waste any time pointing out the biggest issue with Frasier that the upcoming reboot needs to address. During ViacomCBS's Investor Day, it was officially announced that the classic sitcom is getting a revival with Kelsey Grammer spearheading the show as Frasier Crane. No word about the additional cast or story details; nevertheless, the news was more than enough to excite fans who have been hoping to see the eccentric psychiatrist-turned-radio-host back on the small screen.
A spin-off of the equally successful NBC sitcom, Cheers, Frasier was kicked off when Frasier moved back to Seattle from Boston and reunited with his family: father, Marty (John Mahoney), and brother, Niles (David Hyde Pierce). Completing the ensemble cast was Peri Gilpin as Roz Doyle and Jane Leeves as Daphne Moon. Running for 11 seasons and ending in 2004, it was both a massive and critical hit, winning 37 Primetime Emmy Awards, including five consecutive wins for the Primetime Emmy Award for Outstanding Comedy. As beloved as it was, Frasier wasn't a perfect show, and the new revival can rectify some of the original run's misses.
That includes the lack of diversity in the series — something that the latest SNL Weekly Update pointed out. In the show, co-host Colin Jost mentioned the news of Frasier coming back, and to remind those who may be too young to know what it is, he called it "the show that made Friends look Black." The reference, of course, is to the beloved NYC-based sitcom that has also been retroactively criticized for its lack of diversity, implying that Frasier was an even worse offender in that realm. It's not a criticism without merit. Aside from the fact that its main cast does not have any BIPOC characters, it also barely featured any of them in any capacity throughout Frasier's 11 years on the air.
In Frasier season 7, it introduced a Black woman, Dr. Mary (Kim Coles) to temporarily replace Roz who was on holiday, but the whole narrative was borderline racist, particularly when Frasier upheld stereotypes when he impersonated her. To be fair, Frasier, the character, wanted to do the right thing and not be offensive, to the point that he was tiptoeing around Dr. Mary — something that Marty and Niles mentioned. Still, the show could've better handled the arc, especially as a series that very rarely featured BIPOC characters.
With the Frasier reboot coming, it needs to make sure that it doesn't commit the same mistake that Saturday Night Live pointed out. Seattle is a fairly diverse city, so it's difficult to believe that the Cranes barely mingled with BIPOC during the 11 years that the show chronicled their day-to-day lives. It's still uncertain what the revival has in store, with Grammer previously hinting that it might not even be set in Seattle as it might tackle Frasier moving and settling elsewhere. Whatever the case may be, it's important that its producers are aware of these criticisms and are actively making amends for them; not just for the sake of it but also to ensure that the Frasier revival has a good chance to thrive in this day and age of cultural and social awakening for the U.S.