RuPaul's Drag Race: Why Denali Never Made It To Olympics As A Figure Skater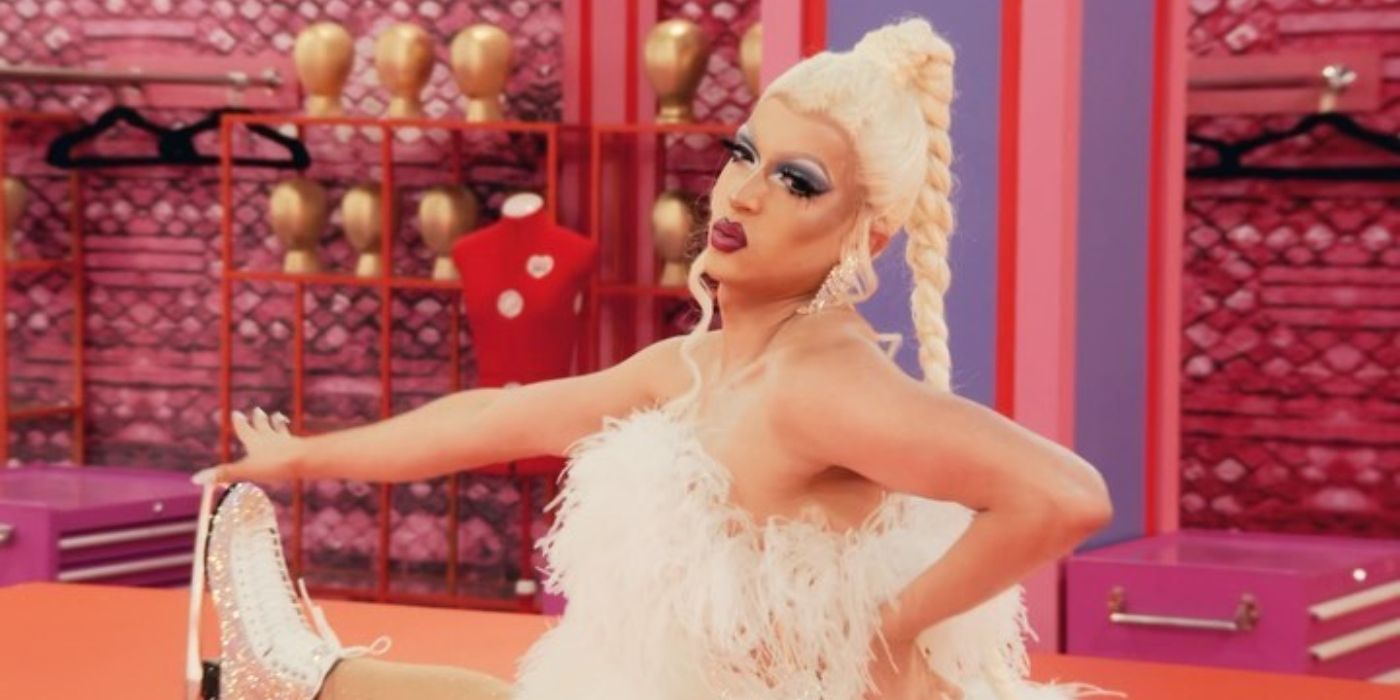 On January 1, 2021, the 13th season of RuPaul's Drag Race made its much-anticipated debut. While the season was remarkable in large part because it was filmed during the harsh early months of the COVID-19 pandemic, it also introduced fans to Denali, a contestant with a unique background. When fans met Denali on the newest season of RuPaul's Drag Race, she was wearing a white figure skating dress with literal ice skates on her feet. Denali explained she's a professional figure skater and choreographer out of drag, but never made it to the Olympics, hence the ice queen outfit. 
This season is notable for several reasons. First, Drag Race was one of the first major reality TV shows to return to production during the COVID-19 pandemic. Viewers of the competition series likely noticed the glass panels between judges and other related safety precautions. Second, the structure of the show changed, particularly in the beginning where the queens had to lip sync for their lives seconds after entering the Werk Room for the first time. When Denali introduced herself, she said, "I might not have made it to the Olympics in figure skating, but I did make it to the Olympics in drag." While fans are super happy to have Denali on the latest season of RuPaul's Drag Race, why didn't this queen make it to the figure skating Olympics? 
Denali's non-drag name is Cordero Zuckerman, which is the name he competed and performed under as a figure skater. According to his LinkedIn page, Denali is a PSA certified coach and a double gold medalist in the USFSA Moves and Freestyle category. However, there is no mention of the Olympics or other high level competitions. Figure skating is one of those sports that involves a lot of timing to make it to the Olympics, similarly to gymnastics or swimming. This is because the sport is very hard on your body. In addition, figure skating is one of the most expensive sports, given all the training, time dedication, and expensive outfits. If you're not ready for an Olympics that only comes every four years, you likely won't have a chance to compete. Take a look at some of Denali's smooth moves on the ice below: 
Unfortunately, this appears to be what happened to Denali, but the story definitely doesn't stop there. After finishing his competitive career, Cordero went on to be a male figure skating soloist with various productions. Some of the most impressive productions included Cirque du Soleil, SeaWord and Royal Caribbean Productions. Zuckerman also choreographed routines for Olympic figure skaters such as Joonsoo Kim, Timothy LeDuc, and Ashley Cain-Gribble. Today, Denali performs in full drag and can even do a backflip while tucked and wearing a wig. She routinely refers to herself as a "dance and ice queen." 
Denali might not have landed first place at the figure skating Olympics, but she was a first in many other ways. She was the first contestant on RuPaul's Drag Race from Alaska, the first queen to wear skates in the Werk Room and the first queen to lip sync in ice skates, although Robbie Turner once lip synced in roller skates. Oh, and Denali still has a shot to earn first place in the Olympics of drag. Go Denali!
Source: LinkedIn, Cordero Zuckerman