RHONJ: Why Teresa Giudice Thinks Evan Goldschneider Is Her Type
Fans have learned that Teresa Giudice from The Real Housewives of New Jersey thinks that Jackie's husband Evan Goldschneider is her type. A lot of drama went down between the two women, and it looks like it will be a bumpy season. Teresa started a rumor that caused a ruckus. Now, she's getting called out.
Jackie Goldschneider from The Real Housewives of New Jersey refused to film for several episodes due to nasty rumors about her husband cheating. The rift between Teresa and Jackie has run deep, with low blows being thrown. Goldschneider was not as outlandish as the other housewives and, even though she had plenty of money, she didn't care about flaunting it. She often came across as a know-it-all, and some of the women just did not take to her personality.
It does seem like one housewife has taken to Evan's personality and looks. The ladies, minus Jackie, are all headed to Lake George on the first trip of the season, and immediately, cameras caught Teresa saying, "Jackie's not here we're gonna have so much fun." The season premiere ended with both women meeting at Margaret Joseph's home to discuss their issues, but things got out of hand, and Teresa stormed out. While Jackie's analogy regarding Gia Giudice made sense, the mother of four was not having it.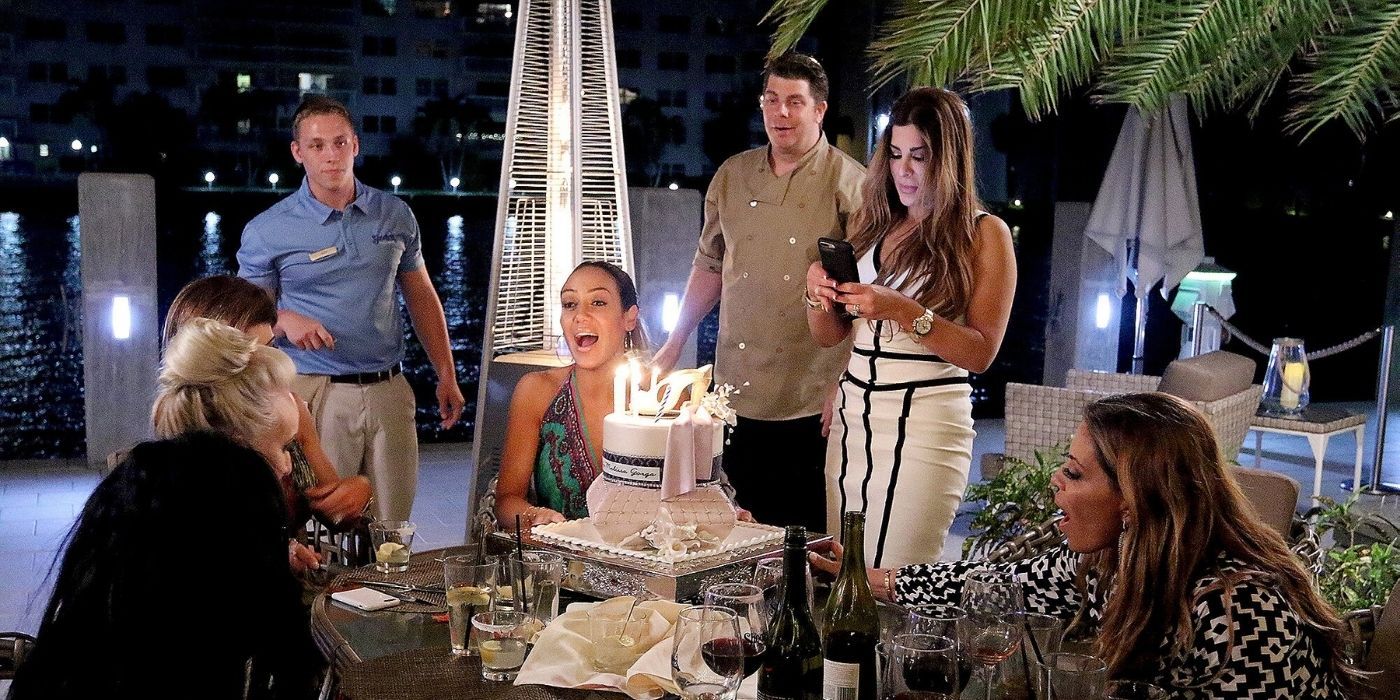 During the bus ride, Teresa started to plot her side of the story, letting the women know that she was not in the wrong. Teresa plays dumb very well and still pretended not to understand how the game of telephone (or rumors in general) worked. She told the women she was not the one who put the information about Evan cheating out in the world. Teresa, whose own boyfriend has been accused of cheating, claimed she only opened her mouth because she was drinking.
Then, she told the group of women, "I guess I was looking at Evan and he looks like a suave kind of guy." She continued by saying, "He's very good-looking." Viewers then learned that Teresa had once claimed he was the best-looking husband in the group. She reconfirmed this by saying, "He is! He's my type." 
Thankfully, Melissa Gorga (who was recently described as a "farm animal") came to her senses and reminded her sister-in-law that not all men who are good-looking cheat on their spouses. Naturally, the mother of four didn't appreciate being told she was wrong. She flipped out on the bus, leaving the women rolling their eyes. It is doubtful Teresa will ever learn, and there is little chance she will ever start acting nice since it has been reported that she is terrified to lose her spot on the show.
The Real Housewives of New Jersey airs on Wednesday at 10 pm EST on Bravo