Razer Smart Glasses Double As Gaming Headset With Blue Light Filtering
Razer has thrown its hat into the smart glasses ring, but it's not suddenly abandoning its gaming and computing fans for a new outdoors audience. While the Razer Anzu are indeed designed for use outside, they're also designed for using in front of a screen. They're part smart glasses and part headset.
While it's best known for its gaming hardware — like computers, laptops, keyboards, mice, headsets, and other accessories — Razer has been known to dip its toe into other markets. Last year, for example, it used its computing know-how to create the productivity-focused Razer Book 13 laptop, among the features of which was a 16:10 display aspect ratio to give workers more screen space. It's no stranger to the wearables category either, having dabbled in the past with fitness bands, a smartwatch, and even a face mask.
Clearly, Razer feels like there is room for it to succeed in the wearables space and, judging by the Anzu smart glasses, to carve out somewhat of a niche too. Available to buy from Razer for $200, the glasses come in two different sizes with rectangular or round frames. Weighing in at 48g, they shouldn't feel too cumbersome to wear for long stints, despite the tech they pack in.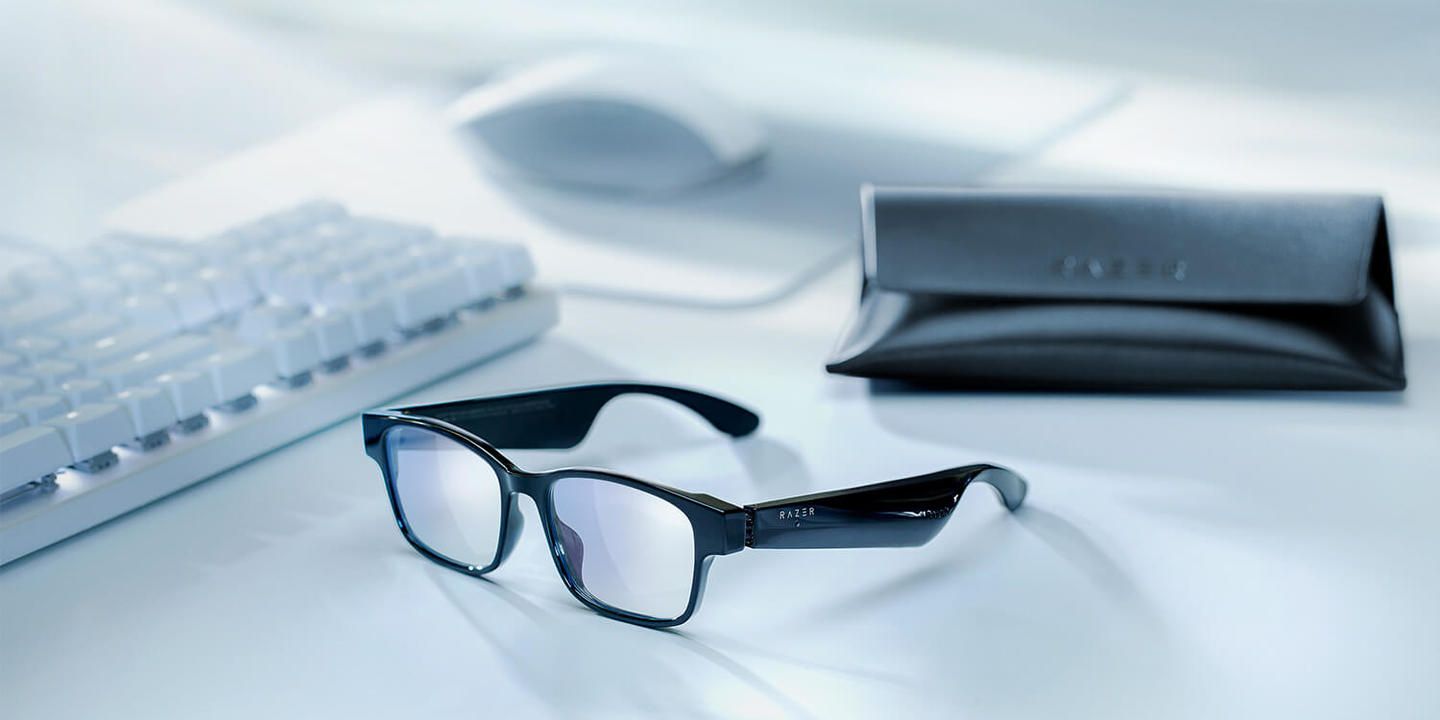 As can be expected with many smart glasses, the Razer Anzu feature open-ear audio with 16 mm drivers, but Razer says the "industry-leading 60ms latency" of their Bluetooth technology sets them apart and minimizes any audio delay or skipping. Along with an omnidirectional microphone also built into the frame, this makes the glasses useful not just for listening to music and taking phone calls while out and about, but for game playing and conference calls too.
A touch interface on the side of the frames allows users to control music, play or pause media, manage conference calls, and activate the voice assistant of a paired smartphone. Android and iOS apps for the glasses allow users to adjust EQ settings, latency settings, check the battery status, and check for firmware updates. And 99 percent UVA/UVB light protection for when outdoors is accompanied by 35 percent blue light filtering for long periods in front of a screen.
The glasses automatically power down when closed. Razer says they can give over five hours of battery life and nearly two weeks on standby from a single charge — which admittedly doesn't keep pace with its high-end wireless earbuds. Nonetheless, they're an interesting product that offers a mixed sunshine-and-screens use case.
Source: Razer