Netflix References Justice League's Joker In Army of the Dead Tweet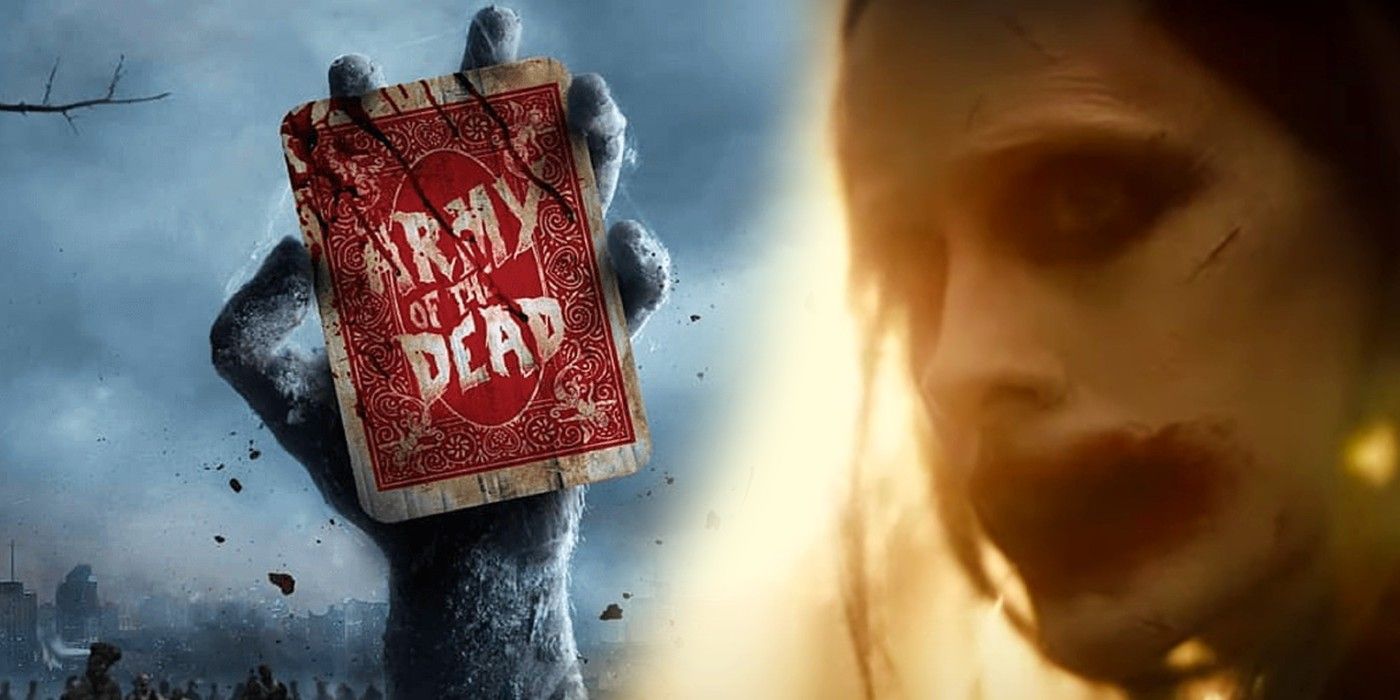 An Army of the Dead tweet from Netflix's film account refers to Jared Leto's Joker in Zack Snyder's Justice League, and it's perfect. Both of Snyder's movies come out in the next few months, with the long-awaited Snyder Cut dropping on HBO Max in less than one month now. Army of the Dead, His Netflix zombie heist movie, drops May 21, and it is set to launch an entire "dead" universe for the streaming giant, with a prequel movie and animated series already in the works.
Snyder's version of Justice League gave the director the chance to expand on his vision for the 2017 release, allowing him some reshoots, which included Leto's Joker, who debuted in David Ayer's Suicide Squad. The latest trailer for the Snyder Cut saw Leto's Joker return in a short snippet at the end, where he interacts with Batman as part of the Knightmare sequence. In the sequence, he says, "we live in a society where honor is a distant memory." The line instantly went viral, with countless memes getting made, and Seinfeld fans inserting George Costanza, who uttered the words "we live in a society" multiple times during the show's run, into shots from the movie.
Now, the two movies have collided in the funniest way, with the NetflixFilm Twitter account quoting the line back at a fan. The fan (whose account has since been suspended for an unknown reason) responded to the Army of the Dead trailer by saying that "we live in Zack Snyder's world." Sensing an opportunity, the mod behind the NetflixFilm account responded with reference to the Synder Cut, saying, "We actually live in a society but ok." You can see the tweet below:
we actually live in a society but ok

— NetflixFilm (@NetflixFilm) February 25, 2021
Fans responded with glee, connecting the dots between the two, and acknowledging how strange it was for Netflix to reference an HBO Max movie. It's the kind of cross-platform reference that would have been unthinkable just a few years ago but is becoming increasingly commonplace as platforms attempt to share each other's audiences in a competitive marketplace.
And based on the Army of the Dead trailer, a brighter version of Snyder's visual style, Netflix has put a lot of money behind capturing some of Snyder's passionate fan base. Sadly, fans expecting a real crossover between the two universes will be disappointed. This tweet is just a funny reference and not a sign of a Joker cameo in Army of the Dead, though don't be surprised if Snyder sneaks a Justice League easter egg into his zombie heist movie, as he's known for rewarding fans with small details like that.
Source: NetflixFilm/Twitter