My Mane Problem: First-Look Clip Dives Into Emotional Side Of Natural Hair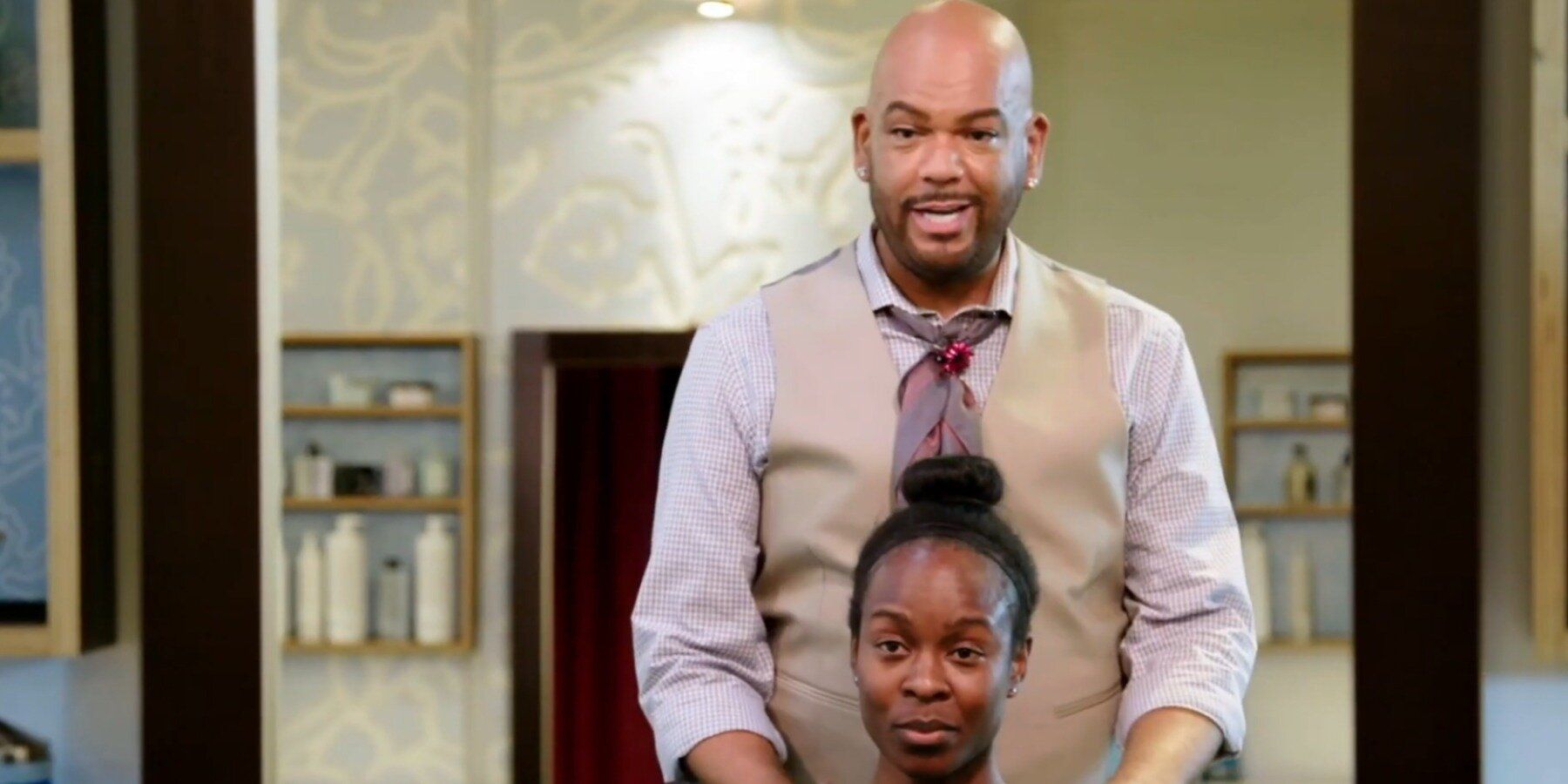 Celebrity hairstylist Dr. Boogie is helping real people confront their hair trauma on My Mane Problem. The new series, available on AMC's streaming service ALLBLK, takes a personal approach to the hair journeys many people face. In an exclusive first-look clip from the new series, a woman shares her story and reveals why it took her husband so long to see her natural hair.
The new show follows Dr. Boogie as he works with clients experiencing insecurity from an array of hair woes, including balding, chemical burns, and more. His empathetic consultations give his guests a new outlook on life through their hair. Having competed on season one of Shear Genius, Dr. Boogie knows a thing or two about overcoming challenges. As a celebrity hairstylist, he has sleeked the tresses of stars like Taraji P. Henson, Vivica A. Fox, and Eve. Now, he has taken all his years of experience and turned it into an opportunity to help women and men regain their confidence through life-changing hair transformations.
In an exclusive first-look clip of My Mane Problem, Dr. Boogie sits down with a woman named Monique, who explains where her insecurity with wearing her natural hair stems from. The professional dancer recalls her start in the NBA, where she was told she had to start wearing hair weaves in order to fit the look they wanted for her. "I felt like I wasn't going to make the team just because of the way I looked," Monique reveals to Dr. Boogie. "After I made the team, thank goodness, they said 'we have to change your look. You can't wear your hair like this,'" she recalls. "And I had to get extensions put in." She goes on to share how she wore hair extensions for years after that because "that's how I had to look." 
But Monique's story doesn't stop there. She continues to explain the "two different worlds" she was living in as "two different people," due to the pressure she felt to fit in. She also reveals the complex she developed from the entire experience. "For a long time, I wouldn't let anyone see my natural hair," she admits. "And my husband, before we got married, he had never seen my natural hair." She goes on to confess how she made him leave the room whenever she had to remove her hair pieces. "Because I just didn't feel like myself when I had my natural hair out," she adds before becoming overcome with emotion.
Dr. Boogie's empathetic nature comes into play as he guides her through an emotional revelation of confronting the root of her natural hair trauma. She appears as though a weight has been lifted off her shoulders after being reminded of how beautiful she is in her natural state. "Now that I get Monique, I know where she's coming from," Dr. Boogie says. Be sure to check out My Mane Problem when it premieres  Thursday, March 4 on AMC's streamer ALLBLK.
Source: ALLBLK