Ms. Marvel's Symbiote Problems Will Continue After King in Black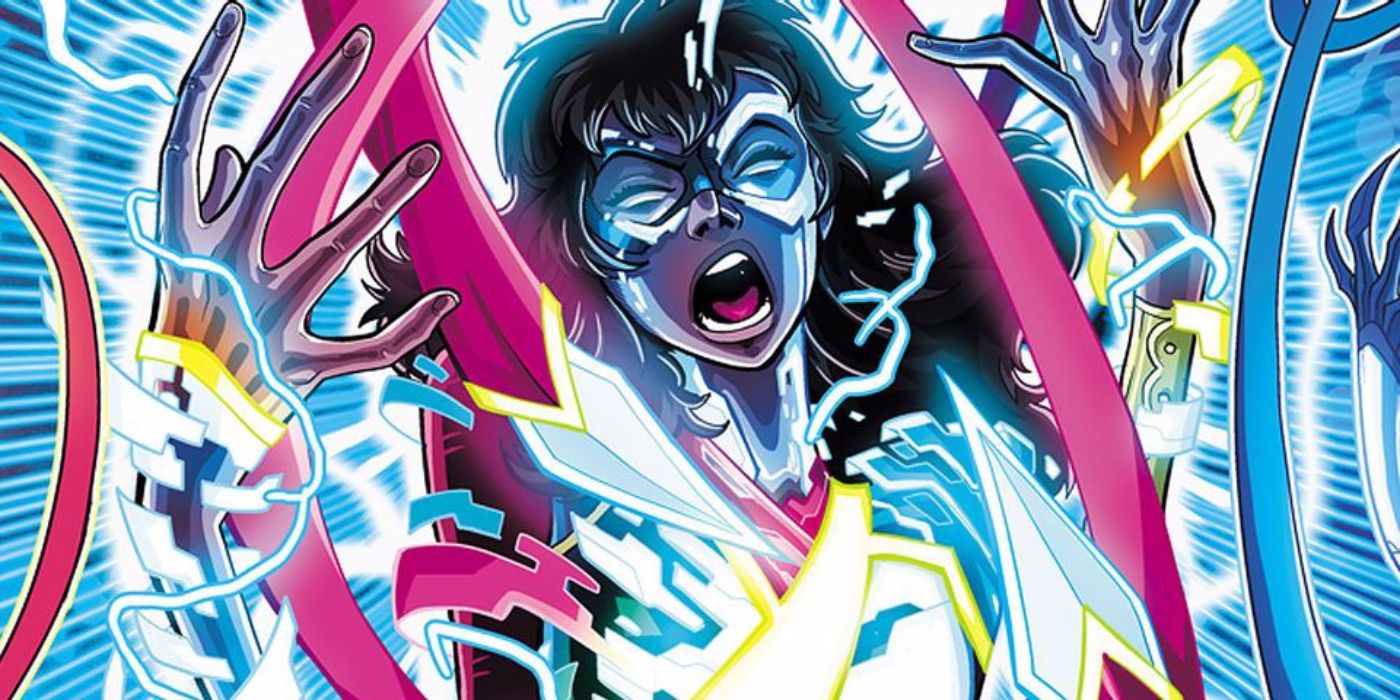 While fans of the titular character will be celebrating 75 issues (and the conclusion of her ongoing series) of Ms. Marvel's solo books on February 24th, Kamala Khan's symbiote problem will seemingly continue after King In Black. Ms. Marvel has already encountered the Lord of the Abyss after she was taken under his symbiotic spell and forced to fight Miles Morales' Spider-Man, but a bigger threat is looming over the horizon. An old enemy, similar to a symbiote in many ways, is coming back to finish what it started as teased in the newly released preview for the upcoming Ms. Marvel comic. 
In the preview for Magnificent Ms. Marvel #18 by Saladin Ahmed with art by Minkyu Jung and Ian Herring, Ms. Marvel is facing off against an old artificial enemy from another universe who has come to seek vengeance against the young Avenger. Stormranger is a nano-tech battle suit created by the Kree Empire in an alternate reality. After Kamala was previously transported to that reality, she bonded with Stormranger, which augmented her powers and gave her the added ability to shapeshift. Khan abandoned the nano suit after it forced her into almost killing one of her villains. Like Spider-Man when he rejected Venom, Ms. Marvel created a new villain after ditching the alien tech, one that took on a twisted version of her likeness and becoming the arch-enemy of the elastic heroin. Stormranger was seemingly destroyed after its independence from Kamala, but from what Marvel Comics has just offered fans in their new preview, that is obviously not the case. 
On the first page of the preview, Ms. Marvel notices an object flying across the New York sky. Having an inkling of what it might be, Kamala suits up in her classic outfit and investigates. Upon discovering what she believed all along to be true, Khan finds Stormranger alive and waiting for the hero. Shocked, Ms. Marvel exclaims that she believed Stormranger to be dead, but the intergalactic robot responds by stating that because it is made of nanites, they were merely dispersed and not fully destroyed as Khan first thought. Accepting the return of her ally, turned adversary, Ms. Marvel wonders why Stormranger is there, asking the machine if animated battlesuits care about revenge, to which Stormranger coldly replies, "affirmative." 
Once the King in Black's symbiote armies is defeated, Ms. Marvel won't be out of the woods just yet as she is about to go toe-to-toe with another sentient suit from across the galaxy. While Ms. Marvel's symbiote problem doesn't have anything to do with a member of the Klyntar race, Stormranger is a comparable villain while being different enough to remain unique. Like a symbiote, Stormranger bonded with and enhanced the powers of Kamala, and like Venom specifically, the nanosuit grew bitter after its hero's rejection.
Now fans know Stormranger is back to ensue chaos and destruction in Ms. Marvel's life, making it fair to say that not only will Ms. Marvel's problems continue after the King In Black, they have only just begun – even if her current ongoing series is about to end.