Moxie: Every Song In Netflix's Movie Adaptation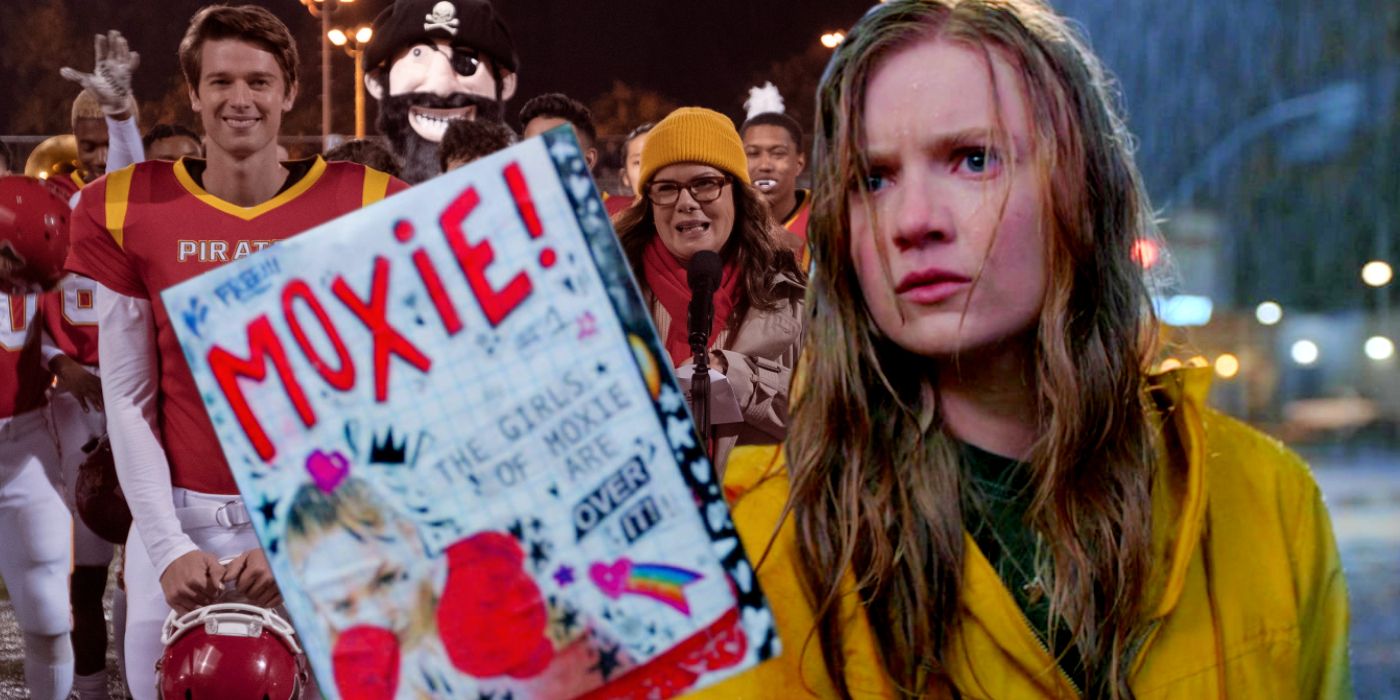 The Moxie soundtrack boasts a heavy amount of Riot Girl energy and songs that capture the overall spirit of the film. The music of Bikini Kill is prominently featured throughout the 2021 Netflix movie, which follows a teenage feminist who leads a revolution at her high school. Older punk rockers will identify several classics in Moxie, while streamers may be inspired to learn more about musician Kathleen Hanna, or to seek out the eponymous img material that was published by Jennifer Mathieu in 2015.
In Moxie, Hadley Robinson stars as a relatively quiet teenager named Vivian Carter. On the first day of her junior year, she notices troubling trends at Rockport High School. Then, when a new student named Lucy Hernandez (Alycia Pascual-Peña) is publicly disrespected by her peers, Vivian channels her mother's Riot Girl energy and creates her own zine, Moxie, that exposes the questionable behavior of students and educators. Director Amy Poehler utilizes numerous punk anthems as Vivian slowly but surely transforms into a true feminist revolutionary.
Moxie includes nearly 30 featured songs, with many of them being ideal selections for Riot Girl playlists. The official Netflix score was composed by Mac McCaughan, a founding member of the indie rock band Superchunk who began releasing music in the early '90s, just as Bikini Kill was getting started in the Pacific Northwest. Here's every main song in the killer soundtrack for Moxie on Netflix.
"No Going Back" – Yuno
"Like Flow" – Moving Castles
"Oasis" – Luke Buishas
"Grains of Salt" – Tacocat
"Double Dare Ya" – Bikini Kill
"Rebel Girl" – Bikini Kill
"The Impression That I Get" – The RCC Marching Tigers
"For Boston" – The RCC Marching Tigers
"Green Light Red Light" – TopLady
"Fire With Fire" – Gossip
"Pump the Brakes" – Born Rivals
"Surf" – Ka'au Crater Boys
"Leveled Up" – AO Lexx
"The Hukilau Song" – Mel Peterson
"Hang Ten" – Gary Walk
"Can't Get Enough" – Headband
"King of Girls" – Amy Miles, Craig Wedren
"Pretty Ugly" – Tierra Whack
"Kitana" – Princess Nokia
"Just My Kind" – The Julie Ruin
"La Vie en Rose" – Lucy Dacus
"Big Mouth" – The Linda Lindas
"Suddenly Seymour" – A Giant Dog
"Heaven" – Brandi Carlisle
"Rebel Girl" – The Linda Lindas
"W.A.R.R.I.O.R." – Ebony Bones!
"Destroyer – Lala Lala
"Alala" – CSS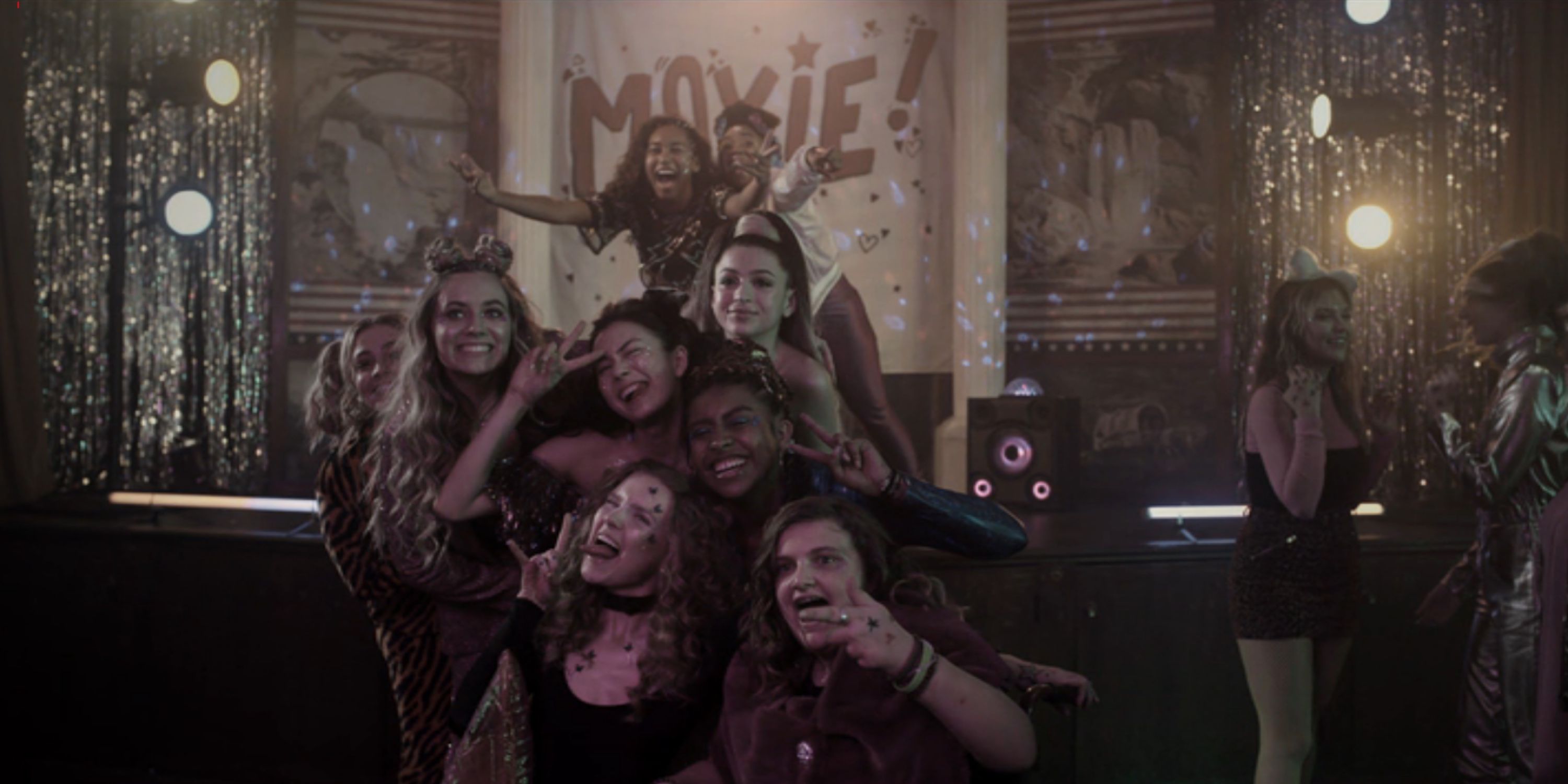 Moxie on Netflix begins with "No Going Back" as Vivian prepares for the first day of 11th grade. Ten minutes later, "Grains of Salt" plays when Vivian tries to write an essay and texts Claudia for help. When Vivian discovers her mother's writings and puts on a leather jacket, "Rebel Girl" captures the punk rock spirit of the scene.
"The Impression That I Get" plays during a pep rally sequence at Rockford High, and "Green Light Red Light" scores the moment when Vivian creates her own zine after Lucy is disrespected by her peers. "Fire With Fire" sets in when Vivian realizes that her zine is resonating with students, and "Surf" can be heard when Vivian and Claudia arrive at Bradley's house party. Once Vivian becomes inspired to created a second issue of Moxie, "Double Dare Ya" plays during an extended sequence in the Netflix movie.
When Vivian and Lucy bond while shopping, "Pretty Ugly" is used as background music and then becomes more prominent. Moments later, "Kitana" sets the mood when various female students rebel by wearing tank tops at school. "La Vie en Rose" complements an intimate sequence between Vivian and Seth at a funeral home, and "Suddenly, Seymour" kicks in when Vivian releases a third issue of Moxie.
After Moxie is officially registered as a school club, The Linda Lindas perform covers of "Rebel Girl" and "Big Mouth" at a social event. When Vivian and Seth discuss sex, "Heaven" plays gently in the background. Later, during a school walkout, "W.A.R.R.I.O.R." has an anthemic feel after Moxie receives public support from Mr. Davies. The Netflix movie ends with "Alala" scoring a group dance sequence.
The Moxie soundtrack was supervised for Netflix by Bledsoe Sophia (Coming 2 America).