Mortal Kombat BTS Images Show Sub-Zero, Liu Kang & Scorpion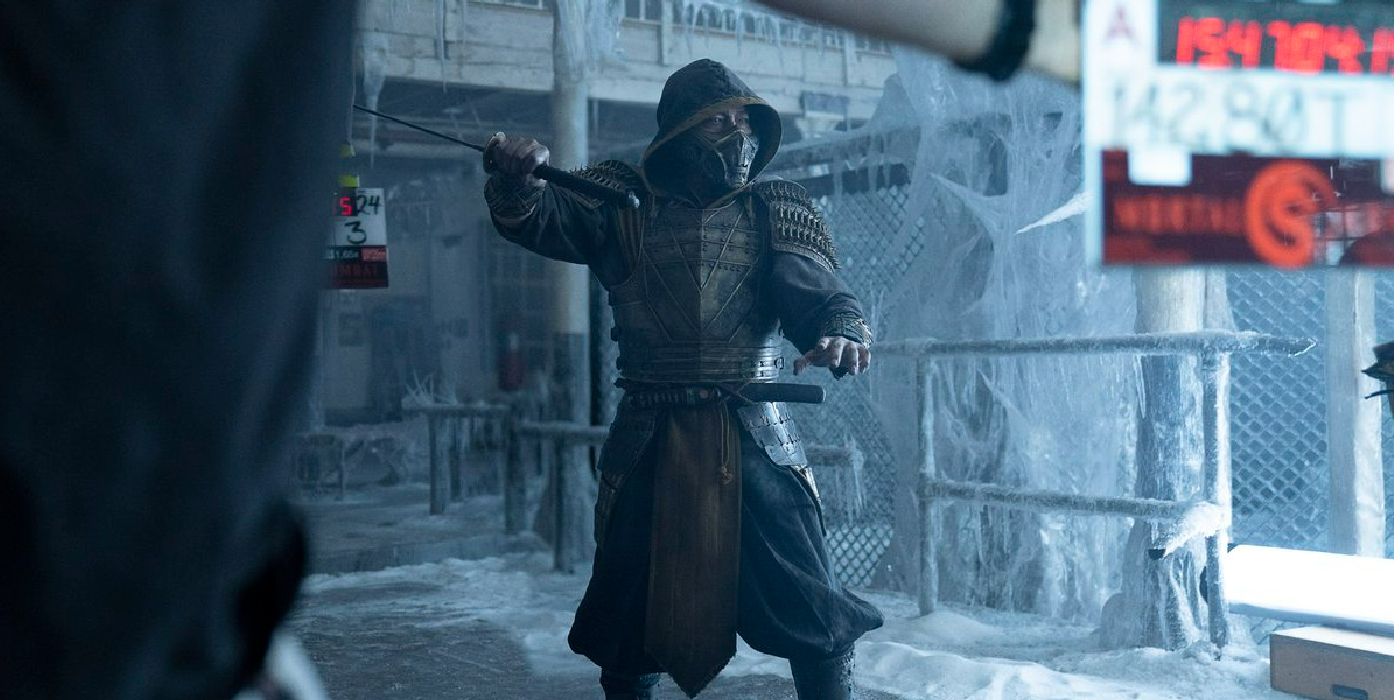 New Mortal Kombat set photos show Scorpion, Sub-Zero, Liu Kang, and Cole Young preparing for the battles ahead. The four characters, played respectively by Hiroyuki Sanada, Joe Taslim, Ludi Lin, and Lewis Tan, are just some of the movie's large ensemble, including other classic characters like Sonya Blade and Raiden. Mortal Kombat is set to release in theaters and on HBO Max on April 16.
Most of the characters who will feature in the new Mortal Kombat film are veterans of the video games, except the new protagonist Cole. An underground MMA fighter who gets pulled into the Mortal Kombat tournament could be connected to Scorpion or Sub-Zero, according to hints in the Mortal Kombat trailer. Some have even theorized that Cole Young is Johnny Cage since the latter character seems to be absent from the reboot's roster.
New behind-the-scenes images from the Mortal Kombat set have been revealed by Nerdist, giving fans new looks at Liu Kang, Sub-Zero, Scorpion, and Cole. Each picture seems to show the prelude to a fight scene, with Scorpion brandishing his trademark Katana in one shot and Liu Kang standing boldly in a battle-worn outfit in another. The images also seem to show a bit of the film's fight direction, which has been highly touted given the many talented martial artists counted among the cast.
Seeing more looks at Scorpion and Sub-Zero is especially exciting given their central focus in the new Mortal Kombat story. The two ninjas' rivalry has always been a significant part of the franchise's lore, and what's been shown of their feud so far looks exciting. Hiroyuki Sanada and Joe Taslim are two of the most skilled martial artists working in film right now, so their showdown in Mortal Kombat should certainly be something to see.
It will also be interesting to see what role Liu Kang plays in the new movie. In the video games, he's often been the main protagonist leading Earthrealm's warriors, but it looks like he'll be taking a bit of a supporting role to Cole Young in the reboot. The Mortal Kombat trailer showed Liu Kang's famous dragon fatality as one of its big reveals, so the Shaolin monk is guaranteed to get some good fights during the tournament. Mortal Kombat releases in theaters and on HBO Max on April 16.
Source: Nerdist