Masked Dancer Finale: How All Clues For Tulip, Cotton Candy & Sloth Fit These Celebs' Identities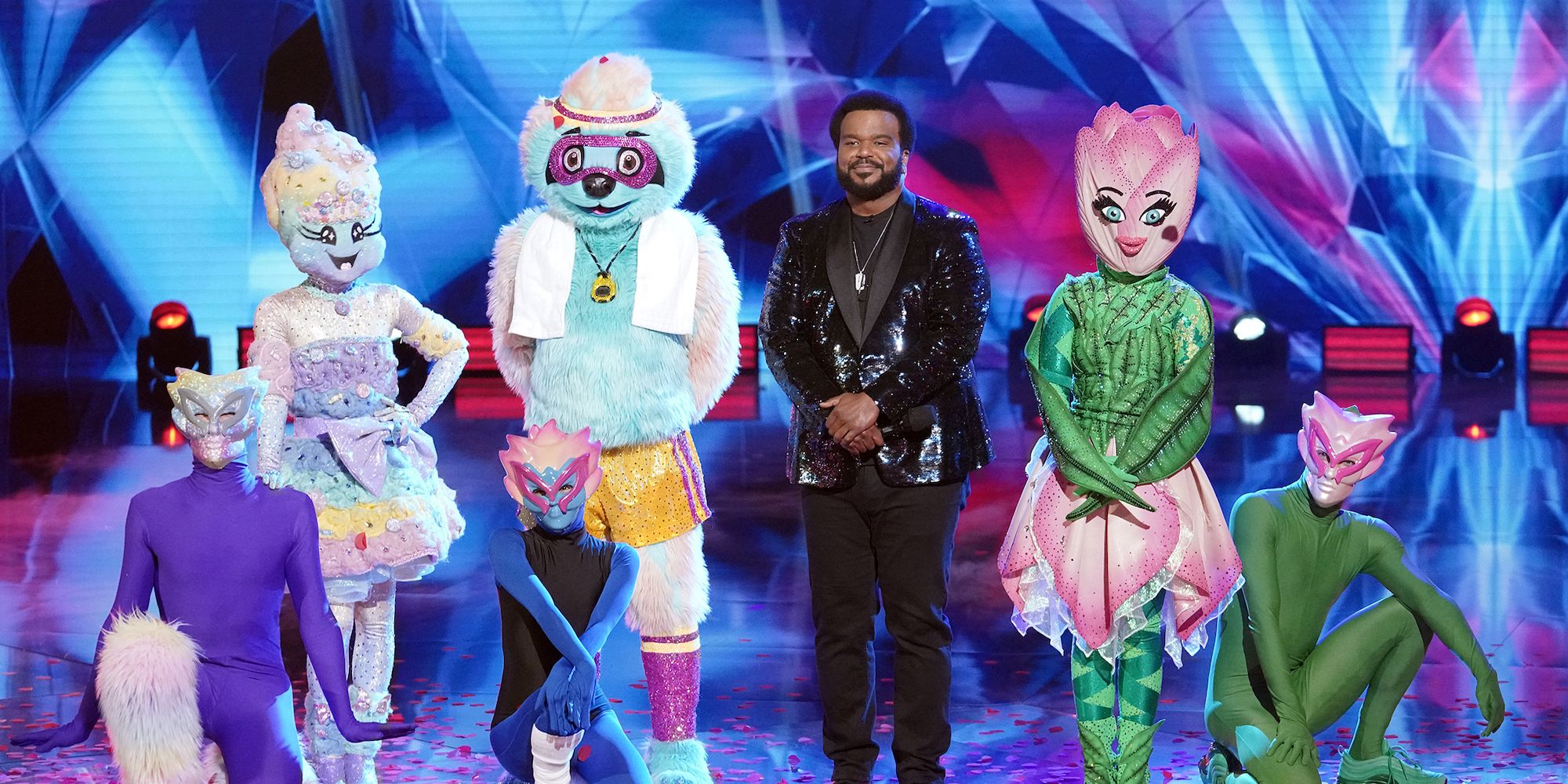 The big finale is finally here for the first season of The Masked Dancer. The three finalists are Cotton Candy, Tulip, and Sloth, and we've linked all the clues to confirm their identities.
This first season of The Masked Dancer has been full of surprises. Stars like actor and rapper Ice T, singer Jordin Sparks, and even Bill Nye the Science Guy have all made an appearance. The routines have covered all different genres of dance, and the stars have spanned all different skill levels. The three finalists have been determined to win, and no one is surprised. Since the beginning, Sloth has brought humor, but also some serious dance moves. There was just no way to conceal his professional training. Cotton Candy has done some amazing dancing, but viewers and judges are all convinced her profession is a little more athletic in nature. With the amount of crossover between dancing and gymnastics, this is a solid guess. The third finalist, Tulip, also appears to have some formal training in dance.
With this solid group of finalists, who will walk away with the honor of being the first winner of The Masked Dancer? It's still anyone's guess. What is less of an unknown is the identities of the remaining anonymous dancers. We've had these three pegged from the beginning, and each week the clues have only helped to strengthen and confirm our predictions. We've compiled this season's clues for Cotton Candy, Tulip, and Sloth to show how they link to our predictions for their identities. We have also connected the stats of each to the group stats for the cast.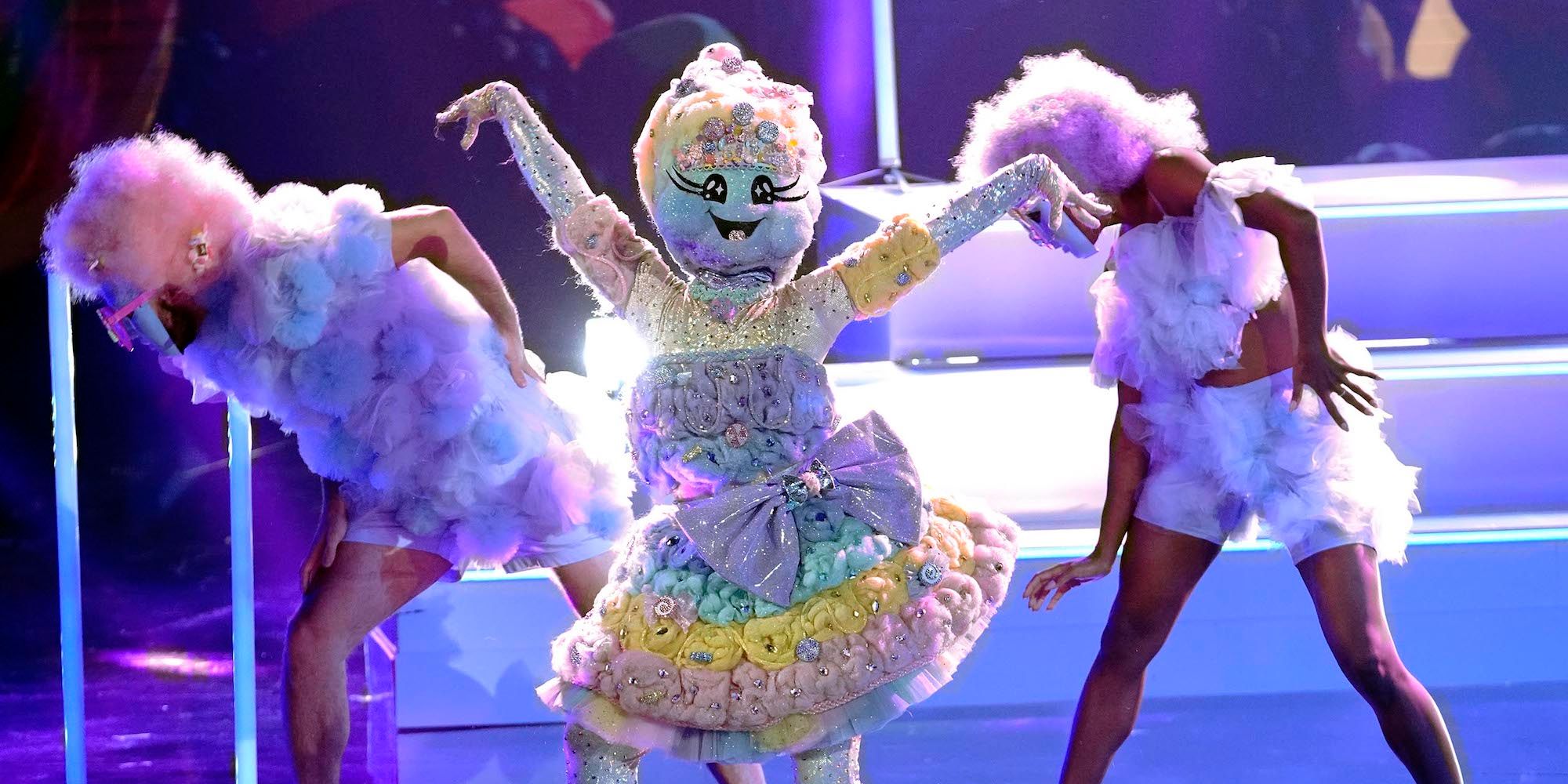 Prediction: Gabby Douglas
Cast Clue Links: Douglas has three Olympic Gold Medals. If added to Oscar De La Hoya's one Olympic gold medal, we have a total of four needed for this season.
Clue Connections: Cotton Candy has had no shortage of clues pointing to the Olympics and, specifically, a gold medalist. Intertwined rings, gold balloons, an eagle, the American flag, and the word team-player all point to someone who spent time competing for Team USA. Specific Olympics were also noted, with an English breakfast and the roman numeral XII for the 2012 Olympics in London. Then, there were all the clues specifically pointing to a gymnast. The rings, balancing scales, mention of Cotton Candy's home having plenty of tights, and her not being able to do what she was known for in heels definitely fit with a gymnast. Cotton Candy also said she was known for being physically fit and that she was no stranger to competition. While these things narrowed the field to an Olympic gymnast who had won gold, there were other Olympians who came to mind, and clues like Cornflakes and a holiday on the water also fit Douglas's teammate, Simone Biles.
But those clues also fit Gabby Douglas. In addition to that, there were other clues that pointed to Douglas very specifically. The London Olympics, for example, fit Douglas better. There were multiple clues that included the number three, and she has three gold medals. She mentioned it is hard to balance and it not being the first time she'd fallen on national TV. Douglas famously fell on the balance beam in 2012. Clues pointing to Douglas's personal life were huge, too. There was talk of how she had to move in with another family to follow her dreams. In addition, many visual clues like the cupcake with lips, or lipstick, referenced her collab with Beautie Bakery. In short, Cotton Candy is definitely Gabby Douglas.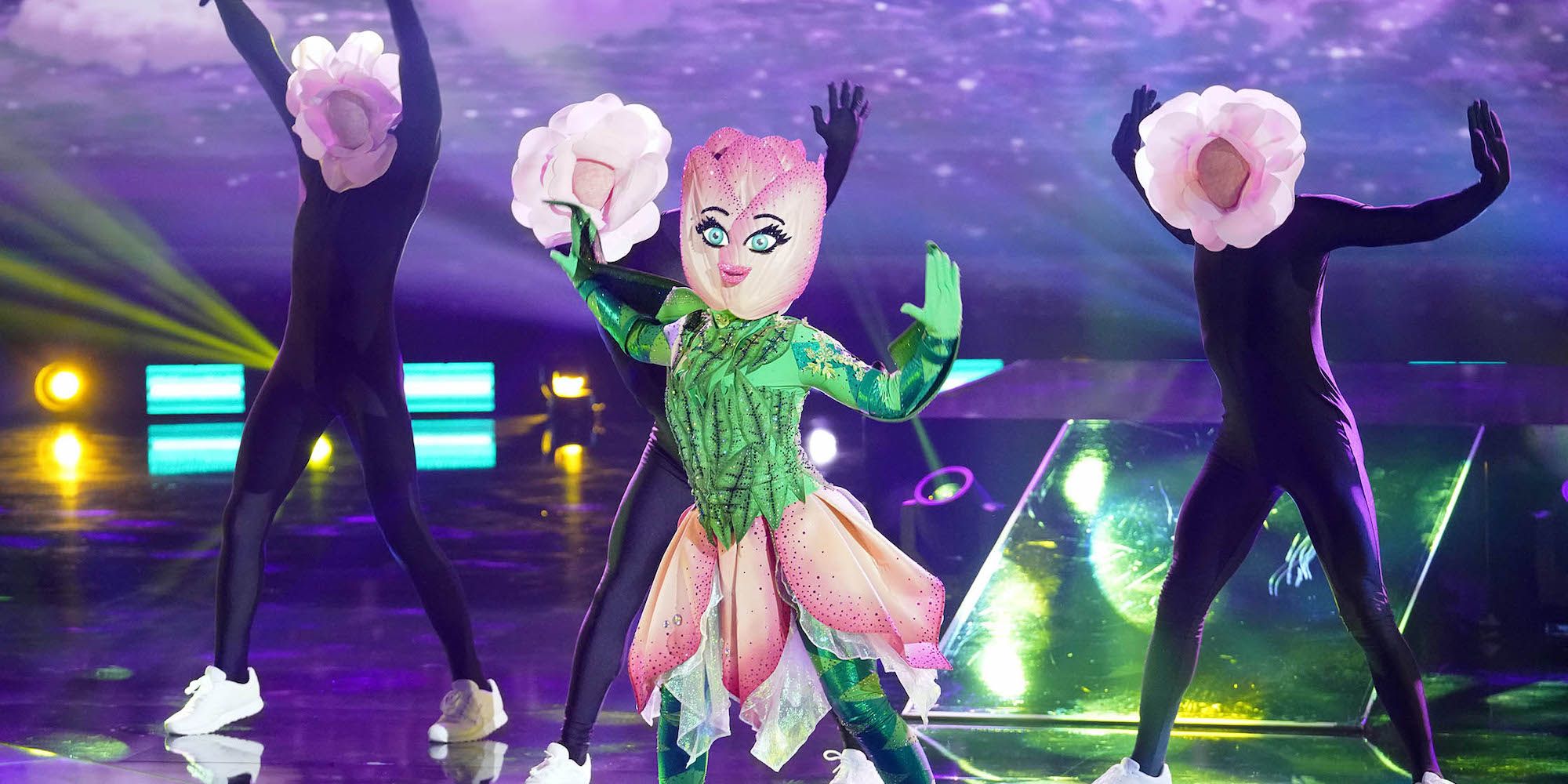 Prediction: Mackenzie Ziegler
Cast Clue Links: The fact that Tulip doesn't account for any of the cast totals is significant itself. Although she is clearly a trained dancer, our choice for Sloth holds all 10 of this season's world dancing titles. Therefore, it is important that whoever is Tulip doesn't hold any. Our choice of Mackenzie Ziegler indicates a talented trained dancer, but one who does not hold a world dancing title.
Clue Connections: There were plenty of clues, like an alarm that said "tick-tock," pointing to the TikTok app for Tulip. This alone pointed to various celebrities, but it also spoke, with other clues, to Tulip's young age. She mentioned that running out of battery on her phone would be worse than running out of gas, and she was shown with posters of BTS, Justin Bieber, and Harry Styles on her wall. These fit with Ziegler, who is only 16 and has more than 19 million TikTok followers. There were also a lot of clues pointing to The Wizard of Oz, like red shoes clicking together and a rainbow. Ziegler happens to have starred as Dorothy in a holiday take on the famous movie called The Wonderful Winter of Oz. 
There were plenty of Dance Moms clues, including a ticket from AL to DC for the Abby Lee Dance Company and a cereal box with 11 vitamins and minerals for 2011, when Ziegler joined the show. But there were also clues referencing her less-than-pleasant experience with the show. Not good enough clues, talk of being teased, and confidence tumbling fit that experience. Many mentions of her best bud being better pointed to her sister, Maggie Ziegler, who had a great deal more success on the series and in the dance world. The word "triple" referenced her work as a singer, actress, and dancer. There were also very specific clues pointing to her name. Mac and cheese and the letter " Z" point to her name, Mackenzie "Mack" Ziegler. There is more than enough evidence Tulip is the star of the Dancing With The Stars spinoff show Dancing With The Stars: Juniors, Mackenzie Ziegler.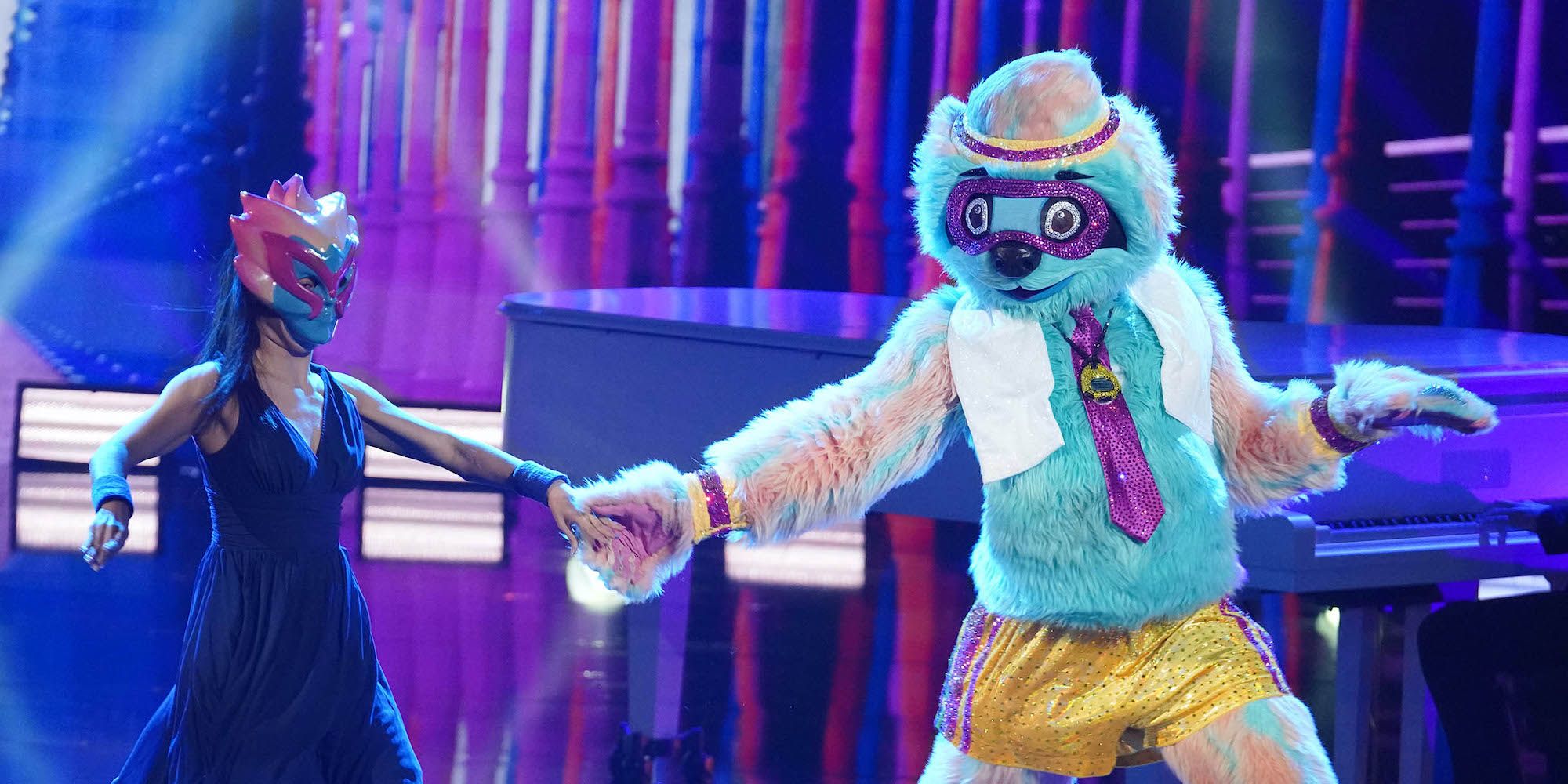 Prediction: Maksim Chmerkovskiy
Cast Clue Stats: Chmerkovskiy has the entire total of 10 world dancing titles held by this season's cast. This is important, as up until now we have had no one revealed who has any. Our other two remaining predictions have none either. Another important stat is that Chmerkovskiy appeared on Broadway in Burn the Room. This fills out the required three appearances when added to Jordin Sparks' two. However, there is some confusion as to Chmerkovskiy's guest appearance on Forever Tango. Should that count, that would make the numbers not quite line up. But whether a mistake or an issue with the wording, we are still very confident in this prediction.
Clue Connections: Sloth had so many clues that pointed specifically to Maksim Chmerkovskiy that it's hard to make an argument for anyone else. There were plenty of clues pointing to his reputation as the bad boy of the ballroom. Clues like the fact that Sloth moved to a new place with a different language, as well as the yellow and blue colors of the Ukrainian flag point to his start. There were also clues about his move to New York in the form of a Yankee street sign. The number 18 over a star mobile pointed to the fact that the DWTS pro won season 18 of the popular dance show. Sloth also mentioned doing a new dance style every week, which is a trademark of the show.
There was even a maximum velocity clue pointing to his first name, Maksim, and his nickname, Maks, as well as a pita bread for his wife, Peta. His wife wasn't the only family member referenced. A baby sloth and a picture of a man, woman, and child point to the dancing duo's young child. If you still need any more proof, there are an overwhelming number of clues pointing to his DWTS partners. Denise Richards was represented by the letters D.R. on a lab coat, Amber Rose was referenced by a Jurrasic Park style image of a bug trapped in amber, and Hope Solo had a red Solo cup. Last but not least was Glee star Heather Morris, who had a toothpaste tube with GLEE showing by a brand whose initials were DWTS. Sloth may be able to keep his mask on, but we know who is under it – pro dancer Maksim Chmerkovskiy.
The Masked Dancer airs Wednesdays at 8 pm ET on Fox.