Marvel Officially Releases WandaVision's Agatha All Along Song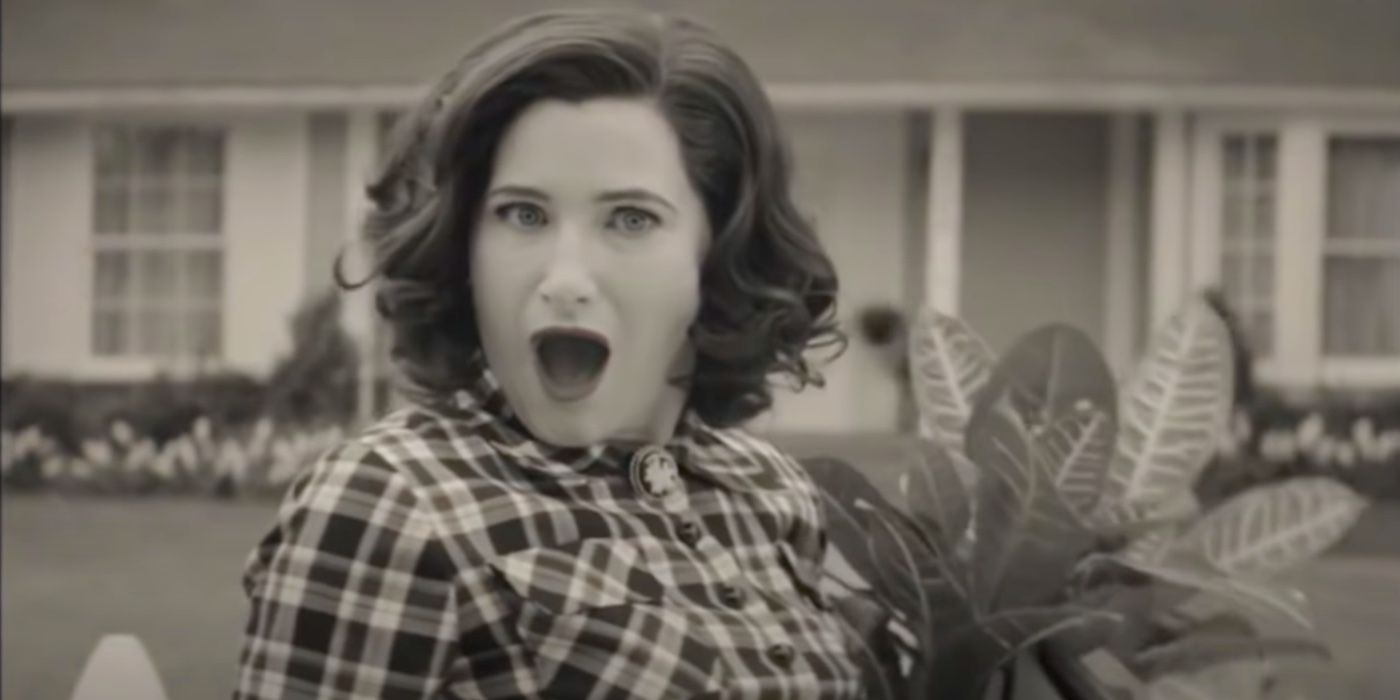 Marvel officially releases WandaVision's "Agatha All Along" song. Portrayed by Kathryn Hahn, Agatha Harkness was introduced in WandaVision as Agnes, Wanda and Vision's nosy neighbor in their seemingly idyllic suburban life. Like so much of WandaVision, Agnes' true nature was shrouded in mystery, with many speculating there was more to her than meets the eye. That theory turned out to be true, when at the end of episode 7 "Breaking the Fourth Wall," it was revealed Agnes was actually Agatha Harkness, and was the one behind all of the oddities happening in Westview, such as "Pietro Maximoff's" surprise return and Sparky's death.
The twist was a compelling cliffhanger to conclude "Breaking the Fourth Wall," but WandaVision went the extra mile by giving Agatha her own theme song, positing it as the tune for the show Agatha All Along. The song made an immediate impact with viewers, almost instantly becoming WandaVision's most memorable track thus far. Now, for those who spent the entire weekend humming "Agatha All Along" to themselves, Marvel's shared the official isolated clip.
Taking to their official Twitter account, Marvel posted the "Agatha All Along" sequence from "Breaking the Fourth Wall." Check out the video in the space below:
It was her all along 🐇 The seventh episode of Marvel Studios' #WandaVision is now streaming on @DisneyPlus. pic.twitter.com/MkJif48YsN

— WandaVision (@wandavision) February 22, 2021
WandaVision is noted for being a marked departure from the typical MCU fare. It leans heavily into its sitcom influences, with each episode being modeled after different shows from various eras. One of WandaVision's most notable staples is the episodes are accompanied by their own theme song designed to fit the time period. So it's fitting that Agatha got a unique tune herself that played alongside the big reveal in "Breaking the Fourth Wall." It helps underscore her importance to the overall narrative and hints at major things to come in WandaVision's remaining episodes. It'll be interesting to see what Agatha hopes to achieve by wrecking havoc in Westview.
While Marvel's Disney+ shows are looking to take advantage of the TV medium by trying new things (She-Hulk is a legal drama, for example), it seems unlikely the subsequent series will have musical moments of their own. March's Falcon and the Winter Soldier seems to be more like a traditional MCU offering. Again, what makes WandaVision stand out are the sitcom influences, so theme songs are very much in line with this approach. Of course, there's always the possibility of a WandaVision season 2, so perhaps the next couple of weeks won't bring the end of Marvel's catchy tunes.
Source: Marvel