Lex Luthor Actors Troll Each Other Over Who's The Best Looking Lex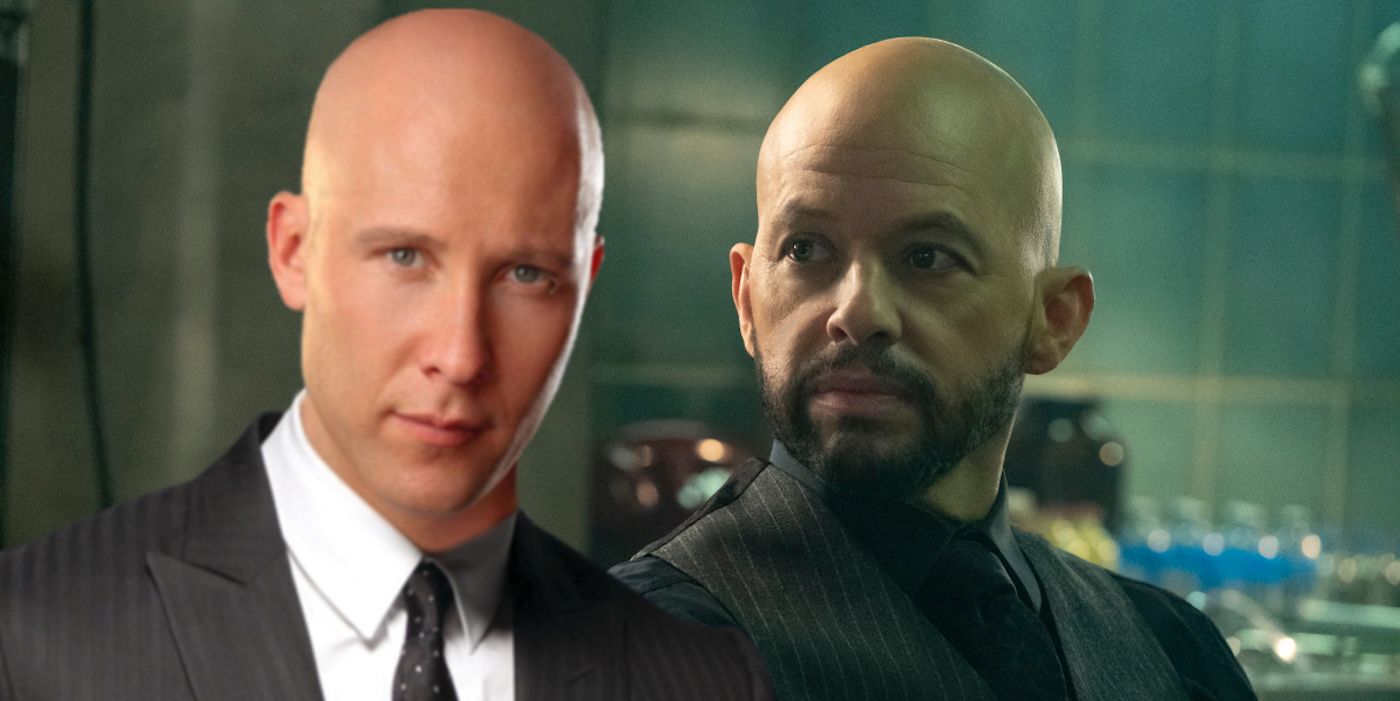 This week in bald arguments: two actors who both played Superman's arch-nemesis Lex Luthor, on The CW's Smallville and The Arrowverse, respectively, debate who was the better-looking villain. The DC Comics character was initially conceived in 1940 as a scientist and has settled in as the high-powered CEO of LexCorp. Luthor first appeared in the comics as a redhead but later went bald due to an artist's mistake that stuck around.
Michael Rosenbaum played Luthor on Smallville, an early CW show about Clark Kent's high school origins that ran for a decade from 2001-2011. On the show, Lex is the young, wealthy son of a billionaire whose father has assigned him to run a rural town's fertilizer plant. Like the comics character, Rosenbaum went bald for the role. The same network cast Jon Cryer (Pretty in Pink, Two and a Half Men) to play the villain in The CW's Arrowverse. Cryer primarily appears on Supergirl against star Melissa Benoist (Kara Danvers, a.k.a. Supergirl), but the actor can be expected to show up whenever Lex comes into play in any Arrowverse plotline across all of the network's shows.
Superman's relentless enemy has now turned against himself: Rosenbaum and Cryer recently took to Twitter to debate who Lex'd best in a fake beef worthy of the iconic villain. Rosenbaum kicked off the battle with a video where he uses a filter that renders him bald and bearded to simultaneously rib Cryer, the current reigning Lex who has also hilariously described his actual hair as an "elaborate illusion." Rosenbaum shouts out fans and Cryer in the video with the ingenious hashtag #sexylexys:
hey folks. i'm @MrJonCryer – love ya jon. #sexylexys pic.twitter.com/cPKvUCDZcR

— Michael Rosenbaum (@michaelrosenbum) February 13, 2021
All the cool people are doing it. https://t.co/TJvNzYOVtV

— Jon Cryer (@MrJonCryer) February 13, 2021
I wish I had perfect facial hair. bastard.

— Michael Rosenbaum (@michaelrosenbum) February 13, 2021
And I wish I had hair. Period.

— Jon Cryer (@MrJonCryer) February 13, 2021
The impression led the pals to engage in some good old-fashioned gassing up of each others' respectively enviable head of hair in Rosenbaum's case and facial hair in Cryer's. The two clones have bonded in real life over their shared experience and developed a friendship that has many DC fans geeking out. This isn't their first Twitter exchange, and the #sexylexys have compared their Lexperiences playing the character on Rosenbaum's podcast.
Fans are loving the interaction, which is the opposite of how a supervillain would act. It's always mind-bending to see actors who have played the same role interact in the real world (or online, in this case), and it's even more uncanny when one of those actors is impersonating the other. Although Rosenbaum's stint as Luthor wrapped up years ago, fortunately, Cryer is carrying the torch. Hair patterns aside, Cryer and Rosenbaum have each given unique and nuanced performances that have kept Lex Luthor alive on screen for many seasons, a valuable contribution that fans of the comics surely appreciate.
Source: Michael Rosenbaum, Jon Cryer/Twitter