Leaked Warzone Challenges Indicate Zombies Mode Incoming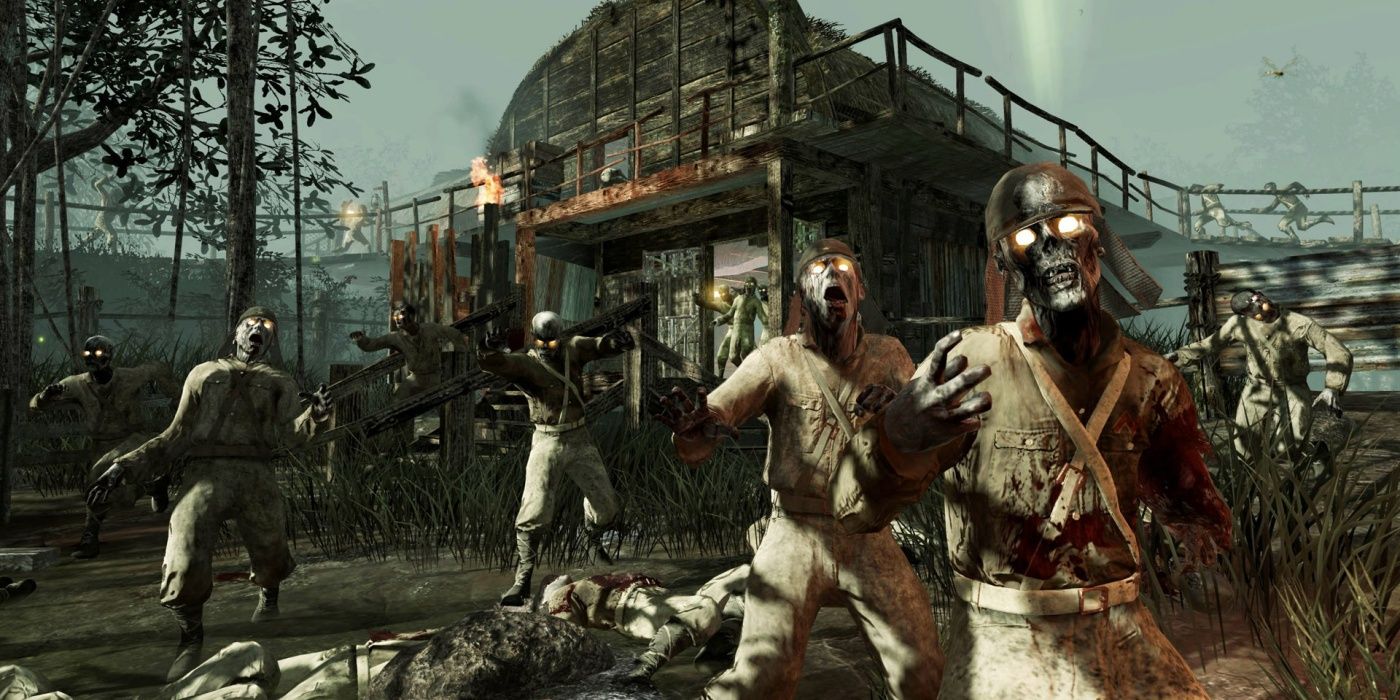 Leaked challenges for Call of Duty: Warzone have supposedly leaked online, indicating the free-to-play title may receive a Zombies Mode in the near future. Call of Duty's ever-popular Zombies has remained a staple of the franchise for a good long while. As such, fans were surprised by the mode's absence when Activision deployed Warzone last year.
Previously, a few hints have surfaced to suggest developers were at least toying with the idea of introducing a Zombies Mode. One such example dates back to Warzone's limited-time Zombie Royale, a mode that launched alongside October 2020's The Haunting of Verdansk update. Another, smaller tease seemed to emerge last week in the Warzone Rumble playlist, which conspicuously boasted a trial machine from the Black Ops Cold War Zombies Mode. Now there's an even more convincing bit of evidence that the undead will soon stumble their way into the world of Warzone.
Dexerto recently shared three screenshots of leaked challenges from Warzone, each of which could confirm that a Zombies Mode will enter the picture in Season 2. "Quick Elimination" serves as one challenge, presenting Warzone players with the task of "eliminating 8 Zombies before the first circle closes." Meanwhile, "One, Two Punch" challenges users to rapidly kill two or more Zombies twice. The third challenge is for "Shotgun Eliminations," which can be completed by dispatching the dead with a shotgun eight times.
Warzone Zombies confirmed for Season 2?

These new challenges seem to indicate so! Maybe they're arriving in that cargo ship 🤔 pic.twitter.com/EbLGnDVmmP

— DEXERTO Call of Duty (@DexertoIntel) February 24, 2021
This isn't the first time a leak has given fans a glimpse at the fun Warzone Season 2 may have in store. Just last week, players found themselves able to unlock an unreleased pistol that's set to debut in the next content drop. The reported Zombies-related challenges are undeniably a tad more intriguing, though, especially since the free-to-play title doesn't yet have its own mode dedicated to the popular experience.
Call of Duty developers have not completely abandoned Zombies, of course. In fact, Black Ops Cold War recently updated the Zombies-centric Dark Aether storyline, adding in the Firebase Z map. Yet another free update for Black Ops Cold War is just around the corner, and should usher in even more action-packed, undead-filled content. The forthcoming release in question is the Outbreak Mode, an objective-based experience that will go live on February 25.
Call of Duty: Warzone is available to play for free on PC, PS4, PS5, Xbox One, and Xbox Series X|S.
Source: Dexerto