KUWTK: Khloe Kardashian Flaunts Diamond Ring in Good American Post on IG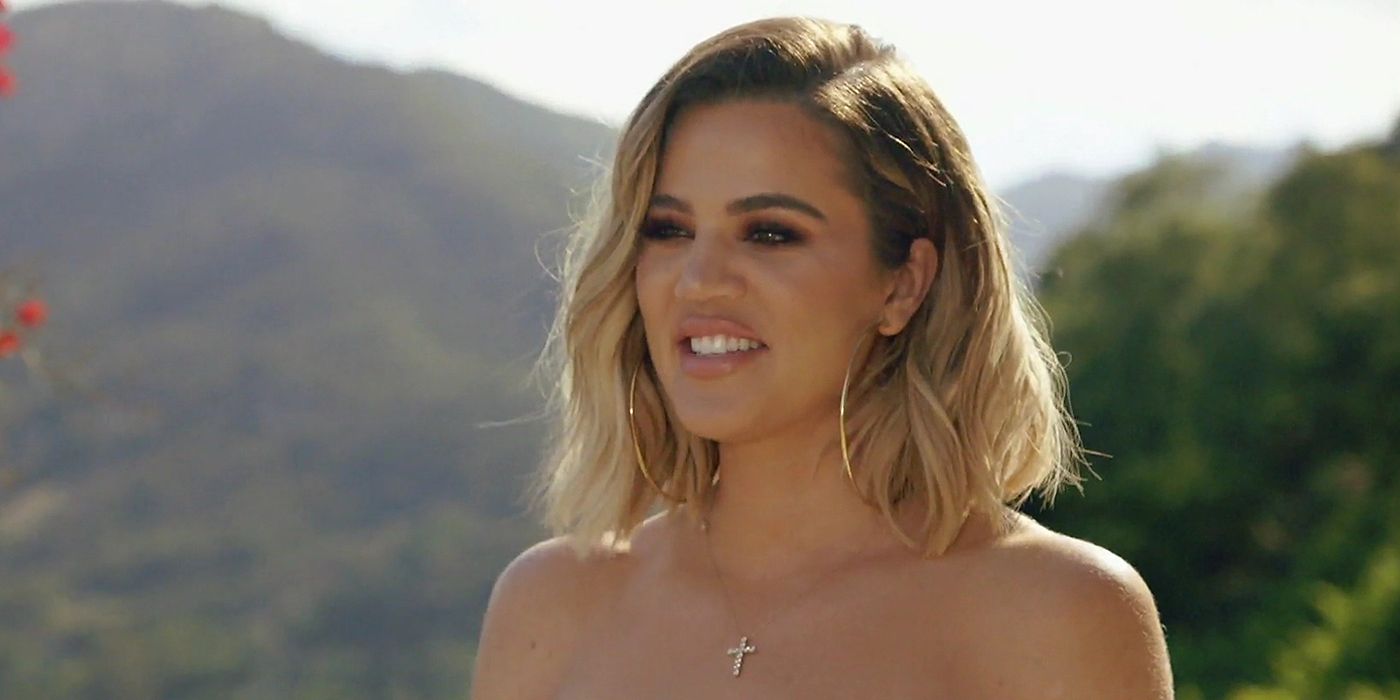 Could a wedding be in the near future for Khloe Kardashian? The Keeping Up With the Kardashians star flaunted a massive diamond ring while promoting her brand Good American on Instagram, leaving fans wondering. This is not the first time Khloe has sparked engagement rumors. Back in December, Khloe and True spent the holidays in Boston with Tristan Thompson. During their trip, Khloe was spotted rocking a diamond ring during a family day out. This seems to be the same ring.
As Keeping Up With the Kardashians nears an end and more clips are released from the final season, fans have been getting an idea of the status of Khloe and Tristian's relationship. One clipped showed Kim Kardashian asking Tristian how things have been between the two. She explains that Khloe obviously wants to be together as she spends much of her time with him but may be afraid of what people will think. A different trailer revealed that Khloe and Tristian are actually trying for baby number two. Aside from another baby, marriage has also been in the talks for Khloe and Tristian.
Are those Kardashian wedding bells ringing? Khloe Kardashian has yet again hinted at a possible engagement. She took to Instagram to promote her new shoe line for her brand Good American. Although the main focus of the post was intended to be the shoes, something sparkly caught fans' eyes instead; a massive diamond ring. The photo was taken of Khloe from the waist down as she knelt on the ground outside. She meticulously placed her left hand on her nearly nude body around her hip area, showing off the potential engagement ring. Half of the nude-colored heeled boot was even cut out of the photo. While Khloe left the caption generic, simply stating the shoes' release date, she acted as if the ring was not even in the photo.
Fans were quick to jump to conclusions in the comments, completely disregarding the main purpose of the post, her shoes. One comment joked that no one was paying attention to her shoes as they are distracted by her ring. They questioned if this was actually Khloe's subtle way of announcing her engagement to Tristan, to which someone added, "if this was about the boots we'd see the boot." As fans complimented Khloe on her body, one comment read, "That engagement ring makes your booty look small." The oversized diamond was described as an "ice rink on her finger." Stylist Dani Michelle, who has dressed the famous family in the past, wrote, "i'm jaw dropped over two thingssssss."
As fans were recently complaining that Khloe's Instagram has been boring lately, it looks as though Khloe changed that up with a little excitement. This is perceived to be the same diamond ring Khloe was flaunting in Boston around the holidays; however, since her return home to L.A. fans have not seen much of the ring. While this post was intended to be a promotion for her new shoe line, it seems as though Khloe had some alternative intentions. Quite frankly, how could it promote the shoes when the shoes are barely in the photo. Perhaps Tristian's potential proposal to Khloe will be seen on the final season of Keeping Up With the Kardashians.
Source: Khloe Kardashian