Jon Favreau Visits James Cameron's Avatar 2 Set In New Photo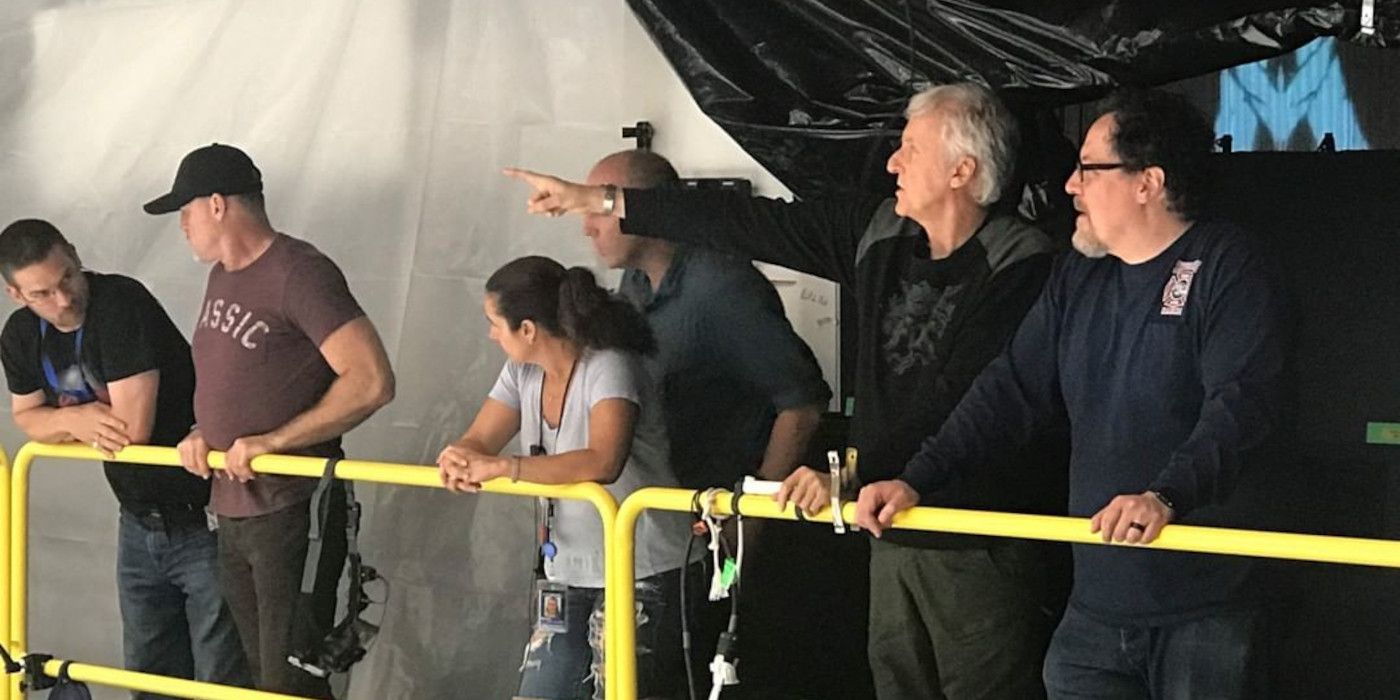 The Mandalorian showrunner Jon Favreau visits James Cameron's Avatar 2 set in new behind-the-scenes photo. Cameron first announced his desire to follow up his 2009 blockbuster with a pair of sequels back in 2010, but shooting on those sequels didn't officially begin until 2017 as the filmmaker waited for developments in performance-capture technology to catch up with his desire to shoot underwater sequences for the films.
The original plan of course was for Cameron to release the first of his four highly ambitious and technologically advanced Avatar sequels in 2018, but it's now 2021 and the first movie still hasn't been delivered (indeed by now Avatar 2 and Avatar 3 were both supposed to have been released). In fact thanks to COVID the release schedule for the new quartet of Avatar films keeps being pushed back, and as of now fans are still nearly two years away from returning to the moon Pandora. In the meantime, Cameron continues moving ahead with production, with occasional behind-the-scenes images being released to keep audiences engaged as the wait for Avatar 2 stretches on and on.
One of those Avatar fans eagerly awaiting the newest film set in Cameron's sci-fi world is Mandalorian showrunner Favreau, who at some point in recent months was able to visit the set and get all the lowdown from Cameron himself, a moment that was shared by producer Jon Landau (who calls himself a Favreau fanboy) in a behind-the-scenes image posted to Instagram. See picture in the space below:
Favreau of course knows all about running a technologically advanced set himself thanks to his work on the original Iron Man as well as his showrunning duties on The Mandalorian. Indeed Mandalorian in particular has proven to be one of the most forward-looking of all movies or TV shows released in recent years in its pioneering use of virtual sets, an approach to filming that has helped the show stay on schedule despite COVID restrictions and is now being adopted by other productions like the upcoming Thor: Love and Thunder.
No doubt Favreau and Cameron have had some interesting conversations about the present state of movie technology, and even more interesting discussions about the future of that technology, as both find themselves on the forefront when it comes to pushing the tech and the techniques of making content set in fantasy worlds. Cameron of course moved things a long way forward with his original Avatar, especially when it came to creating an immersive 3D movie experience, and now he's trying to push the envelope again on Avatar 2 and the other sequels when it comes to underwater performance-capture and other technologies that didn't really exist when he started work on the new films.
What remains to be seen of course is what the theater industry will look like in 2022 when Avatar 2 is finally ready to hit the big screen. COVID obviously has devastated theaters while speeding up the movie industry's adoption of streaming as a viable means of releasing films. Cameron no doubt hopes that audiences will see his massive Avatar sequels in movie theaters, but the way things are going, he may have to compromise by allowing the films to come out at home at the same time they arrive on the big screen.
Source: Jon Landau/Instagram