Jennifer Garner Cosplays As Avatar: The Last Airbender Cabbage Man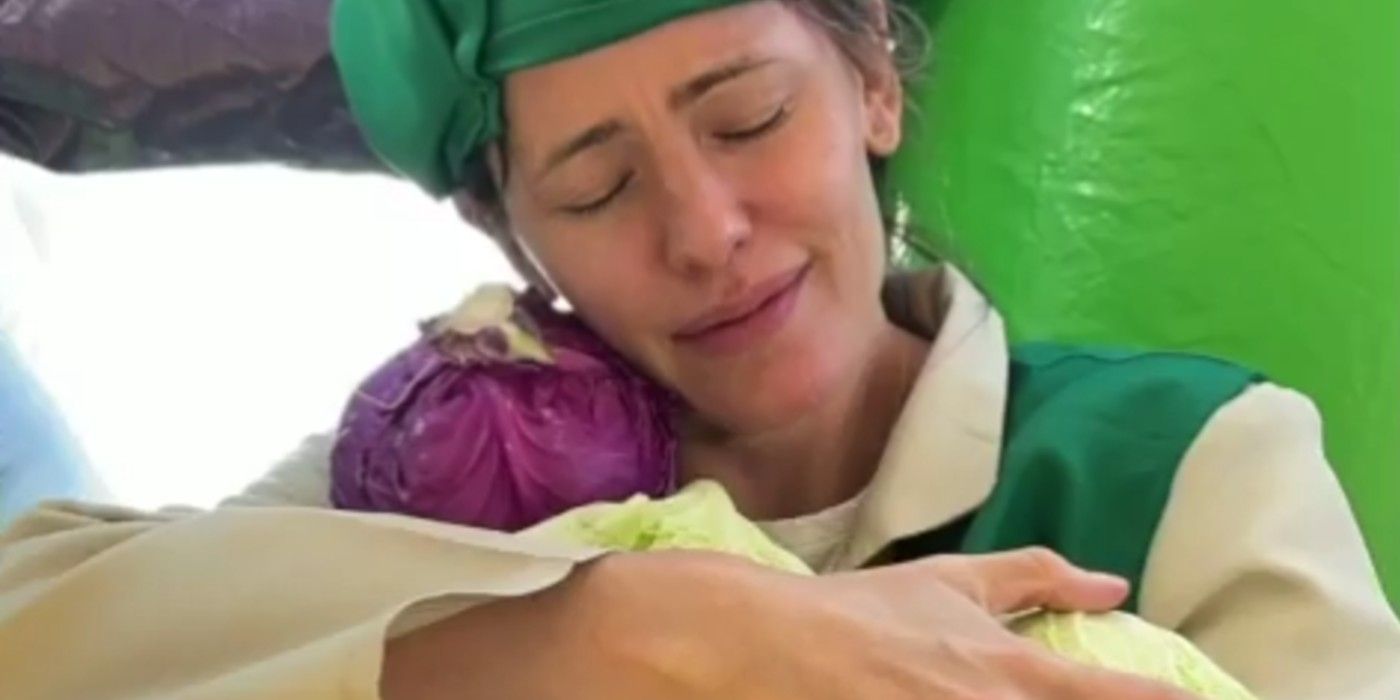 Jennifer Garner reveals her excellent cosplay as the cabbage merchant from Avatar: The Last Airbender. Once intended to just be a one-off character, the cabbage merchant evolved into a fan favorite throughout Avatar's three-season run. The character doesn't have any name beyond the cabbage merchant, and his role boils down to his unfortunate tendency to be in the same place as Aang and his friends. Without fail, Aang will destroy his cabbage stand in the midst of his current adventure, and the poor merchant will cry out in dismay over his abused vegetables.
Last year, Avatar debuted on Netflix and reached a new level of popularity. The series became Netflix's most-watched kids' show for the year, and the renewed attention has seemingly inspired a new series of Avatar projects. Numerous people likely discovered Avatar while quarantining amid the coronavirus pandemic, and it looks like Garner was one of those people. Garner previously showed her appreciation for The Office, and now she's hinted at another series that got her and her family through quarantine.
Garner shared a video on social media recounting the various celebrations her family has managed to have during the pandemic. Amid the shots of Garner dressing up and letting loose is her cabbage merchant look. Her costume fits the one from Avatar really well and, to complete the costume, has her affectionately cradling several cabbages. Additionally, a clip from later in the video appears to show Garner wearing a costume similar to Sokka's warrior outfit, hinting she emulated more than one Avatar character. Check it out below.
It's fun seeing how many people Avatar has reached within the past year, and it's also a testament to the cabbage man's continued popularity that he's become a cosplay subject. Several fan works have been inspired by the cabbage merchant's story, whether it be Hamilton from his point of view or the opening to Avatar told with him as the hero. There's just no denying it: The cabbage merchant is the MVP of Avatar.
Perhaps he could even become the star of his own show in the future. Last week brought the news Nickelodeon has launched Avatar Studios, a new venture dedicated entirely to coming up with original stories set within the world of The Last Airbender. So far, none of their upcoming tales have been revealed, but who knows? Maybe the cabbage merchant will get some time in the spotlight. One could say there's no real reason to explore his backstory, so a cameo might be better suited for his next appearance. Regardless, fans would happily welcome him back into the Avatar world.
Source: Jennifer Garner/Instagram