It Takes Two's Co-Op Gameplay Changes Completely Every Level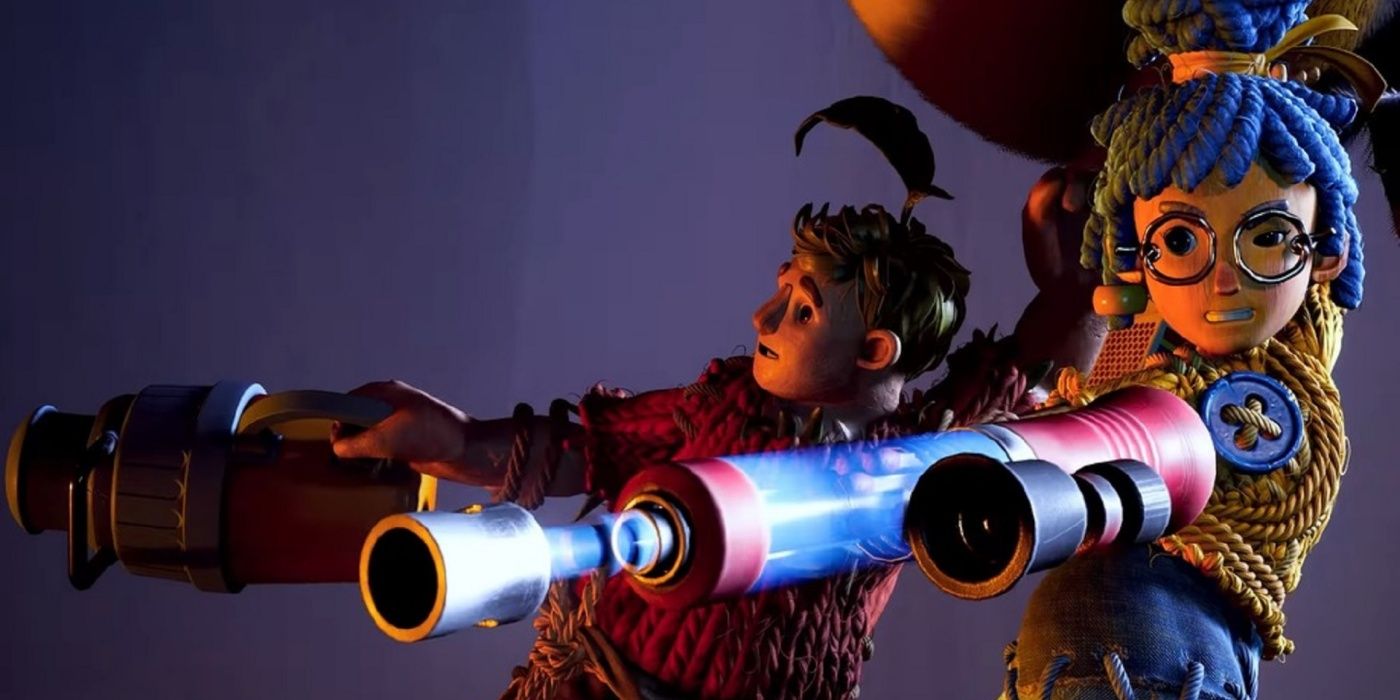 Developer Hazelight Studios has shared a new gameplay trailer for It Takes Two, in which game director Josef Fares explains how the co-op gameplay drastically changes many of the title's levels. Hazelight unveiled It Takes Two last summer during Electronic Arts' EA Play Live online event. Akin to Fares's previous two projects, this new endeavor places heavy emphasis on the significance of two characters working together.
Meant to marry gameplay and story, It Takes Two's co-op mechanics seem incredibly ambitious. And that ambition comes courtesy of the simple yet intriguing story that will push the game's two characters, Cody and May, forward. Cody and May are a married couple who have been on the outs for quite some time; as a result, divorce is creeping around the corner. Their daughter Rose, distraught at the thought of their family falling apart, crafts two dolls that her parents magically transform into. Apparently, this setup of the narrative, as well as the couple's past problems, feeds into much of what makes the gameplay and level design in It Takes Two so compelling.
Hazelight and EA have unleashed another new look at It Takes Two in a gameplay trailer narrated by game director Josef Fares. Naturally, the nearly three-minute video emphasizes the co-op mechanics, in addition to the various scenarios Cody and May will find themselves trying to navigate. According to Fares, no one scenario will be the same, since the gameplay aims to reflect the narrative's happenings. One example of how co-op defines the levels comes to pass after Cody argues that May has no sense of time, while she contends that she can't be in two places at once. Thus, one level sees him obtain the ability to control time; meanwhile, May gains access to a clone of herself. Unlike Hazelight's debut project, A Way Out, almost every level in It Takes Two will equip the characters with brand-new mechanics, meaning players will have a completely different experience depending on the character they're controlling.
As Fares has teased in the past, it's clear It Takes Two will be packed with game mechanics and inventive level design choices. Whether or not everything will come together smoothly isn't yet known. But Fares' and his team's track record speaks for itself. They're great at elevating story and gameplay with interesting ideas.
EA's partnership with Hazelight Studios represents one of many under its EA Originals label, an endeavor wherein the publisher supports the projects of independent studios from across the globe. In recent years, the label has published the aforementioned A Way Out, Fe, Rocket Arena, and Unravel.
It Takes Two will release on March 26 for PC, PS4, PS5, Xbox One, and Xbox Series X|S.
Source: Electronic Arts