Iron Fist's New Team is Filled With Marvel's Best Fighters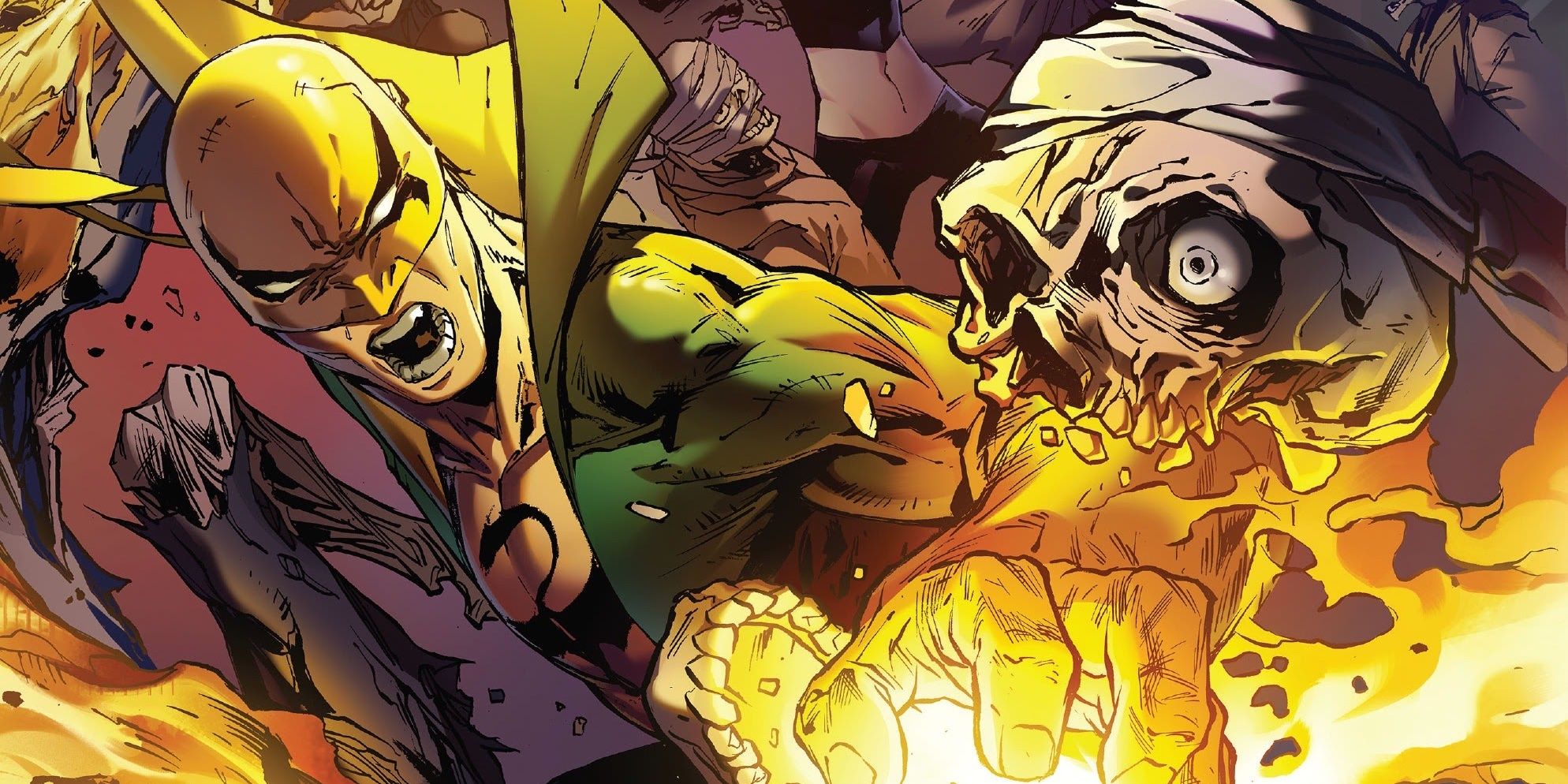 Warning! Spoilers ahead for Iron Fist: Heart of the Dragon #2 from Larry Hama and Dave Wachter
In the latest issue of Marvel Comics' new series featuring Iron Fist, Danny Rand has just been tasked with assembling a group of champions to protect the cosmic balance of the Marvel Universe.  The sinister Hidden City is rising, sending out agents to kill the dragons of the Seven Heavenly Cities, as the great beasts serve as their power imgs. Now, the immortal Iron Fist is going to have to unite and lead some of the best fighters not just from the Heavenly Cities, but from Earth as well.
Thus far in Iron Fist: Heart of the Dragon, from writer Larry Hama with art by Dave Wachter, dragons are being slain and their hearts are being taken. Various operatives have been sent to carry out these dark deeds, such as Taskmaster and Lady Bullseye, who are apparently in service to the nefarious forces of the rising Hidden City. The City also have command of an entire army of undead ninjas, meaning that Danny Rand and his allies certainly have their work cut out for them. At the end of the first issue, the Mother of Mercy Quan Yin summons Iron Fist as she needs his help to protect the dragons and the ultimate cosmic balance of the universe.
Now, Iron Fist: Heart of the Dragon #2 sees Danny charged with uniting these fighters from across the Heavenly Cities, using a portal created by the K'un-Lun scientist known as Fooh to gather them all. Not only that, but the Cities must also be manifested on Earth as well, so that heroes from Earth can join the fight, as the threat will require their combined strength. As of the second issue, Iron Fist, Luke Cage, Pei, Gork, and Fooh are joined by Dog Brother, Fat Cobra, and Bride of Nine Spiders (all surviving Immortal Weapons of the Heavenly Cities).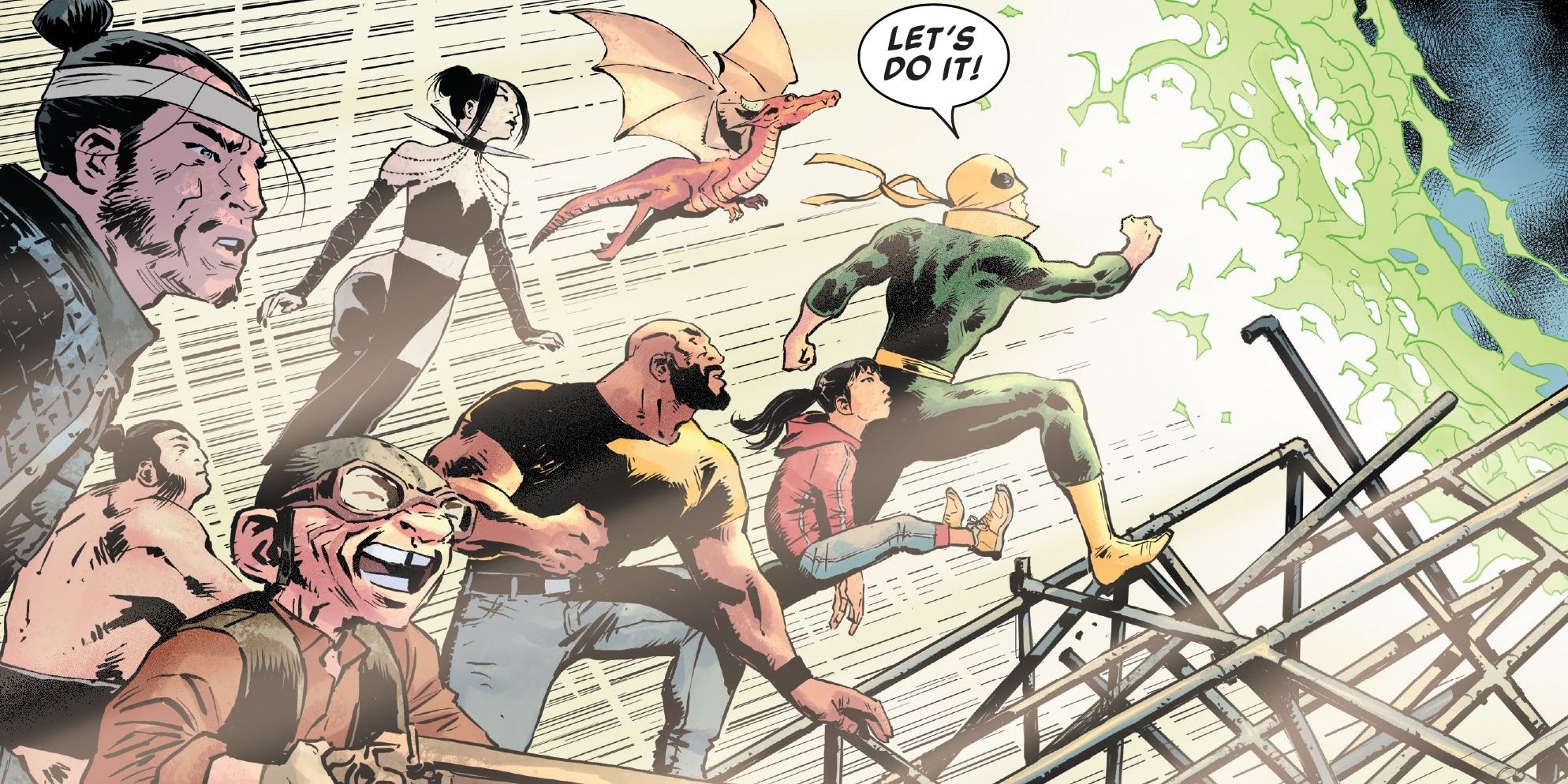 Despite the Cities already beginning to appear on Earth, Iron Fist and his allies have no time to wait for more champions, as they rush to head off the imminent forces coming from the Hidden City's Bao Fu Citadel. While Iron Fist and his new team manage to close the gates to the Citadel, it won't be for long. The power of the Hidden City is continuing to grow, and the Mother of Mercy did say that success would only come from a united force comprised of fighters from the Heavenly Cities and Earth.
Aside from Luke Cage, Iron Fist's team is mainly full of fighters connected to the Seven Cities by the issue's end. However, it seems likely that their roster will soon expand with Earth's heroes in future issues. For example, Wakanda's general Okoye just witnessed one of the Heavenly Cities appearing near the Wakandan border, and it seems likely that she'll soon find herself getting involved, offering her skills as this new Iron Fist series continues from Marvel Comics.