How Agatha Harkness' Costume Compares To The Comics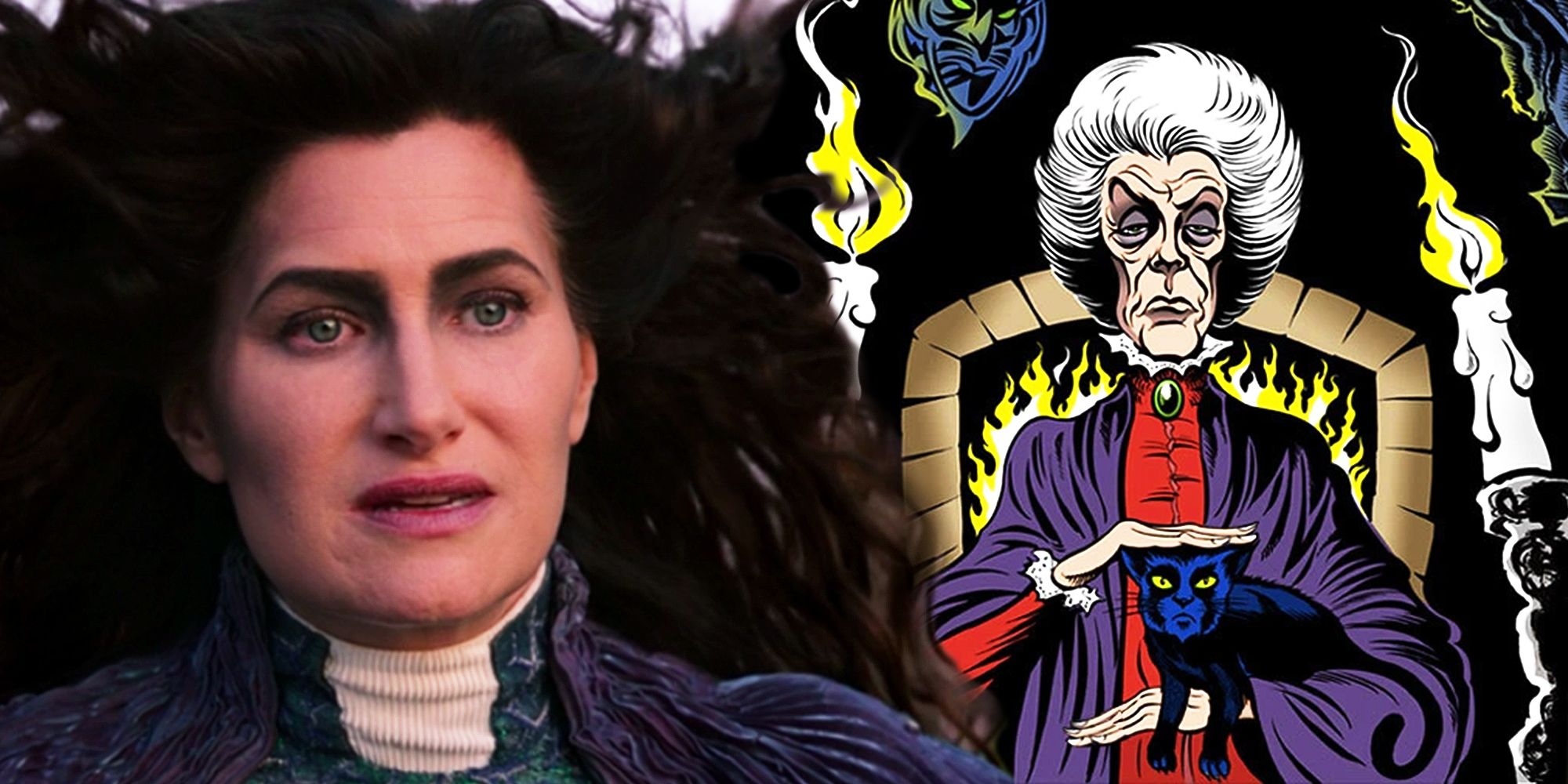 Agatha Harkness' witch attire in WandaVision episode 8 is unexpectedly accurate to the comics. The reveal of Agatha Harkness' identity in WandaVision episode 7 has been the most shocking twist in the series so far. Certainly, Agatha is one of the strongest aspects of the show — if the "Agatha All Along" sequence and her Salem Witch Trials flashback are anything to go by. She's powerful, experienced, and deceitful. Yet, WandaVision has only shown a tiny fraction of who she really is.
In the comics, Agatha also lived through the Salem Witch Trials and also blurs the line between ally and enemy to Scarlet Witch. WandaVision puts a more interesting spin on the character by making her a seemingly innocent neighbor at first and even tricking the audience into thinking "Agnes" is another poor victim of Wanda's Hex, all before revealing she knows more about Wanda's magic than Wanda herself. And of course, Agatha is the first MCU character to utter Wanda's much-anticipated official title: the Scarlet Witch.
Agatha Harkness' typical appearance is that of an old woman, with short white hair, a permanently stern expression, and a frail physique. She usually carries a cat called Ebony and either old rags or very antiquated clothes with a purple cloak over her shoulders. One of her most characteristic features, besides her small, grim eyes and wrinkled face, is the brooch on her turtleneck blouse, the latter of which is often white or fuchsia. In general, Agatha Harkness is closer to the "old wise crone" stereotype in the comic books and animated shows.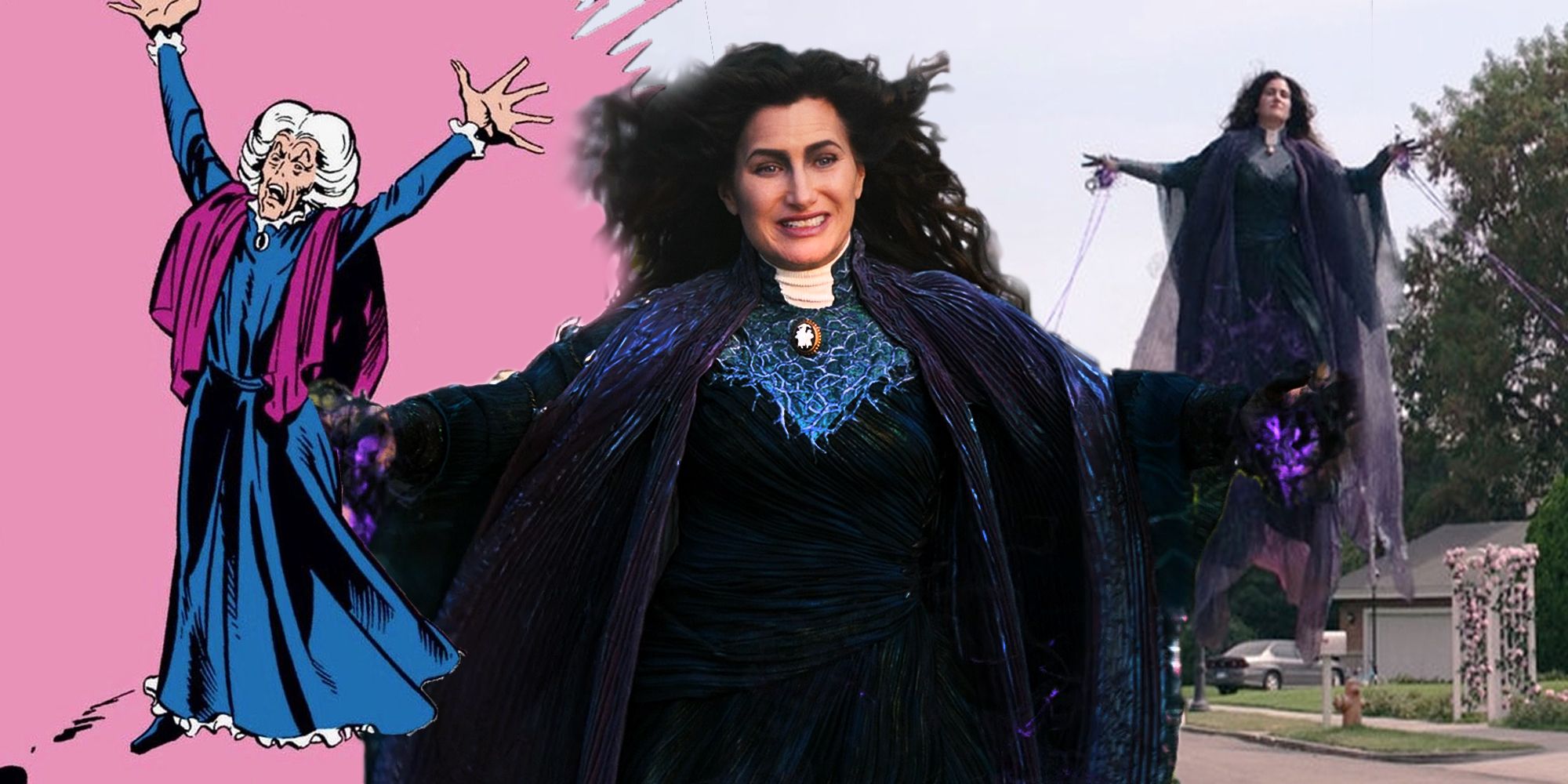 On the other hand, part of the reason why Kathryn Hahn's Agatha Harkness could pull of her trick is that she looks much younger than her comic book counterpart. In comparison to the elderly witch from the comics, Agatha Harkness' age in WandaVision appears to be closer to her late 30s than her late 300s, which is revealed to be her true age. This is because, apparently, she had tapped into a dark img of power and was able to drain the life force out of her mother and other fellow witches. In the MCU, Agatha also sports long dark hair and simple black clothes decorated with a brooch that has three humanoid figures and a scythe on it. Instead of a black cat, she carries a pet rabbit called Señor Scratchy.
Most impressive is her full-on witch costume, which she started wearing once again after she was done playing along with Wanda's sitcom shows. Surprisingly, this outfit is an accurate adaptation of Agatha's look from the comics. It has almost the same white turtleneck and the long purple rags, which look much more weathered. She also wears purple make-up that makes her eyes resemble those of her stone-faced comic book counterpart. All of these features serve the character's intimidating behavior, as she doesn't fully follow the witch stereotype but still alludes to it in a realistic way. Agatha Harkness' appearance is definitely another strong point of Kathryn Hahn's role in WandaVision.