Horizon Zero Dawn Celebrates Anniversary With Thunderjaw Statue Giveaway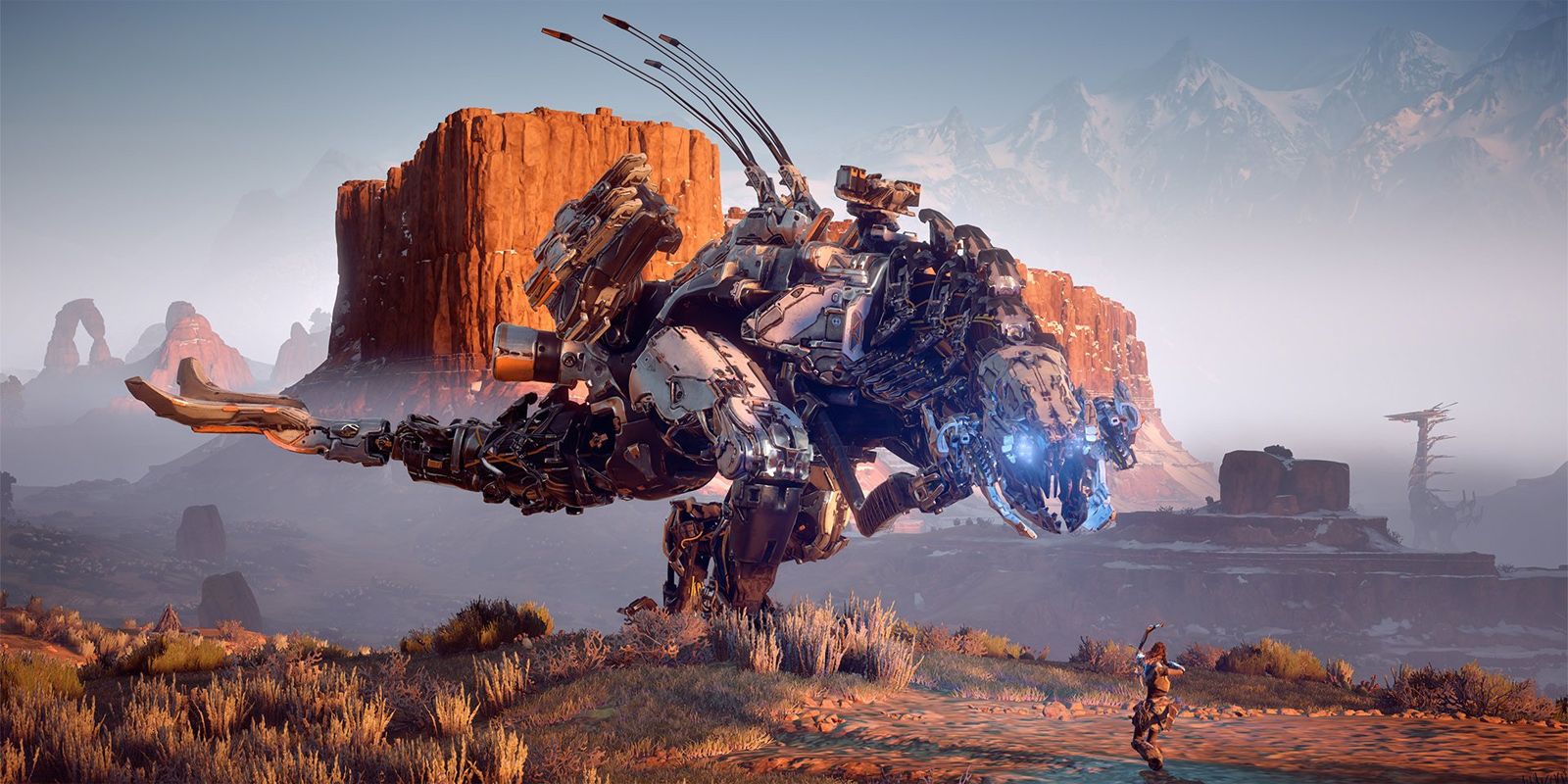 To celebrate Horizon: Zero Dawn's four-year anniversary, Guerrilla Games is holding a raffle for fans who now have the opportunity to win themselves a Thunderjaw statue. That's an excellent way to honor one of the best open-world games of the past few years and add a unique piece of rare memorabilia to the lucky winner's collection.
Horizon: Zero Dawn burst onto the gaming scene with tons of fan hype and acclaim. Shortly after the release, the game set a new record as the most successful launch of an original franchise on PlayStation. One of the key features of the game is its beautiful open world with lush sceneries and terrifyingly gorgeous mechanical inhabitants. In addition, Horizon: Zero Dawn is considered one the most unique and mesmerizing titles of recent years to offer a deep open-world experience.
Horizon: Zero Dawn has just celebrated its fourth anniversary, and to mark this milestone, Guerrilla Games decided to hold a festive raffle for devoted fans. Developers are giving away a Thunderjaw statue, which can be claimed by participating in a simple competition. According to Guerrilla's post on Twitter, players need to follow the studio's account and share their favorite and most efficient way of taking down a Thunderjaw in the game. Applicants have time until March 3, 4 PM CET, to join the raffle. After that, Guerrilla will choose the best reply to the thread and determine the winner. That is a great opportunity to grab an expensive figurine for free, especially considering that it was previously available only as part of the premium Thunderjaw Collector's Edition of the game.
To celebrate Horizon's 4 year anniversary, we are giving away this GIGANTIC Thunderjaw statue! 🏹

Follow us and reply with your favourite way to take down a Thunderjaw in the comments before Wednesday 3 March 4PM CET to enter the raffle! pic.twitter.com/rBofIjpA9u

— Guerrilla (@Guerrilla) February 28, 2021
Currently, Guerrilla Games is hard at work developing a sequel called Horizon: Forbidden West. This next chapter will once again follow Aloy in her adventures across the picturesque post-apocalyptic open-world inhabited by all sorts of living machines. Players will embark on a quest to uncover the truth behind the ravaging deadly plague. The game is expected to launch in the second half of 2021, but there're troubling rumors that the title's release might be pushed to the next year.
Thunderjaw is arguably the most famous robotic creature from the game considering it is showing off on Horizon: Zero Dawn's official box art. The predatory beast was also used multiple times in promotional videos for the game and was featured in gameplay demos. A statue of the machine would be a precious acquisition for any true fan. Guerrilla's generous offer to claim the figurine for free is definitely an enticing one, serving as a great example of how fans should be treated.
Horizon: Zero Dawn is available on PS4 and PC.
Source: Guerrilla/Twitter