Hell's Kitchen: Everything To Know About Cody Candelario From Season 19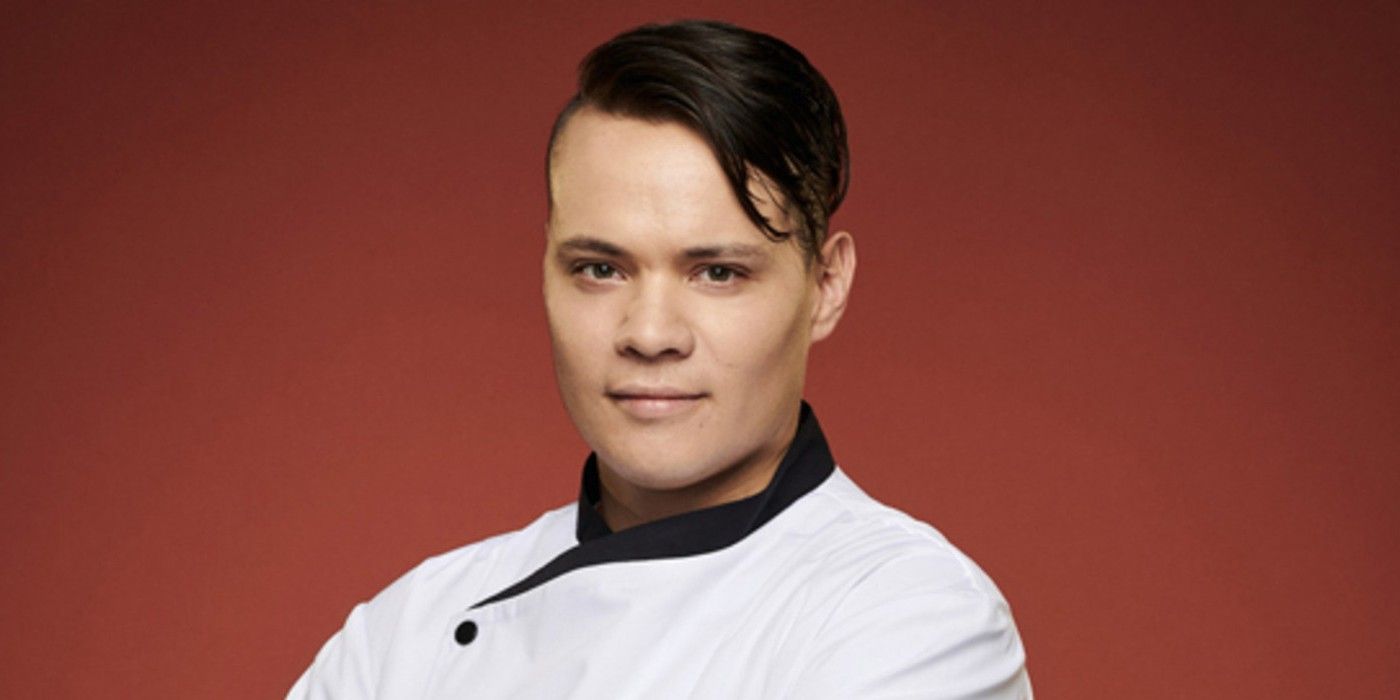 A fiery Hell's Kitchen season 19 just wrapped, and fans are curious to learn more about one initially arrogant contestant who went through an attitude adjustment during the season. Cody Candelario walked into the Las Vegas, Nevada Hell's Kitchen with some big ideas and an even bigger attitude, and he was hiding a secret. After a brutally humbling service in his first episode, Candelario completely changed his tune. The contestant became the leader of the blue team as he tried for the grand prize, which was the head chef's position at Gordon Ramsay's Hell's Kitchen Restaurant in Lake Tahoe.
The Sherman Oaks, California native is 28 and has been cooking since he was 8. While working in Germany a few years ago, he became very sick with an unspecified illness, which wiped out his sense of taste and smell. In the last couple of years, he's been able to regain these senses to an extent. Candelario has had to make do with the abilities he does have, but Cody must approach the process of preparing food in a unique way. For instance, instead of tasting along the way, Cody must understand the different elements of recipes that result in certain flavors.
In a recent interview with the Aspen Daily News, centered on his experience as a contestant on Hell's Kitchen, Candelario told reporters, "it was one of the hardest things I've ever done." Candelario was careful to keep his secret, as he feared challenges might be specifically designed to trip him up if anyone found out. However, he was fully prepared to cook to the best of his ability, after re-learning culinary skills that would help him to overcome his disabilities. "I created this kind of 3D mapping-modeling way of thinking about food," he said. See Cody in action below:
Candelario is pleased that he's regaining his sense of taste and smell over time (he's not the only contestant who's had health issues, and he's hoping for a full recovery. While he's managed to get over the hurdle of cooking without said senses, he didn't have the easiest time enduring the Hell's Kitchen schedule. During his time shooting, Candelario was known to hide energy drinks under his bed. The show doesn't offer coffee and other amenities, which puts even more pressure on contestants. Waking up between 5 a.m. and 7 a.m. to film the show was hard.
Candelario managed to get through a number of elimination rounds. Other contestants couldn't quite stand the heat, and the show filmed for roughly 20 hours a day. SPOILER ALERT: He endured weeks on the show before being eliminated at the end of episode 14. The ultra-rich entrepreneur and chef Gordon Ramsay thought highly of Candelario but felt that he was too shy when he was in charge of the kitchen.
Now, Candelario has his eyes on the future and is using his Hell's Kitchen experience to pave the way. Candelario moved from California to Aspen, Colorado to take charge of a cooking project that's been on hold because of the COVID-19 pandemic. For now, Candelario has been working as a private chef. He is using his time on Hell's Kitchen to leverage more success from his cooking skills.
Source: Aspen Daily News