Harry Potter Weasley Twins Actors Didn't Know Which Brother They Were Playing
James and Oliver Phelps, the actors who played Fred and George Weasley in the Harry Potter films, admit they didn't know which brother they were playing until the start of filming. 2021 marks the 20th anniversary of the very first Harry Potter film, and it's safe to say fans' enthusiasm for the Boy Who Lived hasn't waned since. Though author J.K. Rowling has courted controversy in recent months over her anti-trans views, the Harry Potter franchise itself is still going strong, with the prequel series Fantastic Beasts still churning out movies and a television series in the works at HBO Max.
Only a handful of actors can count themselves among those who have been in every single Harry Potter film, and that includes the Phelps brothers. As tricksters Fred and George Weasley, the Phelps' were frequently the comic relief for the franchise, something that was sorely needed as the stories got darker and darker. A common joke throughout the Harry Potter series is that people mix up Fred and George, including their mother Molly (Julie Walters). Hilariously, though, that mix-up briefly extended to real life.
James and Oliver run a podcast together called Normal Not Normal, and on their most recent episode they spoke to fellow Harry Potter alum Evanna Lynch (Luna Lovegood). At one point, Lynch asked the two how they ended up in their respective roles, which led the brothers to admit it took them a while to figure out who they were playing. "We're talking five minutes before we're supposed to start, we still had no idea who was Fred and who was George," Oliver said. Right before the first table read for Harry Potter and the Sorcerer's Stone, they approached casting director Janet Hirshenson for clarification.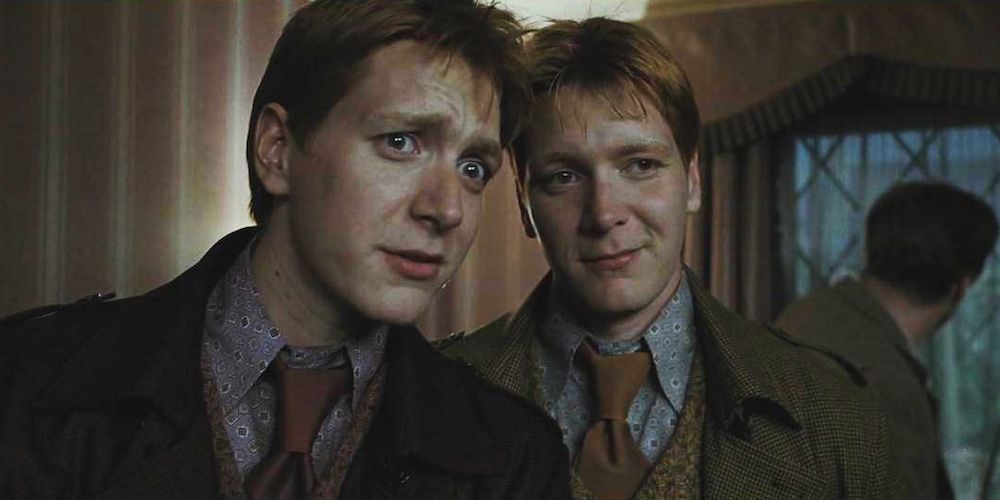 Hirshenson, who first asked them if they were "kidding," pulled Rowling, director Chris Columbus, and producer David Heyman into a "20-second discussion." Then she declared James to be playing Fred, and Oliver to be George. "Now we always like to think they just… 'Oh, you didn't get the memo about the huge meeting we had in Burbank with like 50 people on the call. But in hindsight, it was probably either Chris, David, or J.K. Rowling just saying… 'James is Fred,'" Oliver said. This story certainly puts the moment from The Sorcerer's Stone where they joke around with Molly about their identities in a new light.
The Weasley twins are often favorites among the Harry Potter fanbase, which is why Fred's death in the final installment hit particularly hard. Seeing as Fred and George are often attached at the hip, one could be forgiven for mixing them up, and it's rather funny to know the Phelps' had their own bit of confusion. Clearly, the spur of the moment casting worked out just fine, and now the Phelps' will always hold a special place in Potterheads' hearts. And, depending on what HBO Max's Harry Potter series turns out to be, perhaps they could make some returns further down the line. Anything could happen.
Source: Normal Not Normal