Harley Quinn & Disney's Joker Trend As People Make Cruella Comparisons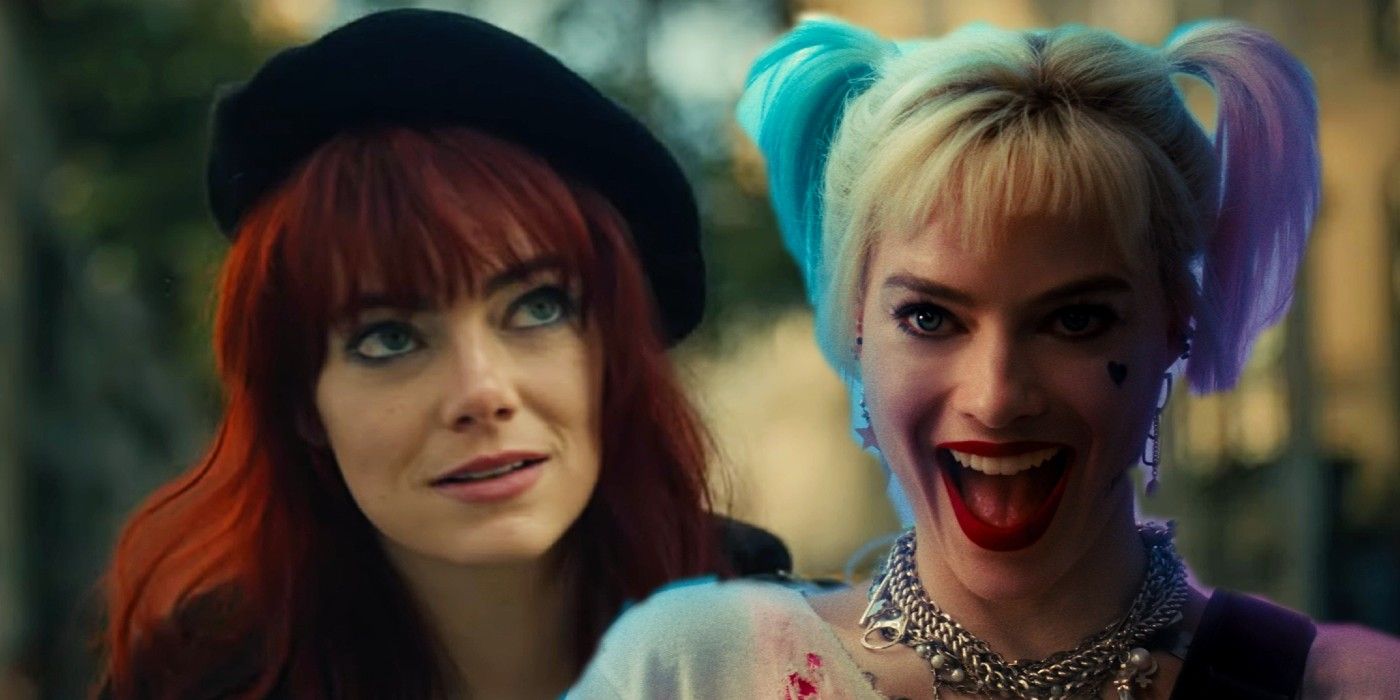 The release of the first trailer for Cruella has fans on Twitter comparing the movie's tone and approach to Harley Quinn: Birds of Prey as well as 2019's The Joker. Starring Emma Stone, Cruella is Disney's origin story for the iconic villain. The first trailer for the movie was released on Wednesday morning, teasing that the film reimagines the 101 Dalmations villain, pushing a much more independent anti-hero than a villain.
Cruella is helmed by Australian director Craig Gillespie, who is perhaps best known for helming I, Tonya, which saw Margot Robbie nominated for a Best Actress Oscar. But it's for another iconic role of Robbie's, Harley Quinn, that Cruella is getting noticed. The Cruella trailer hews very closely to the tone and approach that was taken for Birds of Prey, making the hero at the center of the story an agent of chaos who attempts to break free from the bonds she's been placed under by society. There are also certain scenes, including a large explosion in a city center, that are similar, along with the punk rock look of Stone's Cruella clearly taking inspiration from the likes of Harley Quinn, as well as Todd Phillips' 2019 The Joker.
And fans on Twitter have noticed. By mid-morning Wednesday, both "Harley Quinn" and "The Joker" were trending on Twitter, along with Cruella, with fans pointing out many of the similarities. A number of the tweets have renamed Cruella "Disney's Joker" and others saying this is Stone's turn as Harley Quinn. Most of the tweets compare the movies favorably, though some have criticized Disney for being so derivative. You can see a selection of the top tweets below:
emma stone harley quinn era i love it i love it pic.twitter.com/sXlVMa1MDX

— Olwethu 🌸 (@saintmauds_) February 17, 2021
Harley Quinn literally the blueprint pic.twitter.com/T26Tx319YW

— Margot Robbie supremacy (@harlsrobb1e) February 17, 2021
Disney's Joker.
All joking aside, this doesn't look bad, and it does look much better than the other remakes we have gotten from Disney. But it still doesn't look anything special. https://t.co/R4jSa6YAdE

— Tristan the Happy 5th, Zootopia! Fan (@MichelsTristan) February 17, 2021
Man, this is basically Disney's Joker.
So, hey at least it's something different for their live action stuff. https://t.co/nvtY3RBH9K

— Out of Context Simpsons Couch Gags (@OOCCouchGags) February 17, 2021
Fans can't be blamed for being critical of the similarities, though in an age of franchise movies dominating popular culture, this is hardly the first time that a new movie has attempted to capitalize on the success of another in order to appeal to audiences. Whether the similarities are going to be so obvious in the final product remains to be seen, but there's no doubt that Cruella is wearing its influences on its sleeve.
Disney using The Joker and Birds of Prey as inspiration is understandable. The former particularly was a huge success, making more than $1 billion at the worldwide box office, and Harley Quinn remains a popular character, despite the relative box office failure of her solo film. So, aiming at that segment of the market makes sense for Cruella, especially since the assumption would have been this would be a more children-oriented movie. This way, Disney can get the family audience as well as an older audience who are attracted to the similarities to the DC movies. Whether that pays off or not remains to be seen when the film comes out in May.
Source: Various/Twitter (see links above)