GTA 5's Los Santos Visited By Borat In Hilarious Video Mash-Up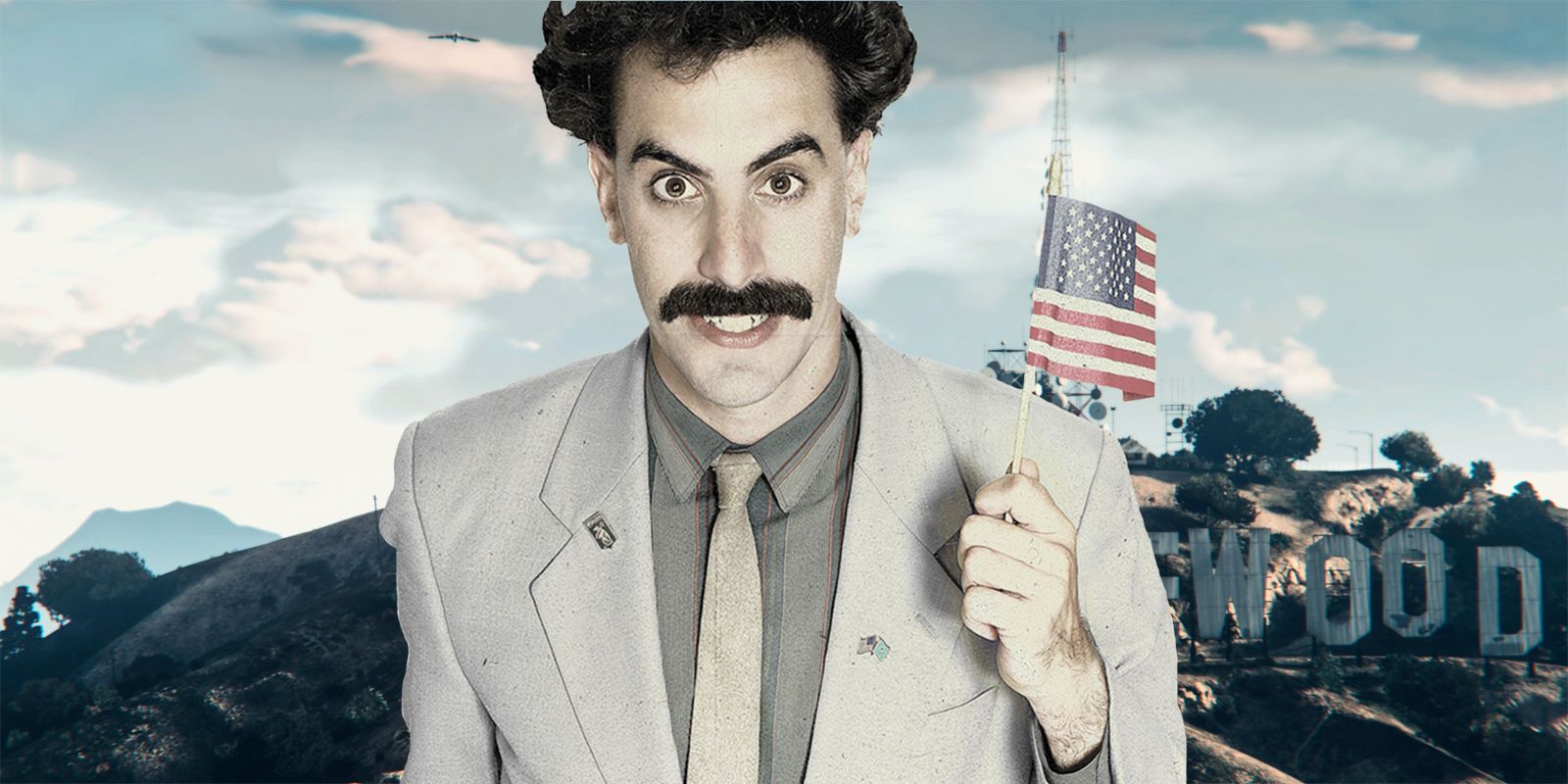 It appears that Grand Theft Auto 5's Los Santos and the overly talkative Borat make an excellent crossover together, as demonstrated by a hilarious mash-up. Interestingly, it's not the first time Kazakhstan's finest reporter visited fictional worlds from popular video games and shares his sincere and slightly naive amusement.
At the beginning of January, Borat appeared in Cyberpunk 2077's Night City to watch fascinating robotic dogs and admire futuristic skyscrapers in his iconic manner. The reporter was flawlessly edited into some of the most memorable scenes from the game's trailer, perfectly fitting the unfolding events. To everyone's delight, a handful of Borat's iconic lines from the original movie were featured in the fan video. The result was hilarious and chaotic, to say the least, especially when Borat was sliding down a building alongside the game's protagonist. Needless to say, the video is worth watching right now, as it delivers half a minute of quality content.
Another great video edit of Borat discovering a video game world, this time featuring GTA 5's Los Santos, has been shared by igotsilver on Instagram. It's another remarkable example of how well Kazakhstan's reporter blends in with the surroundings. He fits so naturally that he could easily be a proper character in the Rockstar's game. Everything is brilliant in the video, including an obligatory car chase that involves Los Santos' notoriously pesky police. Unfortunately, in an iconic scene with Borat trying to learn the type of dog, a random canine is featured instead of Franklin's Chop. The situation is still hilarious, though. Overall, the editing of overlaid Borat is flawless, as the lighting perfectly matches each scene and the shadows are always spot-on.
Quite recently, Grand Theft Auto 5 was featured in a different video skit used to explain the GameStop stock controversy and the mistakes some people made trying to get easy money. While the situation itself was quite nasty and divisive exposing the unpleasant truth of how the stock market can be manipulated, uninformed amateurs decided to invest in GameStop shares to multiply their belongings with little to no effort. For many wannabe financial bigwigs, it all ended up hugely disappointing, as explained in the funny GTA 5 video.
It feels like Pandora's box has been opened once the first video featuring Borat exploring a video game appeared on the Internet, but it's clearly a positive endeavor. Much like the endless Grand Theft Auto 5 skits featuring the iconic scene of Lamar roasting Franklin, the Borat mash-ups will ultimately result in having dozens of hilarious memes based on video games. It's quite fascinating to see how far the community can go in the pursuit of entertaining itself, and the best part of it is that everyone benefits from having a laugh, especially in times like these.
Source: igotsilver/Instagram