Gilmore Girls: Why Luke Didn't Attend Sookie's Wedding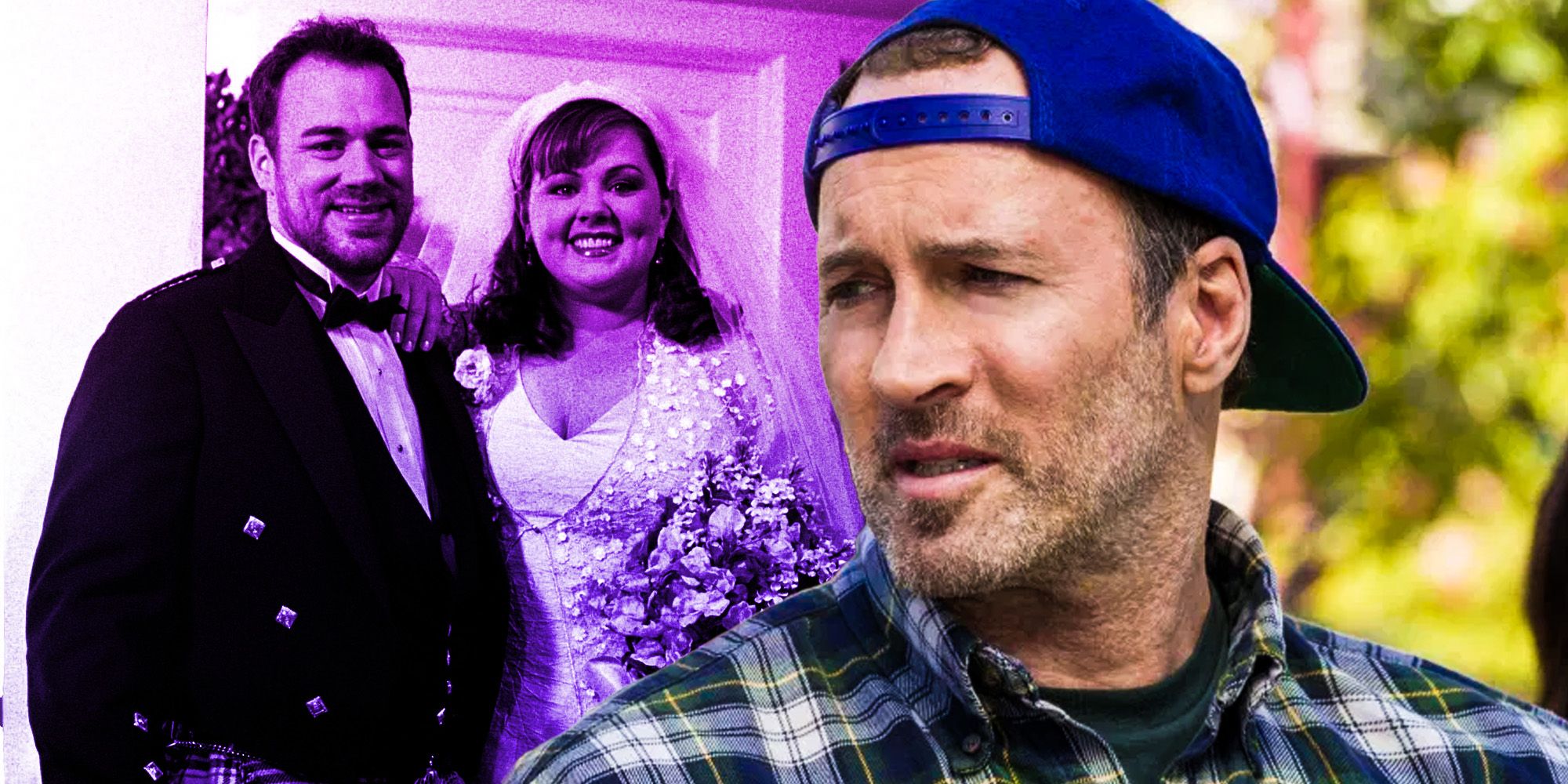 When Sookie St. James (Melissa McCarthy) marries Jackson Belleville (Jackson Douglas) in the Gilmore Girls season 2 finale, Luke Danes (Scott Patterson) doesn't attend the ceremony despite the fact that he is one of Sookie's close friends. While it's never directly addressed throughout the episode, Luke's absence from the wedding is implied since he's not featured in any of the scenes depicting the festivities, including the rehearsal dinner or the gathering outside of the Independence Inn before the ceremony. So what exactly prevented him from attending the wedding?
In Gilmore Girls season 1, it's insinuated Sookie, as a gourmet chef, and Luke, as the owner of a diner, may have a causal culinary rivalry when they both prepare food for a cat's funeral at Lorelai's (Lauren Graham) request in episode 5, "Cinnamon's Wake". While Luke may have started out as more of an acquaintance of Sookie's, his close friendship with Lorelai, frequent visits to the Independence Inn for maintenance, and involvement in town events strengthens his friendship with Sookie over the course of the first two seasons. Since the town of Stars Hollow is a small, close-knit community, almost all of the quirky residents, including Lorelai's eccentric neighbor Babette (Sally Struthers) and the town oddball Kirk (Sean Gunn), are shown to be present at Sookie's wedding, making it unlikely that Luke didn't receive an invitation. Alternatively, the Gilmore Girls season 2 finale suggests Luke is too busy running his business to attend the wedding.
On the day of Sookie's wedding, it's revealed Luke is working at his diner when Kirk stops by briefly before the ceremony for lunch. While Kirk appears to be in a rush to make it to the wedding on time, Luke only appears eager to return to the diner after his nephew Jess (Milo Ventimiglia) stalls him by asking if he can move back to Stars Hollow. Since Jess was recently sent to New York to live with his mother in the episode "Teach Me Tonight", Luke may have genuinely had to work, given his recent lack of staff. In past episodes, however, Luke has been able to close his diner at his own discretion for special occasions or emergencies, such as when Lorelai needed a ride to the hospital in the episode "Forgiveness and Stuff". With this in mind, it seems more likely Luke used the diner as an excuse to avoid seeing Lorelai at the wedding given their recent feud.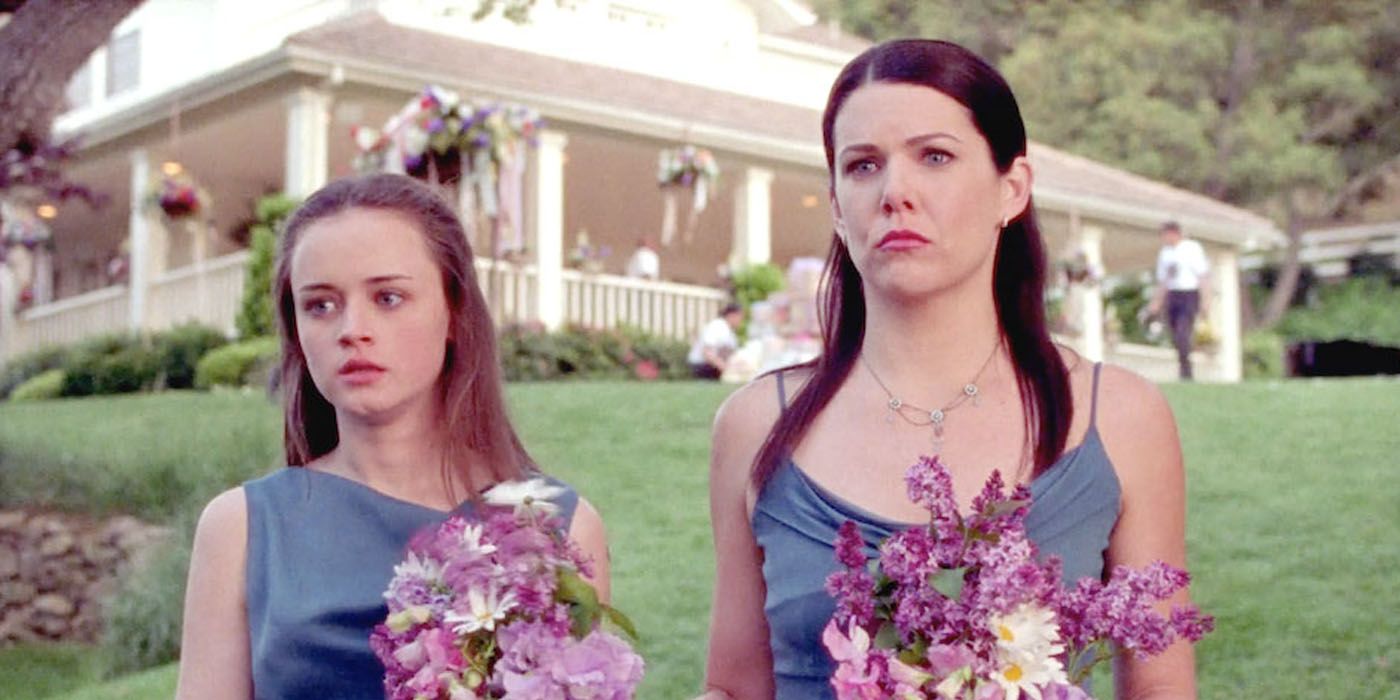 During the episode "Teach Me Tonight", Luke and Lorelai have a fight after Jess crashes Rory's (Alexis Bledel) car, briefly putting her in the hospital with a fractured wrist, on the night when Rory first began to tutor Jess. Since Luke pressured Rory to become Jess' tutor, Lorelai blames Luke for the accident, especially because he encouraged Rory and Jess' friendship, and allowed Jess to stay with him in Stars Hollow to begin with despite his nephew's self-destructive behavior. The feud causes such a rift in their friendship that Lorelai stops her daily trips to Luke's diner. While their discord occurs in late spring long before Sookie's wedding, the two aren't reconciled until season 3, episode 1 "Lazy-Hazy-Crazy Days", which takes place at the end of the summer. Since Lorelai was in Sookie's wedding as one of her bridesmaids, Luke may have opted to skip the event entirely since he hadn't forgiven Lorelai yet.
Luke also could've been absent from Sookie's wedding because his main narrative role as Lorelai's potential love interest was usurped during the season 2 finale by Christopher (David Sutcliffe), Lorelai's high-school sweetheart and Rory's father. Throughout the first two seasons of Gilmore Girls, Luke and Lorelai's unspoken chemistry set the stage for their potential romance within the series. At Sookie's wedding, however, Lorelai is on the cusp of restarting her relationship with Christopher, whom she brings as her date to the wedding. From a narrative standpoint, by excluding Luke from the events of the wedding entirely, it initially made Christopher and Lorelai's reunion more believable to the audience by literally taking Luke out of the picture.