Every Song in Tom & Jerry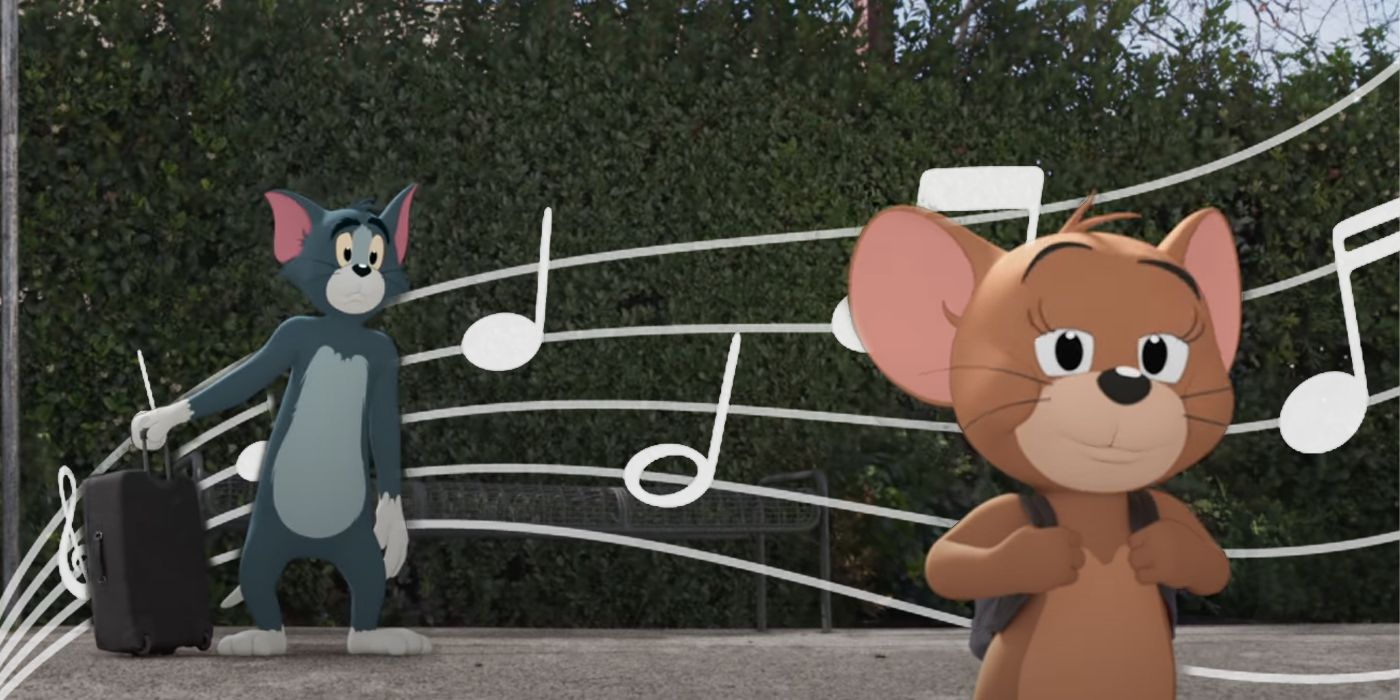 Now streaming on HBO Max, Tom & Jerry features a soundtrack full of upbeat R&B anthems and modern hip-hop hits. The 2021 movie follows the iconic Hanna-Barbera characters in a game of cat-and-mouse throughout Manhattan, and mixes live-action and animated comedy. Tom & Jerry was directed by Tim Story, who previously helmed music videos for 'N Sync, The Lox, and Jagged Edge.
Music plays a big role in Tom & Jerry, as the focal cat is a popular Big Apple musician who lands a gig opening for John Legend at Madison Square Garden. At the Royal Gate Hotel, Tom is bothered by his rival Jerry prior to a high-society event, which establishes the primary conflict. Tom & Jerry stars Chloë Grace Moretz as Kayla, a woman who pretends to be a wedding planner and must ensure that the title characters can co-exist and not cause any major problems during an especially busy weekend.
The overall vibe of the Tom & Jerry soundtrack aligns with Story's videography. Some movie fans may know him as the director of Fantastic Four or Barbershop, but the filmmaker began his career by collaborating with R&B musicians such as Jon. B, Tyrese, and the sibling duo K-Ci & JoJo (former members of Jodeci). In Story's latest production, his musical past finds its way into the storyline. Here's every main song in the 2021 movie Tom & Jerry.
"Don't You Know" – T-Pain
"Can I Kick It" – A Tribe Called Quest
"Soft Shoe" – Eric Reed
"Cool Catz" – Bizkit & Butta
"Queso" – Pell
"Don't Sweat the Technique" – Eric B. & Rakim
"Jungle" – TedLo
"Come & Talk to Me" – Jodeci
"Bouncy House" – Flo Rida
"Free" – Tiggs Da Author
"Let's Get Married" – Jagged Edge
"Laal Laal Aag Hua" – Sukhwinder Singh
"Something Beautiful" – Jacob Banks
"Showoff" – Bizkit & Butta
"Good Thing" – Earl St. Clair
"Rocket Fuel" – DJ Shadow feat. De La Soul
"Cut Em In" – Anderson Paak feat. Rick Ross
The 2021 HBO Max movie begins with "Can I Kick It" playing over an expositional sequence that establishes the Big Apple setting. Twenty minutes later, "Queso" sets in as Jerry gets comfortable in his new home, and the classic "Don't Sweat the Technique" scores a moment when Tom locates Jerry and tosses him out the window.
"Jungle" sets the mood for a slo-mo sequence featuring Kayla, and with Tom right by her side. When Joy leads Moretz's character to a hotel room, it's revealed that Jerry is inside listening to "Come & Talk to Me." At the one-hour mark, "Bouncy House" underscores a sequence in which Tom and Jerry venture off together in New York City.
When Tom and Jerry take a care ride together, "Free" captures their mood. Ten minutes later, "Let's Get Married" establishes the tone for a wedding sequence. Tom & Jerry ends with "Cut Em In" as Kayla saves the day and ensures that Ben and Preeta have a happy weekend together.
The Tom & Jerry soundtrack was supervised by Kier Lehman (Spider-Man: Into the Spider-Verse).