Elden Ring Leaked Trailer's HD Upscale Is the Best Way To Watch For Now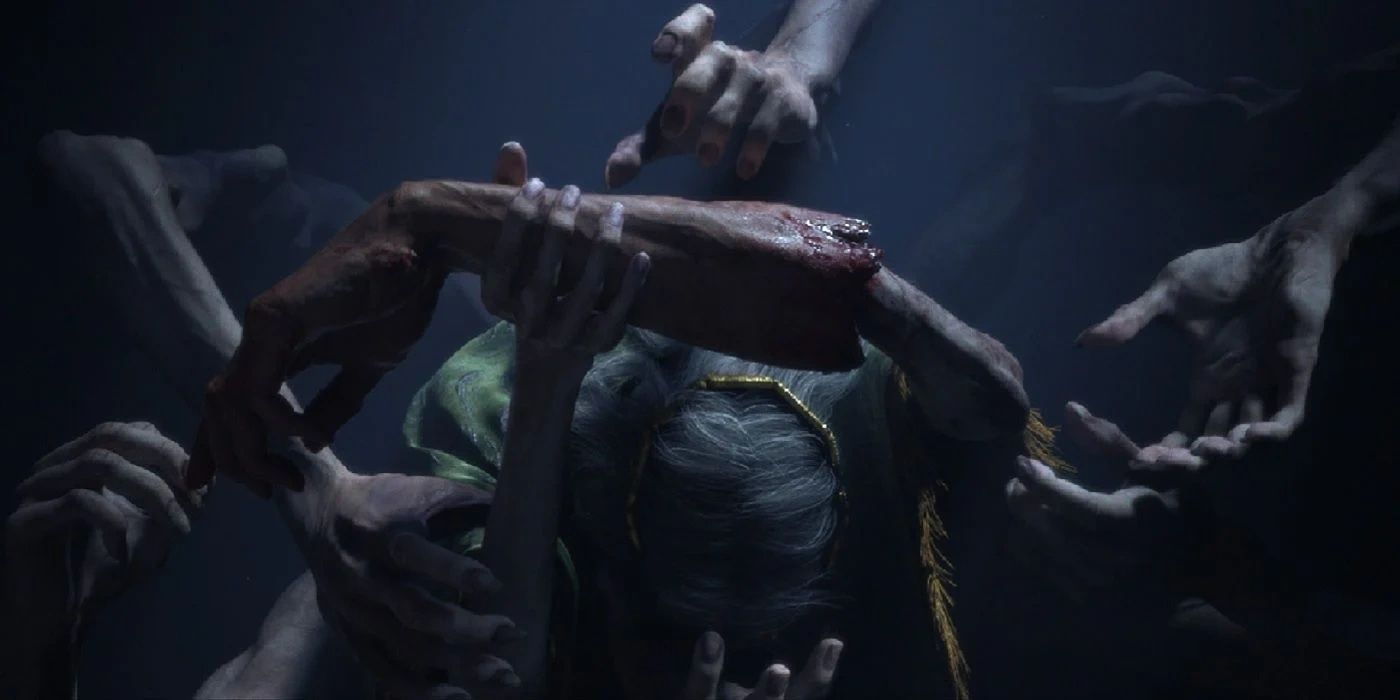 Earlier this week, a leaked gameplay trailer for FromSoftware's Elden Ring began making the rounds online; now a fan has taken it upon themselves to release an upscaled version of the original low-quality video. The Elden Ring trailer leak came on the heels of since debunked rumors claiming Microsoft's forthcoming March showcase will contain new details about the eagerly-anticipated RPG.
Rumors and speculation about the project have been swirling for months, and the why of it all seems as clear as day – FromSoftware faithful are hungry for news. The developer, along with publisher Bandai Namco, announced Elden Ring during E3 2019, promising a different kind of adventure compared to the Dark Souls studio's previous projects. Cursory details were delivered piecemeal for a time, but nothing of consequence has officially come to light in the last year or so. While GamesBeat's Jeff Grubb claims fresh Elden Ring information should arrive by the end of March, fans eager to see more only have the aforementioned leaked footage to rely on for the time being.
Fortunately, an upscale by YouTuber The Lore Hunter provides a slightly more watchable version of the leaked trailer. The off-screen footage runs just shy of two minutes in length, giving viewers a first look at Elden Ring's gameplay. Apparently, The Lore Hunter employed AI upscaling to achieve the desired effect in the video's early portions; meanwhile, the latter bits didn't require a similar boost. As noted by the YouTuber, FromSoftware reportedly created the internal trailer for shareholders; thus, it could be upwards of one year old. It's worth remembering, then, that the footage on display, captured on low-quality devices no less, may not be indicative of the current experience.
Though the above video may be the best way to see Elden Ring in action at present, it certainly isn't ideal. As such, there are fans who may want to wait until the developer releases official footage. Fans are making the most of the dearth of news, though, creating their own fun by sharing fake concept art leaks and the like online.
Elden Ring is billed as a fresh but familiar take on the FromSoftware formula. In addition to evolving its gameplay tenets, for example, the studio has also committed to experimenting with its approach to narrative and lore. The latter is especially evident in the team's collaboration with famed fantasy author George R.R. Martin.
Elden Ring is in development for consoles and PC, but still lacks a launch date.
Source: The Lore Hunter