Cruella Trailer Recut With Joker Audio Makes It Look Like A DC Prequel Movie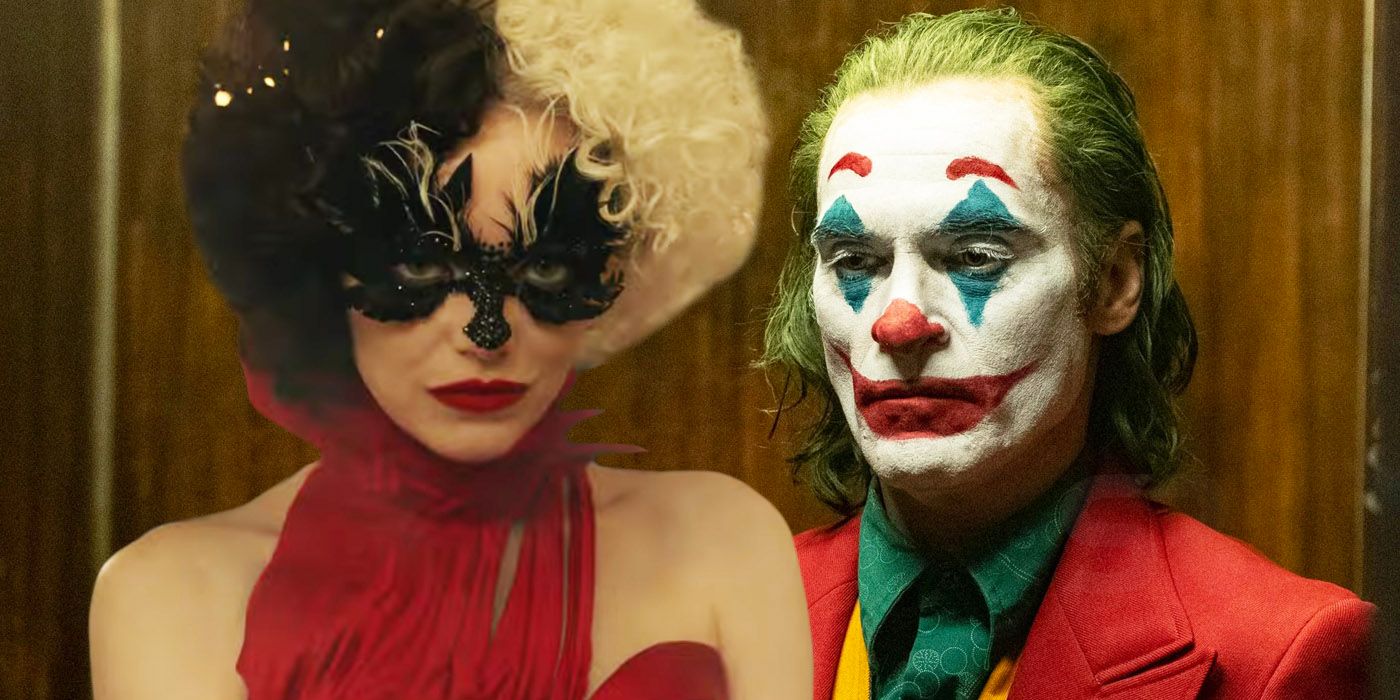 Immediately after its release, the trailer for Disney's Cruella began drawing comparisons to Todd Phillips' Joker and now the trailer has been recut to demonstrate how seamless the comparison really is. Cruella will act as a live-action prequel to 101 Dalmatians and star Emma Stone as the iconic Disney villainess Cruella de Vil.
The new trailer for Disney's Cruella origin story follows the titular character's early years as an aspiring fashion designer in 1970s London. During these years, Cruella develops a peculiar fascination with dog fur. Hours after the trailer dropped, Joker began trending on Twitter, showing just how many fans were struck by the similarities in tone. Users even coined the term "Disney's Joker" to refer to Cruella.
One Twitter user even went as far as to recut the Cruella trailer with audio from a trailer for Todd Phillips' 2019 Joker, and the result was surprisingly seamless. Matt Highton on Twitter posted the mashed-up trailer, clarifying that the only editing he did was swapping the audio. "It goes nearly beat for beat, which probably tells you more about trailer construction than anything else," he noted. Watch the amalgamated trailer below:
Turns out if you overlay the sound from the Joker trailer onto the Cruella one it fits so well you get a prequel film about Joker's mother. pic.twitter.com/C70lHoHQvd

— Matthew Highton (@MattHighton) February 18, 2021
Arthur Fleck's mother Penny, portrayed by Frances Conroy, played a prominent role in the Joker's origin story, so a prequel movie revolving around the villain's mother does not seem like a crazy idea. Although it is unlikely such a thing is being considered, this fan-made trailer has certainly sparked some intrigue. It is entirely possible the tone for the Cruella trailer was inspired by the 2019 Joker origin story starring Joaquin Phoenix, especially since it was a massive success, grossing more than $1 billion at the worldwide box office.
Whether or not Cruella actually takes on a tone as dark as Joker remains to be seen. While Cruella has not yet been rated by the MPAA, it is highly improbable it will receive an R rating like Joker. Thus, the similarities in tone may just be an illusion created by the trailer intended to market the film to more mature audiences. Similar to Phoenix, Stone undoubtedly possesses the bravura to portray a menacing villain convincingly, but chances are slim that Cruella's origin story adopts a dark tone equivalent to Joker. Although currently a topic of interest, Cruella's success will likely not be completely contingent on this factor.
Next: Why Disney's Cruella Prequel Looks So Much Like Joker
Source: Matt Highton/Twitter