Coming 2 America Review: Sequel Doesn't Live Up To Original Despite Efforts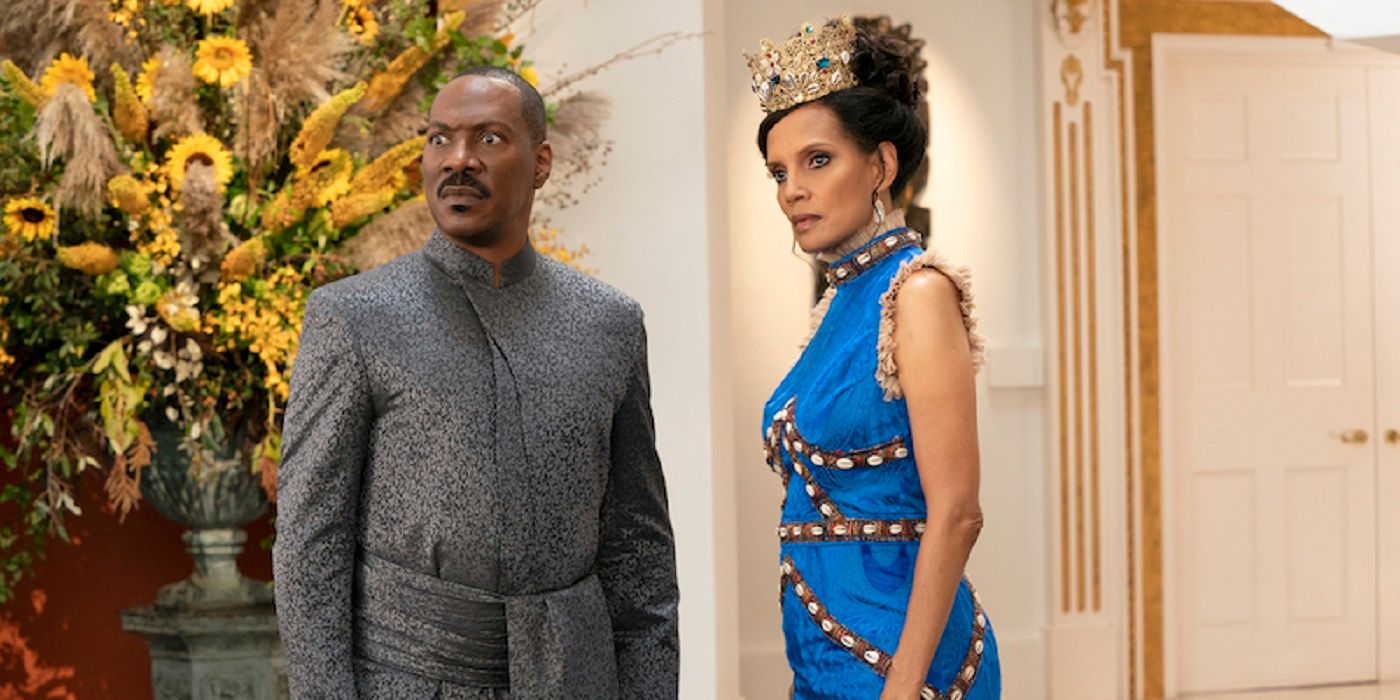 It's been over thirty years since Coming to America was released and, like with most popular films, it seemed a sequel was bound to happen eventually. Coming 2 America — directed by Craig Brewer from a script by Barry W. Blaustein, David Sheffield, and Kenya Barris — brings back most of the beloved actors from the original movie, including the inimitable James Earl Jones, with an abundance of new characters to keep things fresh. The politics of Zamunda are a bit more explored here considering it's mostly set in the fictional African country, and the sequel is imbued with a similarly absurd sense of humor (though it doesn't reach the peak of its R-rated predecessor). Despite some genuinely funny and endearingly nostalgic moments, Coming 2 America attempts to do way too much with its plot rather than keep it simple. 
Three decades after going to Queens to find someone to love, Prince Akeem (Eddie Murphy) is now living comfortably in Zamunda with his wife Lisa (Shari Headley) and their three daughters. However, the country has yet to abolish a sexist law that claims only a male heir can become ruler of Zamunda, taking Meeka (KiKi Layne), Akeem and Lisa's eldest daughter, out of the running. However, when Akeem discovers that he has a son, Lavelle (Jermaine Fowler) from a one night stand with Mary Junson (Leslie Jones) — the circumstances under which their sexual encounter occurred are incredibly problematic — he heads back to Queens to bring him back to Zamunda. Of course, Lavelle's presence shakes things up for the people of the country and the royal family. But, before he is to officially become a prince (something he's not entirely convinced he wants), Lavelle has to pass a "princely test."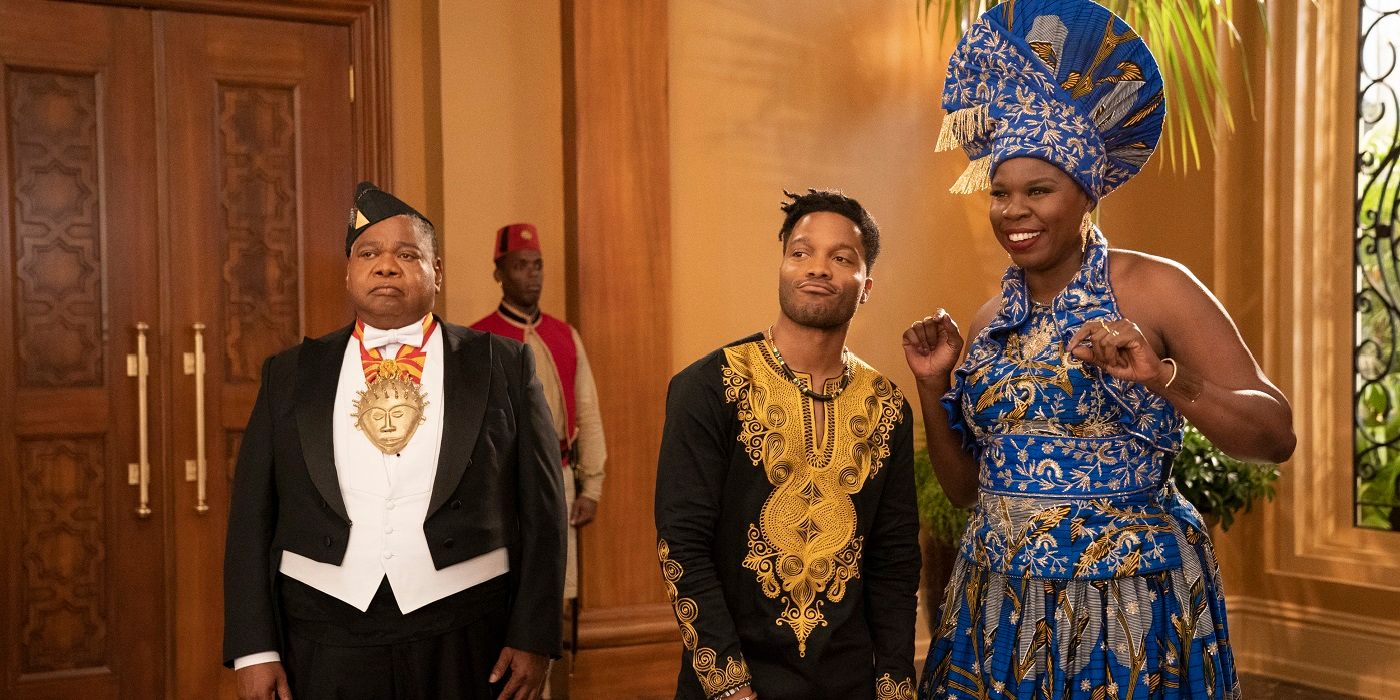 Coming 2 America retreads the same story beats as its predecessor, slightly updated for the 21st century, but with far less acerbic humor. The film even provides a recap of Coming to America's plot, just in case the audience forgot what happened (they probably didn't). Mostly, revisiting some of the original's most iconic scenes takes up unnecessary screen time that could have furthered some of the underdeveloped characters. It's also a reminder that the sequel doesn't hold a candle to the first movie, which was ridiculously engaging and funny. Coming 2 America merely feels like a watered down version of the original film, providing similar responsibilities and obstacles for Lavelle as he learns the same lessons his father once did. 
That said, one of the film's most fascinating themes is the loss of spirit as one grows older. As Akeem has grown into his role as prince and, more recently, as king of Zamunda, he realizes he's lost the luster for life, wonder, and courage he had in his youth. Now, he's weighed down by the responsibilities of adulthood, though he rekindles his zest for life again through his rapport with his son. However, there isn't enough time spent on this and the shift of focus is jarring because one would expect more time with Akeem. But, it would seem the baton has been passed down to the next generation, with Akeem taking a step back despite the reawakening of his spirit and love for life.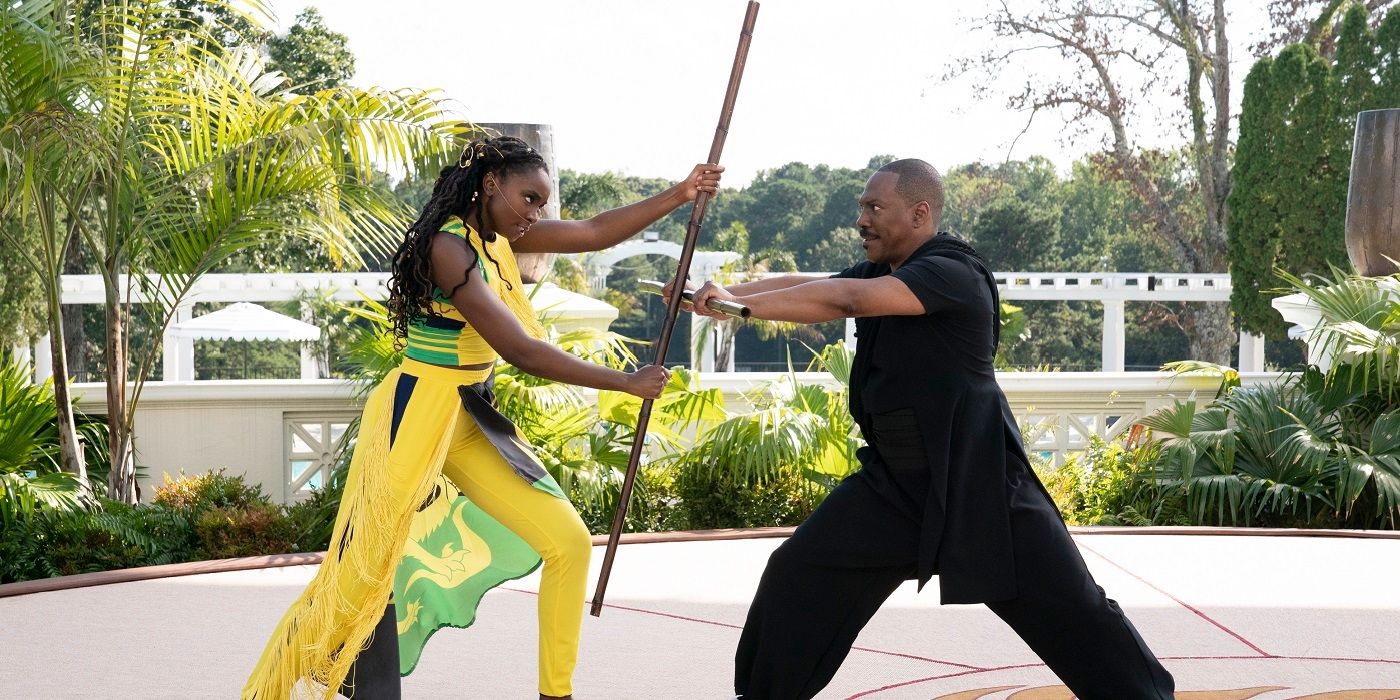 In terms of passing down one's legacy, the entire concept of Zamunda needing a male heir to rule is obviously outdated. More importantly, the plot's need to center Lavelle overshadows Meeka's entire arc and development. It's not enough to understand the unfair and sexist treatment Meeka receives. The film goes out of its way to sideline her completely when the story should have been about her. The audience learns a lot about Lavelle and his life throughout the film, but what is Meeka's life like beyond her royal duties? Does she have any prospective romances not tied to the throne? KiKi Layne is fantastic, but her talents are wasted in a smaller supporting role that doesn't give her the shine she deserves. Even Headley's Lisa, whose fiery passion was a cornerstone of Coming to America, has very little to do in the sequel. 
What's more, the film gets off to a rough start due to the nature in which Lavelle even came into existence. To that end, Coming 2 America employs humor to cover up the fact that Akeem had sex without his consent. It's something that tends to happen when men face assault and it makes the rest of the film uncomfortable to watch knowing what happened. Is it all bad? No. There are some genuine laughs to be had, especially when it comes to the absurdity of it all, which Coming 2 America is not above acknowledging. The film even shades movie sequels, "though there are exceptions," according to one of the characters. The film makes good use of cameos from Gladys Knight, Morgan Freeman, and Trevor Noah, who hilariously appears as a news anchor wanting to discuss the latest palace gossip. That aside, the sequel tries to incorporate too many storylines and it doesn't have the same spark of the original, though it tries very hard to rekindle it and bring the same energy with only middling success. 
Coming 2 America will be available to stream on March 5, 2021 on Amazon Prime Video. The film is 110 minutes long and is rated PG-13 for crude and sexual content, language and drug content.
Let us know what you thought of the film in the comments!