Co-Op Shooter Aliens: Fireteam Won't Have Microtransactions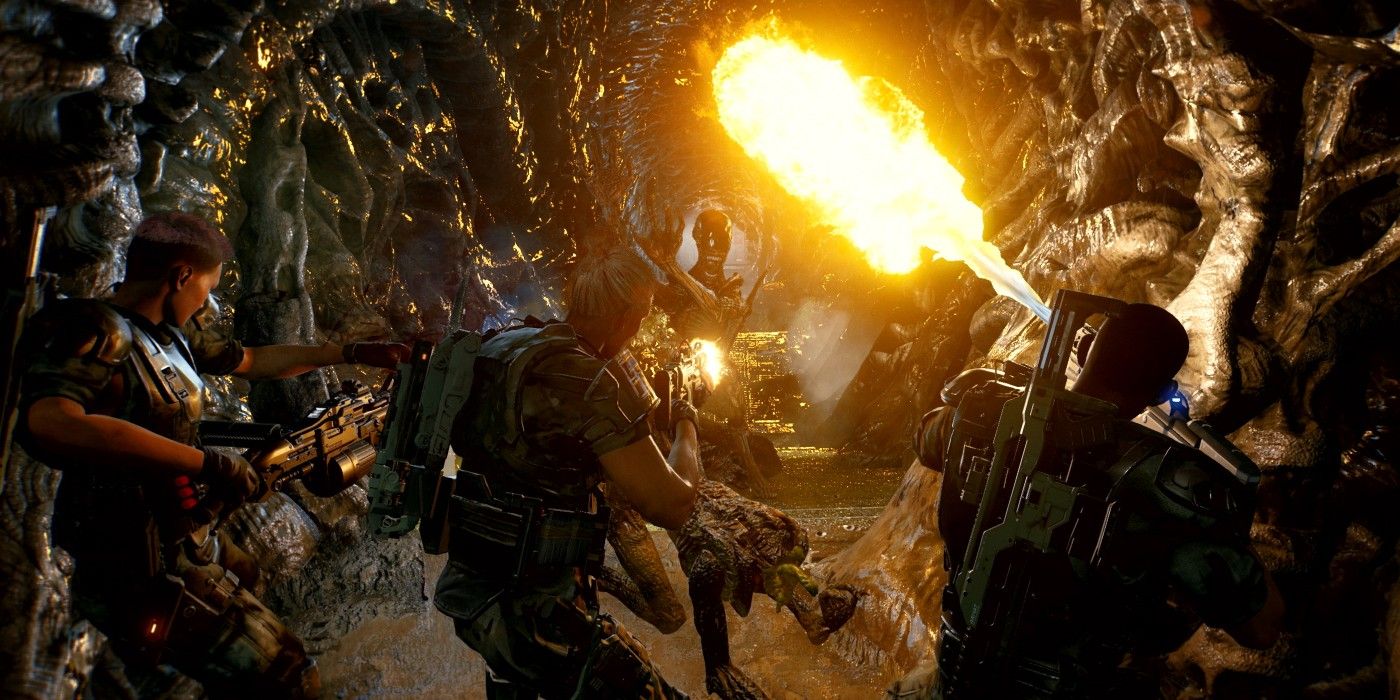 Cold Iron Studios has announced its all-new co-op shooter, Aliens: Fireteam, and it will be free of non-cosmetic microtransactions. The new shooter takes heavy inspiration from the Left 4 Dead franchise with a multi-campaign structure and plenty of enemy variations to unload lead into.
The new Aliens shooter was announced all the way back in 2018, but details were scarce and at the time it faded into the background. The franchise has had several video games with varying degrees of quality. In the last decade or so, fans were treated to the incredibly mixed Aliens Vs. Predator and the ill-fated Aliens: Colonial Marines. The latter was widely regarded as a disaster at the time, causing endless frustration from fans. In 2014, the series was given arguably one of the most beloved horror games in recent memory with Alien: Isolation. It was true to form and left fans wanting more, but as of right now, it doesn't seem like there are any plans to continue that as a series. Now, 20th Century has chosen to take the series in a different direction in the video game space.
Aliens: Fireteam was officially given a proper today with a title, gameplay footage, and much more with a brand-new trailer. The game will take place about two decades after the original film trilogy and will take more inspiration from James Cameron's action-based Aliens rather than Ridley Scott's slower, more terrifying Alien. Ideally, this will give fans the Aliens shooter they have been hoping for since Aliens: Colonial Marines. "This is the action game Aliens fans have been waiting for – hordes of different Xenomorphs swarming over ceilings and across walls, surrounding your team and striking from every angle. Work together, customize your character, utilize tons of weapons and gear and…well, you just might get your fireteam out alive," said Craig Zinkievich, head of Cold Iron Studios.
The developer played coy on its post-launch plans, but confirmed that any kind of monetization included will not be predatory. Zinkevich responded to questions of microtransactions in a round-table Q&A, noting that there will be no loot boxes or predatory microtransactions in Aliens: Fireteam. The game features a relatively heavy customization scheme with a variety of weapon attachments and ways to deck out the playable marines. Whether or not there will be some sort of battle pass or other ways to purchase these in-game items is unclear; it's entirely possible Cold Iron will just go old-school and allow players to unlock them through gameplay.
Screen Rant also had a chance to get more insight into Aliens: Fireteam via a gameplay demo from the dev team. The demo showcased a lot of the anxiety-inducing action with aliens pouring out of various areas to swarm the marines, as well as some of the unique characteristics of the different classes. So far, it looks like a blast and hopefully, it will deliver something worthy of the IP's name.
Aliens: Fireteam will be available on PS5, PS4, Xbox Series X/S, Xbox One, and PC in Summer 2021.
Source: Aliens: Fireteam