Canine Intervention: Everything To Know About Nino's Owner Andre Berto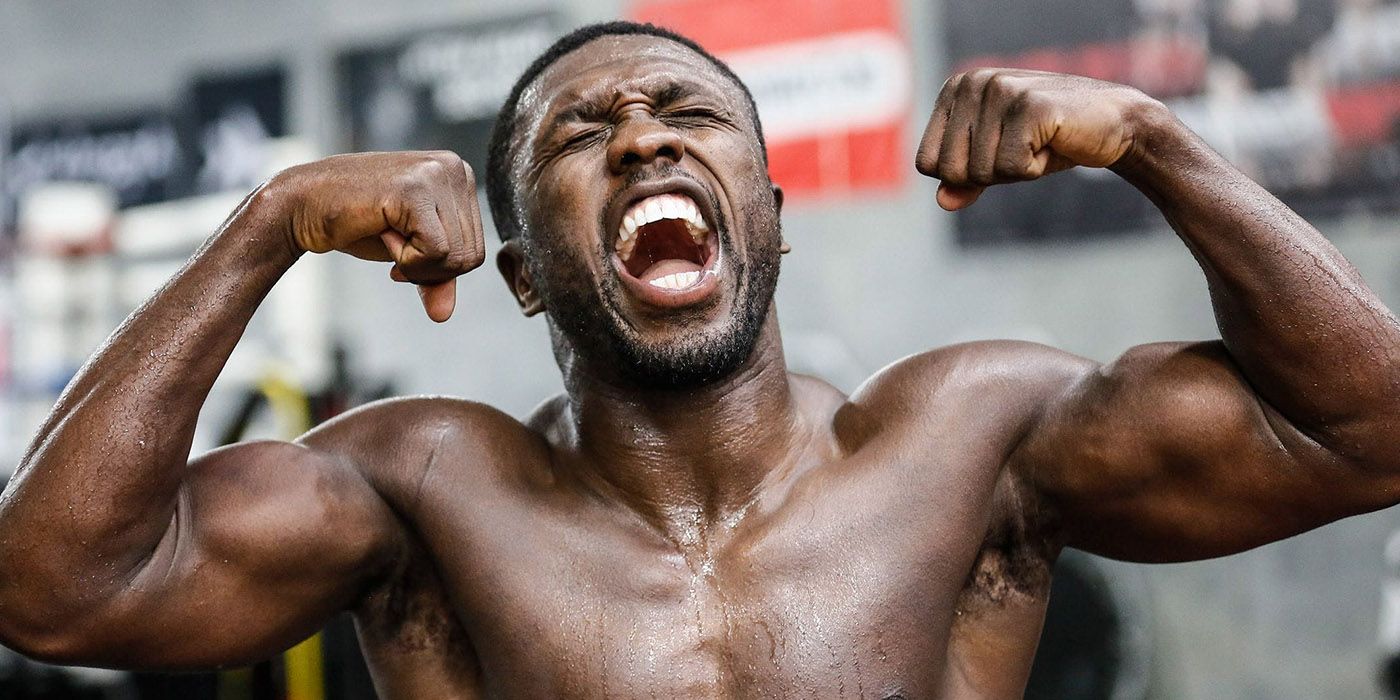 Andre Berto and his protection dog, Nino, are featured in episode 3 of Canine Intervention. The show, which stars celebrity dog trainer Jas Leverette, profiles six dogs and their owners as they work with Jas on a variety of training regimens. Berto and Nino appear in the third episode of the series.
Canine Intervention is Netflix's latest reality docuseries output. The cases that Jas deals with throughout the show are wide-ranging, from a dog that bites strangers, to one that just won't listen. The common thread? He believes there's no such thing as a bad dog. When it comes to Nino though, the work that Jas did was a bit different. In addition to retraining dogs that struggle in a particular way behaviorally, Jas also teaches a select group of dogs the skills they need to be protection, or security dogs. He even has a small breeding program, and Nino, a 3-year-old Dutch Shepard, was one of his best students.
When Andre Berto, a world-class professional boxer, came to Jas looking to adopt a protection dog for his own home, Jas knew he had just the right dog to fill the role. He paired Nino and Berto up, and the rest is history. The two have formed a close bond, and with Jas's help, Berto has learned to be an effective handler for the precisely trained pooch.
Berto's desire to find a protection dog originated when he learned that there had been several home invasions in his neighborhood. He lives with his wife, Porsha Fluker, and their two young children, Legaci and Levi. Berto wanted to feel certain that when he left home his family would be safe and sound. Thanks to the expert training that Jas did, Nino is more than qualified to provide that security. Though he initially adopted Nino for safety's sake, the adorable dog has now become a member of their family. Berto even refers to him as his "baby boy."
Berto is a successful boxer who is a dual American and Haitian citizen. He falls into the welterweight class and is a two-time world champion who held the WBC and IBF titles between 2008 and 2011. In addition to his work as an athlete, Berto has recently released a new weekly YouTube series, called Square Up, where he talks all things boxing.
On Instagram, Berto posts a combination of boxing and family content. He's clearly got a lot of love for his wife and two children, Legaci and Levi. Levi is still a newborn, and Legaci just turned one. He celebrated Legaci's first birthday with a heartfelt post:
Though there's not a ton of Nino content on his socials, it's clear in Canine Intervention that the two have a close bond. Nino's job is to protect Berto's family, and he's definitely doing a good job of it so far.
Source: Andre Berto