Bugsnax Early, Horrifying Concept Made Players Peel & Dismantle Creatures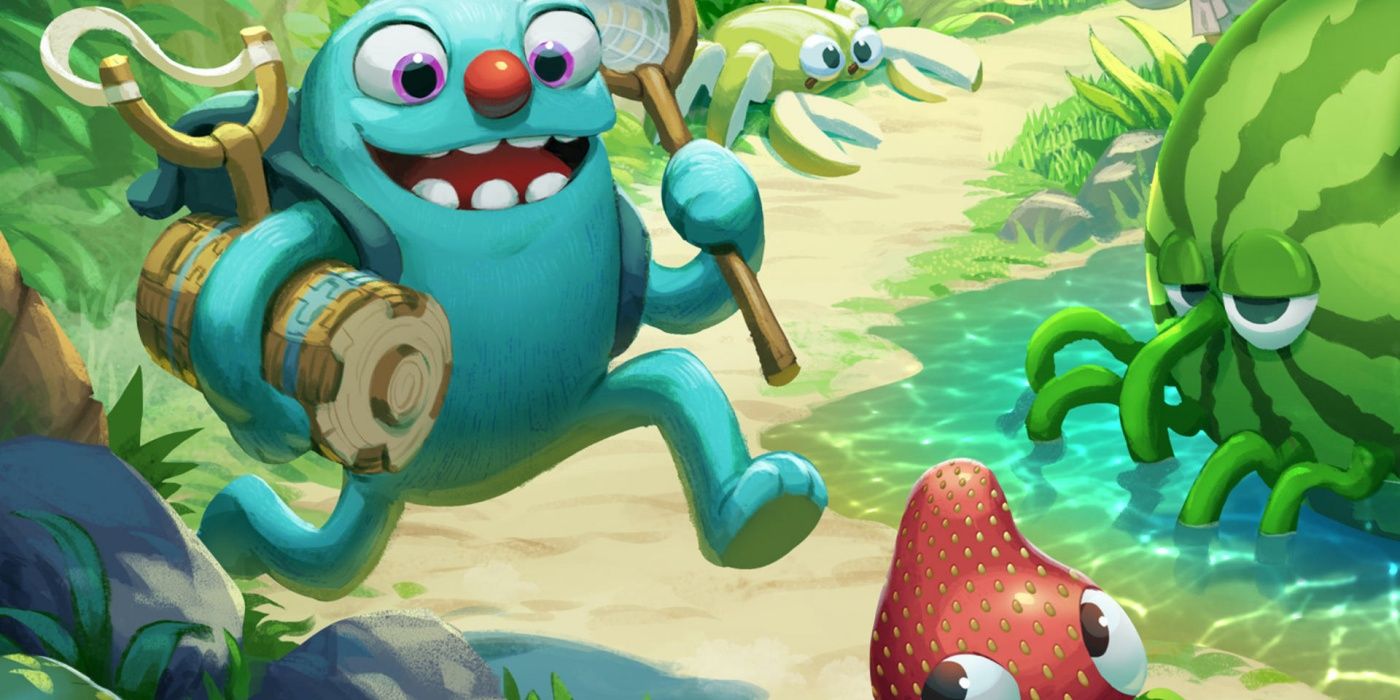 Developer Young Horses recently shared an early concept video that shows how players were once required to "peel and dismantle" creatures in Bugsnax. As Young Horses' latest adventure game, Bugsnax places players in the role of a journalist who must investigate odd happenings on an island where eating the titular snacks can transform the consumer's body.
It's a cute and charming experience, one replete with strangely adorable creatures, intriguing characters, and inventive, if not simple, gameplay and puzzle mechanics. Bugsnax's vibrant colors and funny encounters, as well as its stellar original score, paint the world of Snaktooth Island with a certain level of whimsy. However, there also exists an underlying horror, especially in the title's overall tone. The act of catching the peculiar bug and snack hybrids is one thing, but feeding them to other characters, then watching said characters undergo body modifications represents something else entirely. Arguably, there are body horror elements infused in the experience, and now early concept footage shows Young Horses almost took things to yet another level of creepy.
Recently, Young Horses shared a Twitter video showcasing early concept work on Bugsnax. The nearly one-minute-long clip reveals that in addition to catching the hybrid snacks, players were once required to "peel and dismantle their bodies" before the Grumpuses could eat them. As an example, the footage shows one of the flying Bugsnax, a Green Lollive, having its wings pulled off and tongue stripped out. The dismantled creature then falls to a plate, eyes wide open, its long tongue rearranged in a decorative fashion. It's a rather disturbing display, which would have most certainly added to the eeriness of Bugsnax as a whole.
An early idea for Bugsnax was that in addition to catching them, you'd have to peel and dismantle their bodies before serving them to your friends! #Bugsnax #ThrowbackThursday pic.twitter.com/CZG1ddGJlG

— Bugsnax (YH Games) (@YoungHorses) February 25, 2021
Seeing how the basic mechanics of Bugsnax evolved over time is nothing short of fascinating. How might the act of peeling and dismantling creatures change the flow of gameplay? Would such behavior have informed the narrative, particularly in relation to a character like Gramble who wanted to protect and train the hybrid bugs? The answers to these questions may never emerge, but that doesn't mean Young Horses has washed its hands of Bugsnax.
In fact, the developer recently confirmed it's "definitely not" finished working on the IP. Young Horses remains uncertain of next steps, however. Thus, there's no word on whether the crew will explore more Bugsnax with DLC or a full-on sequel sometime down the line. Fans will just have to wait and see what the mysteries of Snaktooth Island may conjure up next.
Bugsnax is available now on PC, PlayStation 4, and PlayStation 5 platforms.
Source: Young Horses